One of the most time-consuming aspects of running an affiliate program is providing help and support to your members. You'll often find yourself responding to the same queries and resolving similar issues repeatedly. This is time you could spend more efficiently elsewhere, on generating leads and growing your program.
Fortunately, help is at hand. By adding a chatbot to your site, you can provide information to your affiliates even when you aren't available, while still maintaining a dynamic and personal approach. Implementing this feature makes it easier to deal with common queries, while leaving you with time to spare for more vital tasks.
In this article, we'll look at what chatbots are and how they can improve the customer service for your affiliate program. Finally, we'll introduce three solutions you can use on your site. Let's go!
An Introduction to Chatbots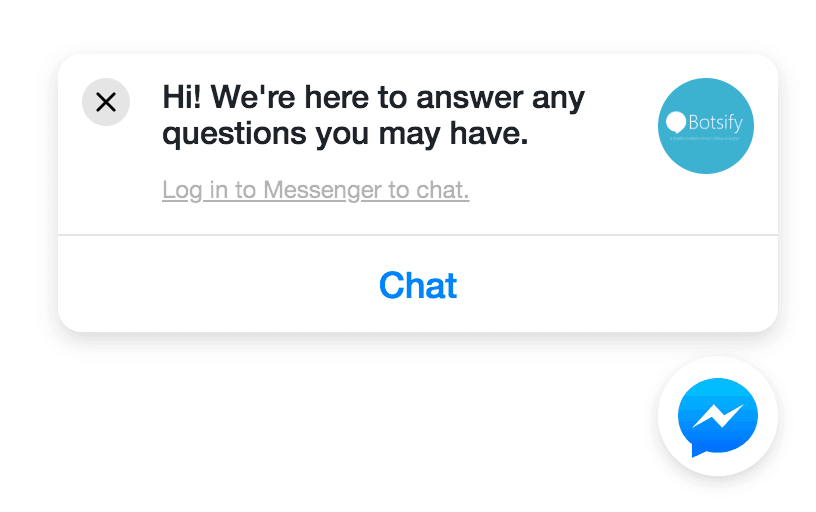 Chatbots are becoming one of the hottest trends in customer service. They are essentially automated chat systems, which visitors can use to get information as if they were talking to a real service representative.
A chatbot usually takes the form of an ordinary text chat interface. Sometimes they even use existing tools, such as Facebook Messenger or WhatsApp. The key difference, of course, is that there's no actual human on the other side. Instead, visitors will be interacting with an AI-controlled assistant that can respond to queries and provide information.
The use of chatbots has exploded in recent years, in large part thanks to Facebook opening its Messenger platform to this application. Since Facebook Messenger currently has over a billion active users, this makes it a useful tool to leverage. The popularity of chatbots in general is set to keep growing, as 80% of businesses intend to have one by 2020.
Why Chatbots Can Benefit Your Affiliate Program
As you can see, chatbots are taking over – and for good reason. Almost any business can benefit from an automated support system. However, chatbots are particularly useful for affiliate programs, since they can:
Help you provide support. Chatbots can present support and information in a way that feels both organic and personal, without the cost and manpower required to maintain a customer service representative.
Improve lead generation. You can use chatbots to gather user information, in order to generate more leads. They're also great for providing information about your program to potential affiliates.
Present affiliate links. Since you can customize the responses your chatbot provides, you can even have them offer affiliate links in response to relevant queries.
All of these benefits can be a huge boon to your affiliate program. Of course, it should be noted that a chatbot is not a replacement for actual human support, as there will still be queries that are best dealt with by professionals.
However, using a chatbot can help you clear up valuable time that would otherwise be spent answering the simplest questions over and over again.
3 Chatbot Tools to Use on Your WordPress Site
If using a chatbot sounds like a great idea, what's next? As it turns out, all you'll need is the right tool for implementing this feature. There are plenty of options for adding a chatbot to your WordPress site, but let's take a look at two of the best solutions.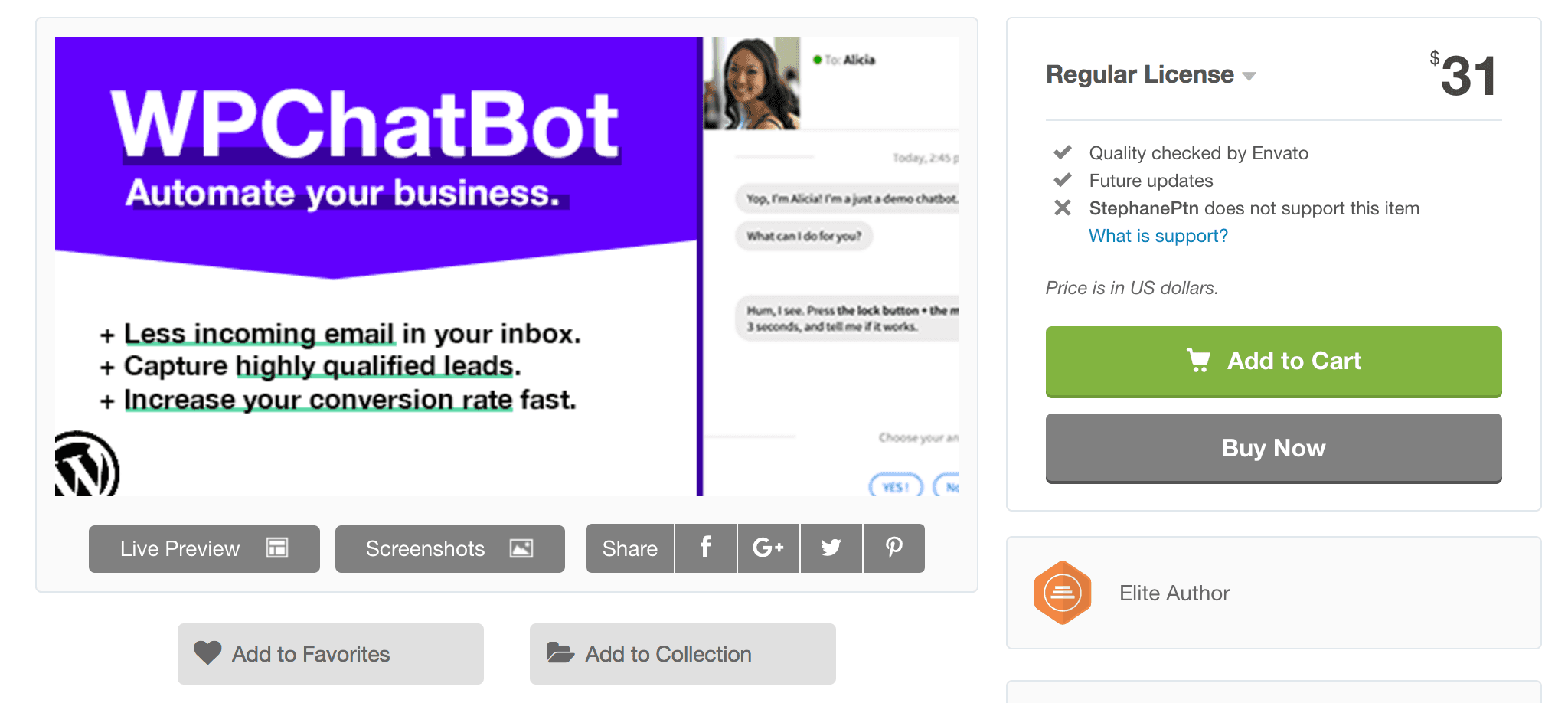 WP Chatbot is a perfect option for beginners, as it doesn't require any technical experience to get started. Despite that fact, it's also one of the most powerful and flexible solutions out there.
WP Chatbot can be used to provide support and information, but it also works well if you want to increase leads and conversions. You can create your bot, set its personality, and then teach it whatever you want it to say. It even saves past conversations, so you can see how people are interacting with your bot and optimize it in response.
Key Features:
Makes it very easy to set up and manage your bot.
Enables you to deliver information and collect user data.
Lets you display ads in your bot's responses.
Is compatible with all themes, and fully responsive.
Includes skins that enable you to customize your bot's appearance.
Price: The regular license for WP Chatbot is $31, while an extended license costs $275.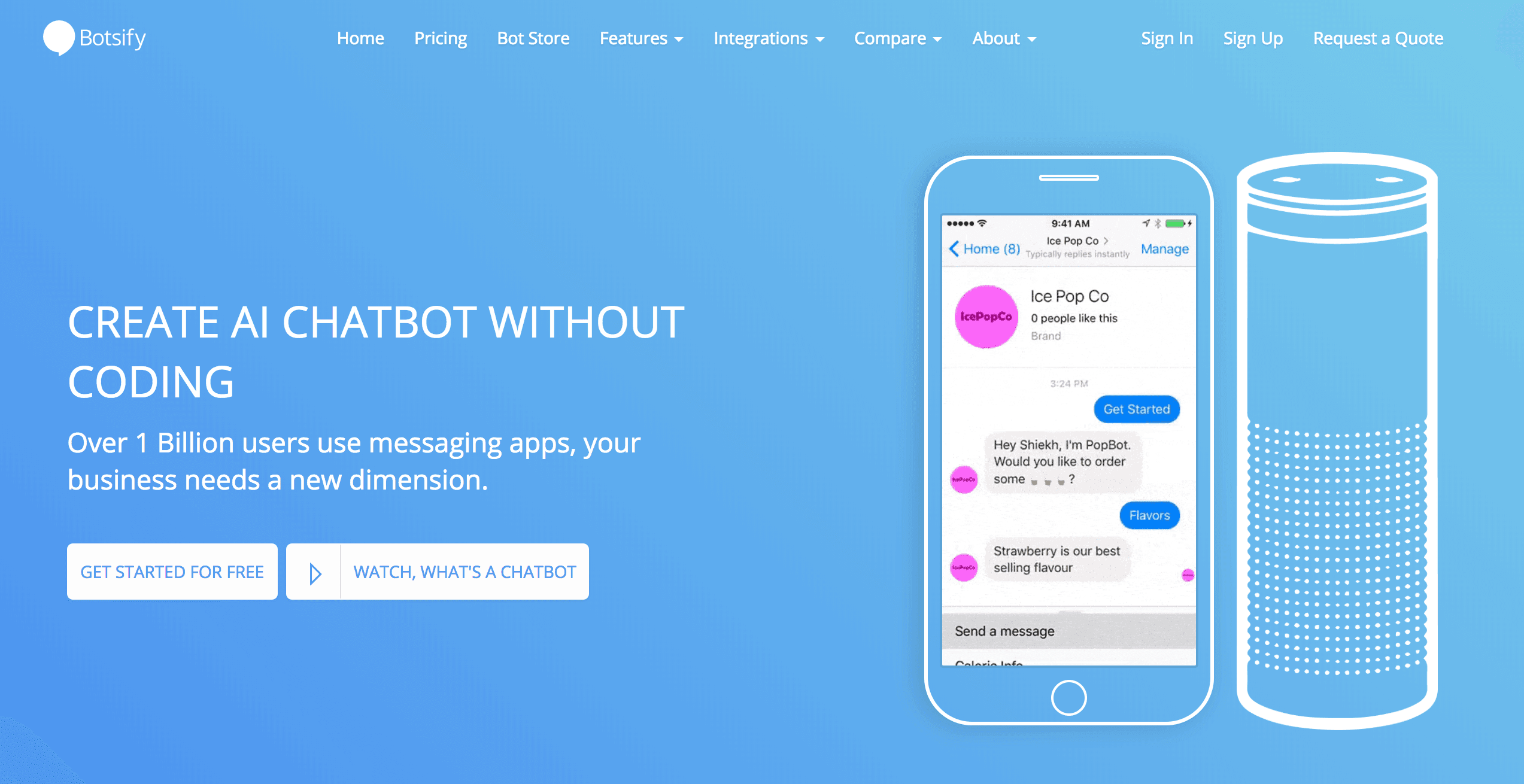 Botsify is a general-purpose chatbot tool, which offers WordPress integration options. It's also a highly-customizable solution that uses artificial intelligence and machine learning to improve its responses over time.
Botsify features a simple drag-and-drop interface you can use to create your bot, so you don't have to do any coding. Plus, it includes plenty of additional integration options. It can be used in almost any messaging app, for example, and can be placed directly on your website.
Key Features:
Offers a drag-and-drop builder to make bot creation easy.
Can be used for many purposes, such as answering queries and collecting information.
Is easy to integrate with WordPress.
Enables you to integrate with popular analytics platforms, such as Dashbot.io.
Includes the option for a human to take over a chat at any time.
Price: Botsify offers a number of pricing plans, including a free plan containing basic functionality.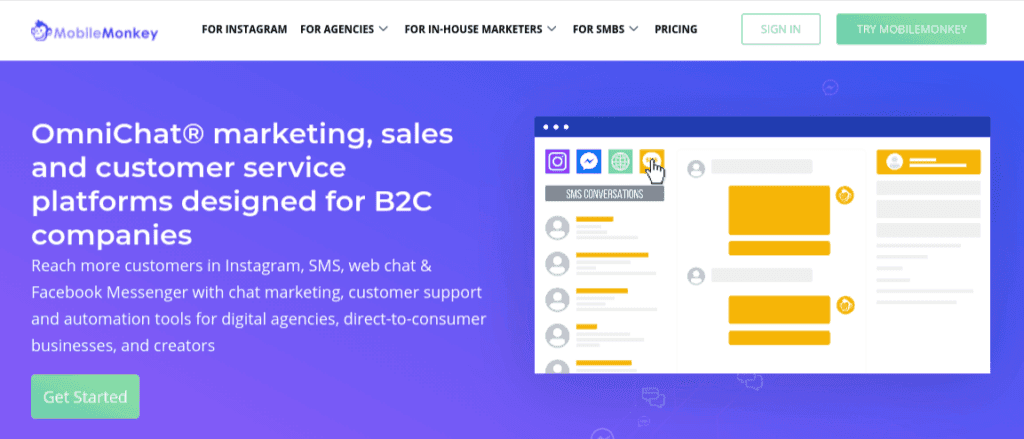 MobileMonkey is a robust marketing, sales, and customer service tool utilizing OmniChat® technology. It includes a multi-platform chatbot builder, unified chat inbox, and instant communication features.
MobileMonkey's FunnelPro platform, which is best for B2C marketers and advertisers, also has the following key features:
Instant Instagram messaging
Elite Facebook engagement
Lead gen tools for live chat
SMS marketing tools
Facebook ads tools
Automatic lead qualification
Smart, automated follow-ups
Analytics tools
Price: MobileMonkey FunnelPro has two standard editions priced at $89.25 per month and $186.75 per month. A multi-location and franchise edition is also available, but pricing varies.
Conclusion
Implementing chatbots in your affiliate program can benefit you in a number of ways. For one, it can provide information to your existing and potential affiliates in an organic way. You can also use your chatbot to drive lead generation, and to find new affiliate marketers.
In this article, we've discussed the benefits of using a chatbot. We've also taken a look at two tools you can use to add one to your WordPress site:
WP Chatbot: A great option for beginners, as this plugin is easy to use and set up (but has plenty of power under the hood).
Botsify: This solution offers plenty of integration options and includes several helpful features, such as the human takeover option and various analytics.
Do you have any questions about how to use a chatbot effectively for your affiliate program? Let us know in the comments section below!
If you liked this post, be sure to follow us on Twitter, Facebook, and LinkedIn! And don't forget to subscribe in the box below.