Until now, AffiliateWP has been a solid choice when it comes to managing your own affiliate program. But what if we told you there's a new affiliate program that can take your business to the next level… for less?
And that you can switch over with the click of a button. Literally.
Introducing the Easy Affiliate 1-Click Migration Feature!
Why Make the Switch?
It's simple. When you switch from AffiliateWP to Easy Affiliate, you gain three seriously valuable benefits:
You never pay added per-transaction fees for your affiliate program again
You get built-in fraud detection to protect your bottom line
You get the ability to make One-Click PayPal payouts to your affiliates
But Will Switching Be a Hassle?
Not at all! That's why we're so excited about this new 1-click migration. With one simple click:
All your data transfers seamlessly to Easy Affiliate – including affiliate accounts, performance history, creatives, links, assigned commission rates, coupons, and more.
All your existing AffiliateWP links work perfectly.
Just change the URL on your site's affiliate login link, and voila! – a seamless experience for your affiliates.
And, of course, if for any reason you decide it's not the right fit for you, you're covered by our unconditional 14-day money back guarantee.
Ready to get started? Make the switch now!
Easy Affiliate – The "All-in-One" Affiliate Program Plugin for WordPress
Brought to you by the same team behind MemberPress, Easy Affiliate is the most secure self-hosted affiliate program manager out there. And it integrates with your existing WordPress site beautifully.
Out of the box, this fully featured plugin comes packed with essential tools that will take your affiliate program up a few notches from the get-go.
Easy Affiliate goes beyond the average affiliate program plugin to offer you a simpler setup, more customization options, better flexibility, higher security measures, and a ton more great features.
What Sets Easy Affiliate Apart from AffiliateWP?
Every affiliate program is different, and yours is no exception. You might sell digital downloads, online courses, physical products or services, access to an exclusive online community, memberships (or maybe even a bit of everything).
In any case, Easy Affiliate can help you increase your sales.
What does Easy Affiliate have that AffiliateWP doesn't? We touched on it already, but allow us to elaborate a bit.
Lower Costs
Right now, Easy Affiliate plans start at $99.50 annually, while AffiliateWP's lowest plan will run you $149 per year. And, as mentioned, Easy Affiliate charges zero added transaction fees – which is kind of a big deal.
With AffiliateWP, the payout fees vary by the country where the affiliate resides. And the least you pay on a $100 payout to a U.S. affiliate is $106.39.
With Easy Affiliate, payouts are through PayPal, so the per-transaction fee PayPal charges is all you're required to pay (2.9% plus $.30 per transaction).
Easy Affiliate starts at $99.50 annually, so the transaction fee savings will pay for the plugin after just 15 $100 payouts.
Here's the math for a $100 payout to an affiliate residing in Canada:
AffiliateWP $100 Payout

Payout Service Fee: 3%
Payout Transfer Fee: C3.5% + $.30
Outside Processor Fee: 2.9% + $.30
Easy Affiliate $100 Payout

Payout Service Fee: FREE
Payout Transfer Fee: FREE
Outside Processor Fee: 2.9% + $.30
Final Payout Cost
$110.23
Final Payout Cost
$103.20
Why in the world wouldn't you switch?
Advanced Fraud Protection
The increase in affiliate program success has also led to a rise in affiliate fraud. Whether it's human or bot-based fraud, any loss is a direct hit to your business.
Easy Affiliate helps ensure the safety of your affiliate program with advanced security measures to accurately track commissions and monitor affiliate behavior.
This makes Easy Affiliate the most secure affiliate program on the market.
The Easy Affiliate Fraud Prevention Add-on protects your affiliate program 24/7, automatically flagging or rejecting suspicious affiliate behavior before you pay out.
1-Click Affiliate Payouts
Easy Affiliate offers several ways to pay your affiliates, including our most convenient PayPal One-Click payment processing feature.
With the built-in PayPal integration, paying your affiliates is quick and painless. All you do is log in to your account once a month, review your affiliates' activity, then click Pay. It doesn't get much easier than that.
You can also pay your affiliates using PayPal Mass Payment files and offline payments.
A Seamless Switch for Your Affiliates
You may be wondering how your affiliates will react to a new affiliate program platform.
Fortunately, Easy Affiliate showcases all the features your affiliates have come to appreciate with AffiliateWP. What's more, you can customize the look and feel of
Easy Affiliate to ensure a smooth transition with our easy-to-navigate Affiliate Dashboard. You also get more ways to keep in touch with your affiliates, and you can integrate the awesome link management tool Pretty Links (more on that later).
All-Inclusive Affiliate Dashboard
Easy Affiliate makes navigating your affiliate program easier than ever. With our Affiliate Dashboard, you can create a centralized hub for your affiliates, providing them with everything they need to market your business.
Affiliates will quickly learn how to engage with Easy Affiliate because they'll have everything they need right there on their home screen.
From the dashboard, affiliates can access their referral links, monitor their stats, view payment history, download creatives, generate their own custom links, and more: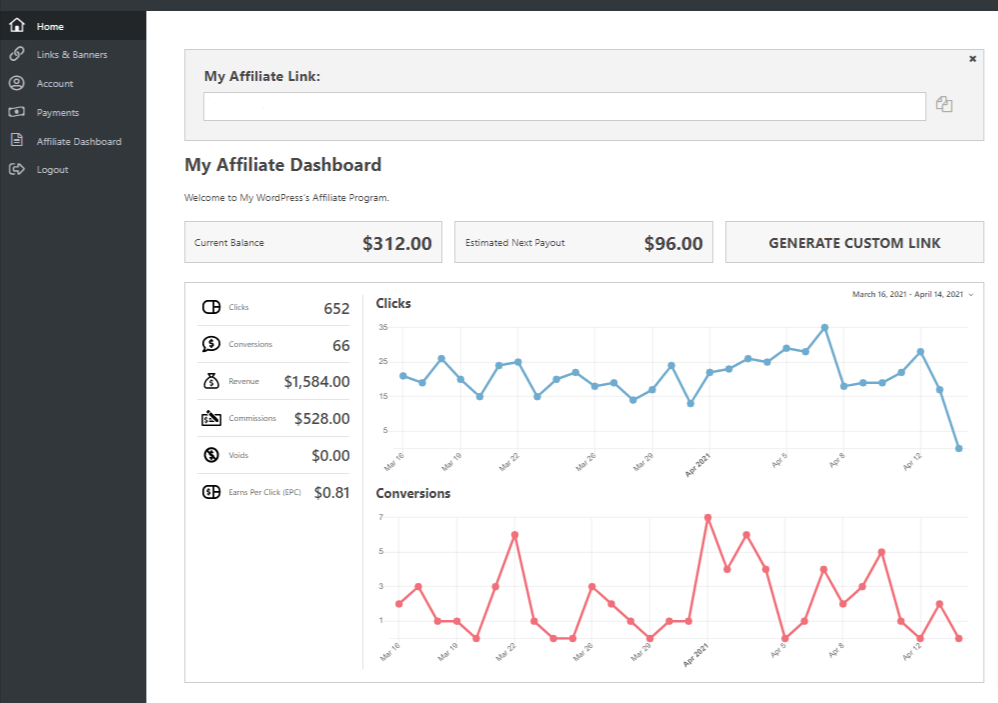 The Affiliate Dashboard is pre-styled, but you can modify the user interface to match your brand's identity easily.
By enabling the Pro Dashboard, you can design your site's color scheme, insert your brand logo, and introduce affiliates to your new site by leaving a quick note in the welcome message area:
Integrated Email Marketing
After you've got your Affiliate Dashboard set up exactly how you want it, you won't want to wait another second to share it with your affiliates.
While entirely optional, another great way to give affiliates a heads-up on the new platform is through email.
Easy Affiliate integrates with popular email marketing services such as ActiveCampaign, MailChimp, and ConvertKit. Sending a quick email blast to notify your affiliates of the change can help spark interest to go in and check things out.
Powerful Link Management with Pretty Links
Managing links is key in affiliate marketing – and Easy Affiliate integrates with a tool your affiliates will love.
Once you install Pretty Links, Easy Affiliate detects it and automatically shortens any custom links your affiliates create through their dashboard. Pretty Links allows affiliates to optimize their link performance by: 
Creating nice, neat, and clickable links
Customizing links for better brand recognition
Implementing A/B testing to track and improve sales
Tracking visitor activity and conversions to improve user experience
As for monitoring existing AffiliateWP links, Easy Affiliate and Pretty Links do that too. Any AffiliateWP link activity and performance is tracked in the Affiliate Dashboard.
How to Make the Switch from AffiliateWP to Easy Affiliate
Migrating to Easy Affiliate from AffiliateWP is super simple.
With our 1-click migration, you'll save months of planning and data transferring. Within seconds, your new Easy Affiliate program will be loaded with all your previous affiliate program materials.
You'll have everything you need – and more – to kickstart your new and improved affiliate program.
The First Steps to Make More Money with Easy Affiliate:
Download Easy Affiliate just as you would any other WordPress plugin. When the download is complete, your new plugin will be added to your WordPress Dashboard automatically.
2. Open Easy Affiliate > Settings and run through our one-of-a-kind Setup Wizard.
Our Setup Wizard makes Easy Affiliate the most user-friendly affiliate program on the market. It will guide you step-by-step on how to set up your affiliate program.
3. The Wizard will show you the migration button if it detects AffiliateWP on your site.
Simply click on the button that says Migrate AffiliateWP Data, Settings and Links into Easy Affiliate, and let the Wizard take care of the rest:
4. Change your affiliate login URL.
The final step to getting your Easy Affiliate program up and running is to change the affiliate login URL. When one of your affiliates goes to login, they'll be taken right to their new dashboard, all their familiar data intact.
All that's left is for us to personally welcome you to the Easy Affiliate family!
Do you have more questions about switching from AffiliateWP to Easy Affiliate? Ask away in the comment section below!
If you're ready to make the switch, you can get started here. 
If you liked this article, follow us on Twitter, Facebook, Pinterest, and LinkedIn. And don't forget to subscribe to our newsletter 🐝