Much like any other business, running a successful affiliate program can be overwhelming. Unexpected problems can crop up any time, and a delay in addressing these issues can hinder your plans. As an affiliate manager this can be stressful, especially if you don't know how to overcome them.
Fortunately, the use of a stellar affiliate management plugin can help you deal with these problems easily. Plugins such as Easy Affiliate enable you to take full control of your program, and provide you with practically all the tools necessary to meet the needs of both your program and your affiliates.
In this post, we'll highlight three common affiliate management problems, and provide advice on how to overcome each one using Easy Affiliate's comprehensive feature set. Let's get started!
1. Poor Communication With Your Affiliates
As a program manager, your affiliates are your most important asset. This means you need to stay in contact with them, both to inform them of program updates and changes, and to stay on top of their concerns and questions.
Unfortunately, poor communication is a common occurrence in affiliate programs. This happens when managers withhold information – such as sales numbers and upcoming updates – and it can lead to a lack of trust at best.
Given that affiliates are responsible for promoting your products, poor communication with them can mean fewer sales for you, potentially resulting in fewer affiliates joining your program. The solution is simple: start communicating with your affiliates! Let's take a closer look at how Easy Affiliate can help you do just that.
The Affiliate Dashboard is the place to start. Navigate to Easy Affiliates > Settings > Affiliates, then scroll down to Dashboard, where you can customize settings and enter a Welcome message for your affiliates: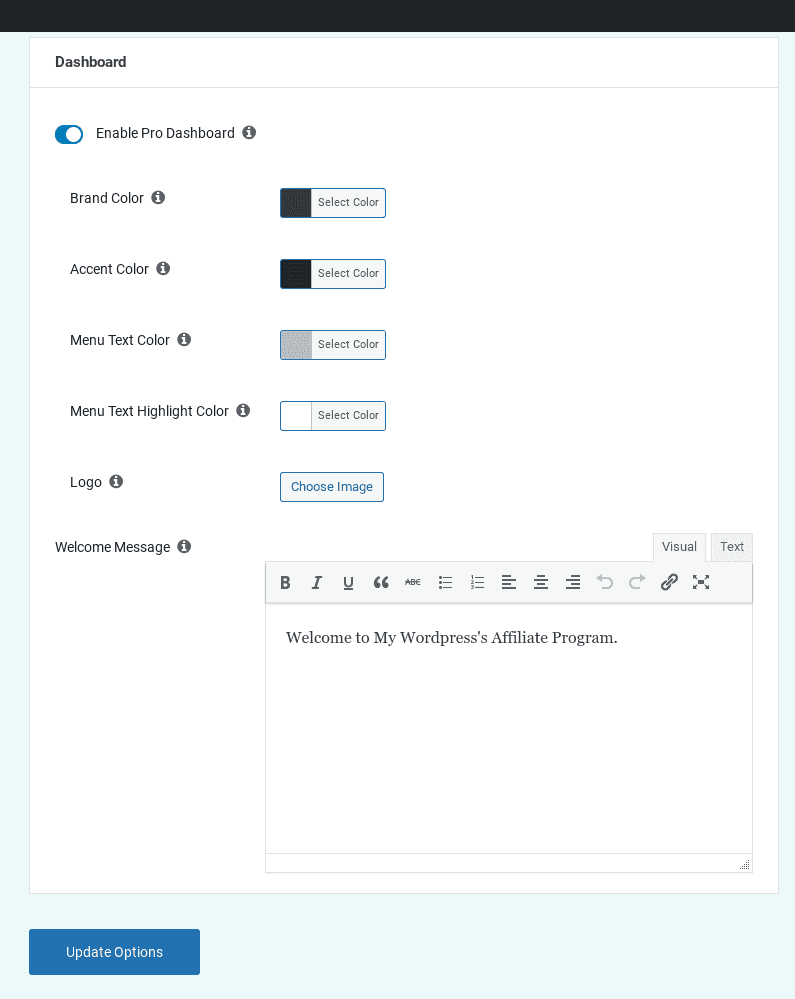 Once you've created them in WordPress, you can also add more pages to the Dashboard via Easy Affiliate > Settings > Advanced. Scroll down to Dashboard Navigation, then choose your page from the dropdown.

2. Theft of Your Affiliates Links
Link stealing is the action of copying an affiliate link URL, then replacing the information at the end of the link (such as an affiliate ID) with your own. This is a direct form of stealing – taking potential earnings away from other affiliates – and while you aim to only work with trustworthy associates, sometimes it happens.
Of course, link stealing doesn't always happen among affiliates. Essentially, anyone could look to score a discount on a linked product by signing up for it as an affiliate, then purchasing the item with their own link. In the majority of cases they get caught; however, it's still a nuisance to deal with.
The problems caused by link stealing vary based on the culprit. When it happens among affiliates, it can create feelings of hostility. This is because affiliates may feel as if their links aren't protected, and other less-honest affiliates are benefiting from their work. In short, it can flood your program with affiliates who are stealing from you.
Easy Affiliate's Fraud Prevention add-on goes miles to protect you from this problem.
Another way to reduce the risk of links being stolen is to cloak them. This makes it impossible for others (either inside or outside the program) to replace the affiliate information at the end of the URL with their own. To get started, we recommend a link shortener plugin, such as Pretty Links.
Cloaking your links is a simple process. Once the plugin is installed, navigate to Pretty Link > Add New Link on the left side of the WordPress dashboard. From here, select a redirection type (cloaking, in this case), enter the target URL, then add a slug to the end of the link. Now, your affiliate links are safeguarded against theft!
3. Failure to Empower Your Affiliates
As a manager, you (of course) have a lot on your plate. This means you may not always have the time to empower your affiliates, which can lead to poor performance.
Empowering your affiliates simply means providing them with the tools and resources they need to make smart and effective decisions. Failure to do so can lead to a number of issues. For you, it means giving up some control and trusting your affiliates as marketing professionals to make their own decisions. You can overcome this problem in a few ways, including with the help of Easy Affiliate.
While you could offer empowerment in a number of ways, creating an affiliate resource hub is a stellar idea you should consider first. This is a page (or collection of pages) that contains tools, guides, tutorials, and more on how to use your products, the intricacies of your affiliate program, and anything else you think they need to do their jobs effectively.
Conclusion
Whether you've just started your affiliate business, or it's been going for a while, problems can occur that can make running your business difficult. However, with an affiliate management plugin such as Easy Affiliate, you can implement measures that can help you overcome these problems.
In the above post, we've highlighted three common problems faced by affiliate managers and how they can overcome them with Easy Affiliate. To quickly recap:
Poor communication with your affiliates.
Theft of your affiliates' links.
Failure to empower your affiliates.
What kinds of affiliate management problems have you faced? Let us know in the comments section below!
If you liked this post, be sure to follow us on Twitter, Facebook, and LinkedIn! And don't forget to subscribe in the box below.