If affiliate marketing were easy, everyone would be doing it. Except, it isn't easy to succeed in the world of affiliate marketing, and the biggest challenges often lie within your content.
In reality, there's no mystical black art to writing compelling affiliate marketing copy – just a few simple tricks to get ahead of your competition.
In this post, we'll reveal four ways you can create readable content for affiliate marketing. We'll also show what Pretty Links can do to help along the way. Let's get started!
1. Optimize Your Headlines
Headlines are one of the most important aspects of affiliate marketing. Optimizing them simply means making them captivating enough to ensure readers click through to the article in question.
Much like any other form of writing, a good headline compels readers to click, can potentially help your search engine optimization (SEO), and can even increase traffic. It all stands to supercharge both the number of people putting eyes on your content and your affiliate revenue.
While it may seem like a dark art, writing a good headline follows some basic principles. Essentially, use numbers or "trigger words" (such as "why" or "how"), interesting adjectives, and speak to the reader by offering something valuable. Even though we say so ourselves, the headline for this article is right on the money!
Before you release your new headline to the world, make sure you run it through a tool such as CoSchedule's Headline Analyzer:
This enables you to tweak your headline to perfection, by taking the advice given to improve its grading. Once you're finished, you'll have a powerful headline to help make your content highly readable.
2. Structure Your Copy
The structure of your piece has much to do with how readable your final content is. What we're saying here is that your piece needs a logical flow and order, with clearly defined sections.
A well-structured piece will enable readers to assimilate more of your content quickly, but as with your headlines, there's also an SEO benefit to be had. In addition, although you'd ideally like all of your visitors to read every single word, many won't. A good structure enables the skimmers to get just as much out of your content as the rest – which could potentially increase your affiliate revenue.
To create a killer content structure, you'll mainly want to make sure your subheadings are clear and direct, and that paragraphs are short – no more than five lines is a good rule of thumb.
Within the content itself, look at focusing on your product's benefits to the reader, rather than the features it offers. Scannable elements are also important – these are things such as images and bulleted lists. They help to break the content up and increase readability.
Finally, structures such as the Four "P" approach are trusted ways to engage readers, and others such as the inverted pyramid and the AIDA formula are just as simple to implement.
3. Write Tight and Concise Copy
Once your headline and structure are set, you'll need to start crafting your copy. Writing tight and concise copy means exactly the same as it does for other forms of content. It relies on using short sentences that speak directly to the reader.
As with the right structure, concise copy helps keep readers interested in your content, and it also helps skimmers process the gist of your piece. Of course, any reader who can take in your writing without fatigue will be more inclined to click the various affiliate links throughout, so it makes sense to optimize your copy correctly.
Given that the majority (if not all) of your writing will be read online, a good start for keeping your copy lean and mean is to look into writing for the web. It's an extension of what we covered during the Structure Your Copy section, but also includes elements such as frontloading, and using pronouns (i.e. "we" and "you") correctly. Of course, having a suitable narrative structure is just as important as your concision efforts.
4. Keep Your Affilite Links Short
Finally, we come onto your actual affiliate links. While choosing the right affiliate offer is an art form in itself, keeping your links short is just as crucial for maximizing your revenue. There are a number of reasons long affiliate links can cause you problems:
Visitors could see long URLs as spammy, or distrust the resulting page.

You could mistype the URL, giving you a broken link and frustrating your visitors.

For the two previous reasons, your click-through rate could be adversely affected.
A plugin such as Pretty Links can save you both time and hassle in creating your affiliate links. From the easy to use dashboard, you can set up links with a clean, "pretty" URL, manage their redirection, and also designate them as nofollow links:
Of course, having short, pretty affiliate links is nothing without a well-maintained affiliate program, and a plugin such as Easy Affiliate can help get the job done: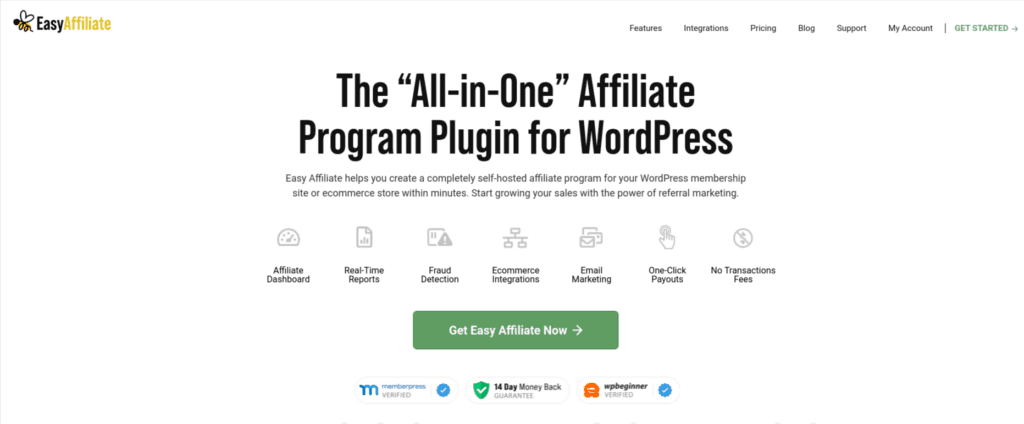 This plugin can help launch your affiliate program in the right way and helps you monitor your affiliate links, sales, and payments.
Conclusion
Much like any seemingly dark art, writing captivating copy to increase your affiliate marketing revenue can seem completely out of reach. For some, it could even mean shelling out more of your hard-earned cash to try to improve the situation. However, with a little thought, your wallet can stay where it is.
In this post, we've touched upon four ways you can create affiliate marketing content that compels readers to click. Let's take a look:
Optimize your headlines.

Structure your copy.

Write tight and concise content.

Keep your affiliate links short.
Do you have any tips for making your affiliate marketing highly readable? Share with us in the comments section below!