Marketing is essential for any business owner. This is just as true for those running affiliate businesses. Although this is a different kind of venture, it's still important to find ways of promoting content. If you don't, you run the risk of fading into obscurity.

Fortunately, you have an effective way of marketing your affiliate business right at your fingertips. Social media is an excellent way to boost visibility, and begin to build an audience. You can even use it to deal with any customer queries or concerns you encounter.

In this post, we'll explain why social media is such a vital part of affiliate business success. We'll then highlight some of the ways you can use social platforms to promote your business. Let's get started!
Why Social Media is an Essential Part of Any Successful Affiliate Business
At this stage, social media probably doesn't need much of an introduction. It has become a huge part of most people's day-to-day lives – both personally, and on a more professional level. In fact, social media is now used by 90% of brands of businesses to boost awareness.

Despite its popularity, you'd be forgiven for thinking social media marketing wasn't necessary when running an affiliate business. This is because affiliate marketers promote products put out by a specific brand, rather than their own wares.

However, carrying out this process means you essentially become a part of the brand. As a result, people need to become familiar with you as an individual. Social media is the perfect way to become 'visible,' and begin to build credibility.

Plus, without social media, your reach is pretty limited. Remember, generating an income with affiliate marketing relies on getting people to convert. Social media gives you access to a potentially huge audience.
3 Ways to Use Social Media to Boost Your Affiliate Business' Visibility
The more people you can connect with, the more likely you are to make a successful sale. With this in mind, it's time to get into the nitty-gritty. Here are just three of the ways you can use social media to boost the visibility of your affiliate business.
1. Provide Strong Customer Service in a Time-Efficient Manner
As we've already touched upon, running an affiliate business is a lot like running any other kind of venture. This means you'll have to put the same amount of work in – especially concerning customer service.

Of course, as you're essentially a 'middleman' between the customer and the company, you won't technically be responsible for any concerns a consumer may have about the product they've purchased. However, you should be prepared for any questions they might have before converting.

Social media is the perfect place to fulfil this need, as it offers numerous methods of communication. Here, you can keep track of the messages you receive, and respond in a time-efficient manner.

Responsiveness is key here, as users typically expect a response within an hour of reaching out. Customers are also more likely to spend more with businesses that answer quickly. If you meet these requirements, your target market may then leave positive reviews.

They could even recommend you to a friend. Both of these outcomes are sure to have a positive impact on the visibility of your affiliate business, and generate some extra sales along the way. To achieve fast replies, you'll probably need to enlist some help.
Social media management services, such as Sprout Social and HootSuite, are a great way to keep track of the mentions you receive. However, if you'd like to get a little more advanced, you can create your own Artificial Intelligence (AI) chatbot using a tool like Botsify. Your bot will be able to deal with customer queries almost instantly.

2. Share Compelling Content to Engage Your Audience
It's important not to get swept up in making sales alone. The hard-sell rarely works, and a promotional-heavy approach to social media is likely to dis-engage your audience – deterring them from making purchases in the future.

Instead, try to make your social channels as engaging as possible. For instance, post a range of content to highlight the products or services you provide. High-quality images are always a good start, though video has proven to be a particularly effective medium in recent years.

This will present your offerings in a more interactive way, and is more likely to capture the attention of your desired market. Plus, content such as this has a greater potential of being shared, so it's a great way to make yourself visible.
An example of a brand that does this well is Oreo. Their Instagram account is full of engaging photos and videos, and content that correlates with current trends. Trend-driven content is a surefire way to get potential customers involved with your business.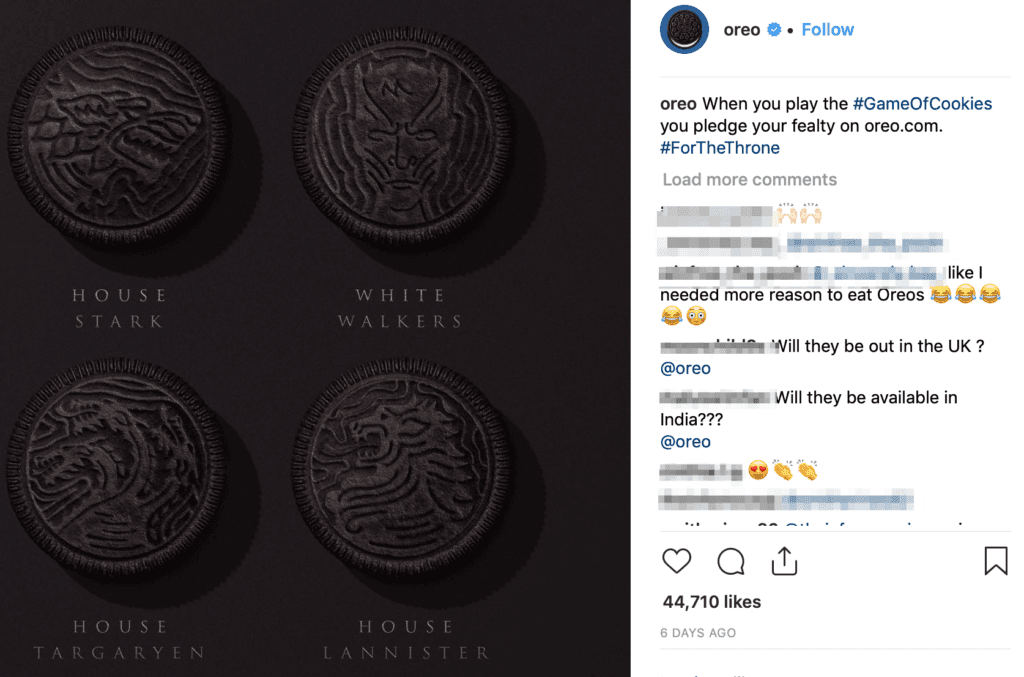 World-famous energy drink brand Red Bull is another good example. They combine informative content about their products with high-quality images and videos, in an approach that has gained them over 48 million Facebook likes.
3. Interact With Your Industry and Make Connections
As the name suggests, social media was originally designed as a place for people to be social online. Although you shouldn't really be using your business channels for casual chats, interacting with key people from your industry can be a great way to boost your visibility.

For starters, simply appearing under popular threads will increase your visibility. Try to reply to Tweets or Instagram posts that have some relevance to the services you provide. Individuals who are browsing the comments may then stumble across your business, and take an interest.

Being actively involved within your area of operation will also demonstrate that you're on the ball, and know what you're talking about. Getting people to trust your recommendations is an essential part of affiliate marketing. Becoming a known figure in the industry can help to build that relationship.
Conclusion
When done effectively, affiliate marketing is a great way to generate a secondary income. However, you'll need to make a name for yourself before you can start earning big money. Building your brand is just as essential as it would be for any other business – and social media is a great place to start.

In this post, we explored just three of the ways you can use social media to boost the visibility of your affiliate business. Let's recap them now:

Provide strong customer service to build trust.
Share compelling content to engage your audience.
Interact with other people within your industry to make connections.
Do you have any further questions about affiliate marketing? Let us know in the comments section below!
If you liked this post, be sure to follow us on Twitter, Facebook, and LinkedIn! And don't forget to subscribe in the box below.