A big part of running a successful affiliate program is providing your partners with promotional materials. However, today's savvy consumers are naturally suspicious of professional marketing and advertising.
This is where user-generated content (UGC) comes in. If a third party speaks highly about your products, it's great for your business, and can be invaluable for your affiliates too.
In this post, we'll explore what UGC is and the important role it can play in your affiliate program. Then we'll share three ways you can help your partners increase their click-through rates (CTRs) with UGC. Let's get started!
An Introduction to User-Generated Content (And Why It's Important for Affiliates)
UGC is any content created by someone who isn't an official representative of your business. It can take many forms, including social media posts, product reviews, podcasts, and unboxing videos.
UGC may actually be more effective than any content you create in-house. According to a study by TurnTo Networks, 90% of consumers claim that UGC influences their purchasing decisions more than email marketing and even search engine results. This makes sense, as content that's produced by your business is usually biased.
The modern consumer is also mistrustful of marketers and advertisers who are paid to present products and services in the best possible light. It's widely accepted that these professionals omit negative information, even when it could help customers make more informed purchasing decisions.
Regardless of the products or services you sell, your affiliate partners can benefit from UGC. However, according to TurnTo Networks, you may experience even greater benefits with UGC if your target audience is female. Of those surveyed, nearly a quarter of female shoppers identify UGC as the most influential marketing tool.
Consumers under 30 are also more responsive to UGC when compared to older shoppers. Of those aged 18–29, 97% reported that UGC has an extreme influence over their purchasing decisions. If you're targeting that market, you have lots to gain from helping your partners deliver UGC.
How to Turn Customers into Fans With UGC (3 Ways)
In today's competitive ecommerce market, it's not enough to simply provide your partners with affiliate links. For the best results, it's vital that you supply everything they need to promote these URLs effectively, including UGC. Here are three ways to help your partners level up their affiliate activities with UGC.
1. Provide Your Affiliate Partners With UGC
As a successful online seller, you may already have UGC that your affiliates can use, including product reviews, testimonials, and case studies. If you created your program using our Easy Affiliate plugin, your partners will already have access to a dashboard. You can use this dashboard to deliver UGC directly to your affiliates.
If you've created any graphics, you can navigate to Easy Affiliates > Creatives. Make sure the Creatives (Links & Banners) tab is selected:

Then click on the Add New button and upload the resource. Your affiliates will now be able to download this graphic directly from their dashboards: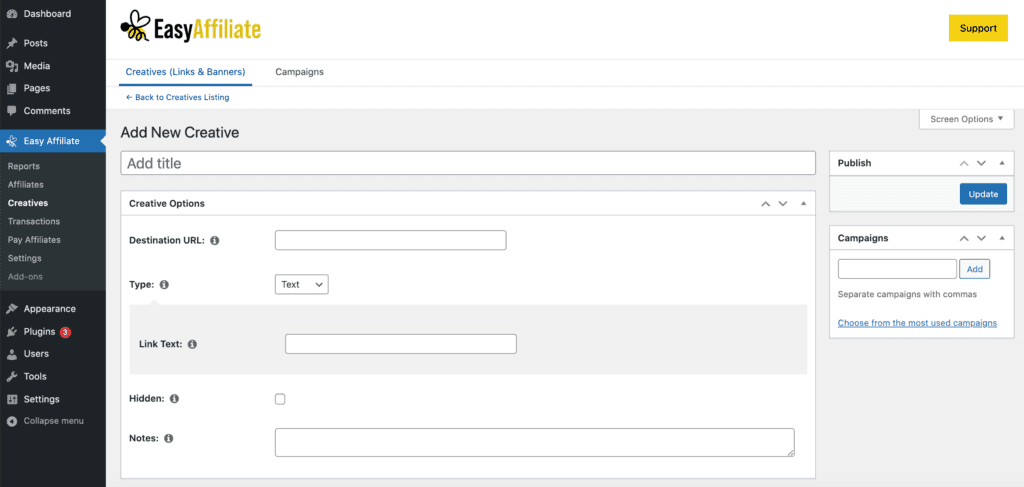 You might even create a complete marketing pack containing all of your UGC content. After creating this convenient UGC pack, simply update the dashboard to include a download link: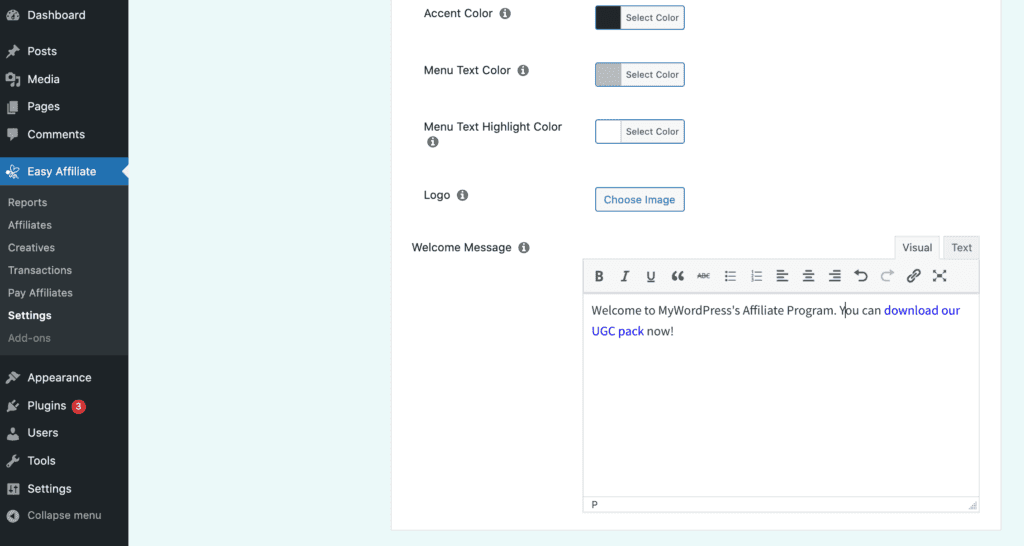 Once you have all of these resources in place, they'll be immediately available to your partners at signup. This can help them get off to the best possible start.
2. Notify Your Partners When New UGC Becomes Available
As you make more sales and acquire new customers, you'll hopefully collect more UGC. This may include new product reviews posted by happy customers, or an informative guest post featuring advice on how to use your latest product.
Whenever you acquire new UGC, you'll want to share it with your partners. Easy Affiliate users can upload these resources to the dashboard by navigating to Easy Affiliates > Creatives.
You can also draw attention to these resources by including them in the affiliate dashboard's welcome message. Browse to Easy AffilIate > Settings, and then select the Affiliates tab: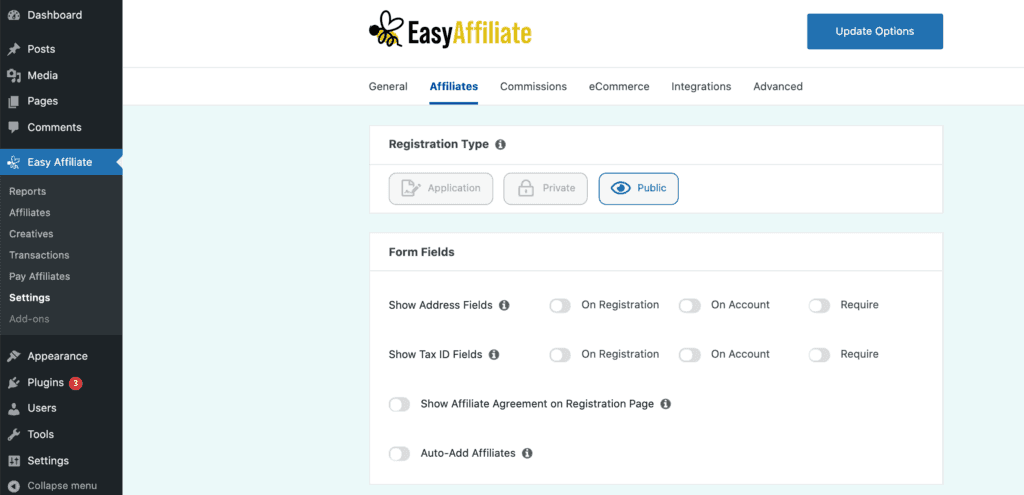 Next, scroll to the bottom of this page. You can then edit the welcome message to include information about the new UGC and how your affiliates can access it. For example, you might add a direct download link: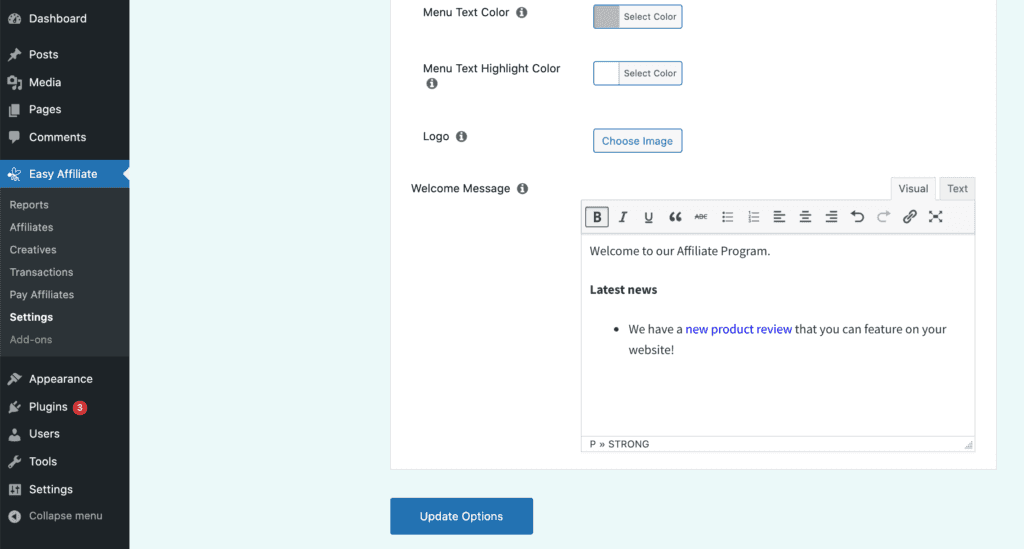 As an alternative, you could copy/paste the UGC directly into this box. This ensures that your partners have easy access to this new content.
3. Help Your Affiliates Run UGC Contests and Giveaways
Contests and giveaways are always powerful ways to create buzz, but some competitions are designed to bring about large amounts of UGC.
For example, your affiliates might challenge their audiences to send in photos or videos featuring your products, or add funny captions to a specific graphic. In this way, competitions can be a fun and engaging way to encourage UGC, with rewards for both the entrants and your bottom line.
As a bonus, entrants will often promote their UGC on their own social media accounts, particularly if your contest involves voting. This can initiate a lot of engagement and introduce your business to an entirely new audience.
Sometimes, simply offering recognition might be enough. For example, if you have a large social media following, you might allow entrants to be featured on your Instagram page. However, to produce the most UGC, you may want to consider offering a free sample or discount.
Once again, the affiliate dashboard can be your hub for organizing these UGC activities. You can notify your partners about the upcoming contest and share the associated discount codes via their dashboard welcome messages.
If you've created banners and graphics to support the event, Easy Affiliate is also a solid way to distribute these resources among your entire network.
Conclusion
Consumers understand that professional marketers and advertisers have a natural bias towards the products they're promoting. However, UGC is widely seen as more trustworthy, and can be a very valuable resource for your affiliate partners.
Let's recap three ways that that you can generate more click-throughs and sales with UGC:
Provide your affiliate partners with UGC, using a plugin such as Easy Affiliate.
Notify your partners when new UGC becomes available.
Help your affiliates run UGC contests and giveaways.
Do you have questions about how to use UGC in your affiliate marketing program? Let us know in the comments section below!
If you liked this article, follow us on Twitter, Facebook, and LinkedIn. And don't forget to subscribe in the box below!