Recruitment is a core aspect of an affiliate marketing program's success. However, without an effective onboarding program, new partners may struggle to make sales or even violate Federal Trade Commission (FTC) rules.
That's why it's important for your affiliate program to prepare recruits. This process may include orientation, sharing comprehensive guidelines, and supplying partners with tools to help them flourish in their role.
In this post, we'll take a look at the importance of onboarding recruits. Then, we'll offer practical tips on how you can support your affiliates and prepare them to drive sales. Let's get started!
The Importance of Affiliate Onboarding
Successful onboarding is hugely important for affiliate programs. Just like any type of work, if a partner isn't prepared well, they may struggle to make the impact you were both hoping for.
For instance, inadequate onboarding (or a complete lack thereof) may lead to poor productivity and gradual dissatisfaction. This could result in your new recruit not settling down or fulfilling the goals that they had set for themselves when they joined.
Even worse, weak onboarding could result in retention issues and high turnover. After all, if your partners don't feel engaged, they may perceive themselves as expendable. In the end, losing recruits will prevent you from building a stable affiliate program.
It isn't just about welcoming them to your business, either. If new affiliates aren't aware of legal requirements, such as displaying disclosures, they could incur fines from the FTC. This is bad for them, but could also reflect poorly on your program.
With onboarding, you can give your recruits a solid impression of your brand's scope and values. When they understand your objectives, targets, and what their role will be, they'll be prepared to effectively implement affiliate marketing to their own benefit and yours.
3 Ways Your Affiliate Program Can Prepare New Recruits
Fortunately, there are a number of options when it comes to methods for supporting your recruits. Here are three ways you can get your partners up and running from the get-go.
1. Have Orientation Training In Place
One method of getting recruits ready is providing a formal orientation. It's easy to get lost in a new environment. Without the right support, your new partners could quickly become overwhelmed.
When you create your training process, it might be smart to cover topics such as how to create and share disclosures, navigate your affiliate dashboard, and track commissions. To help guide them through the process, you could assign mentors to each of your new partners.
This might be a generous affiliate with plenty of experience under their belt, or someone from your own marketing team. Mentoring can help develop a sense of community and nurture strong relationships that may help individuals feel valued in your program.
Ultimately, communication is important when it comes to orienting recruits. Regular email updates are a solid start, but there are other options. A solid welcome message is not only easy to create, but can direct recruits to further resources they may need.
To set one up using Easy Affiliate, navigate to Settings > Affiliates> Dashboard. Here, you can write your custom welcome message: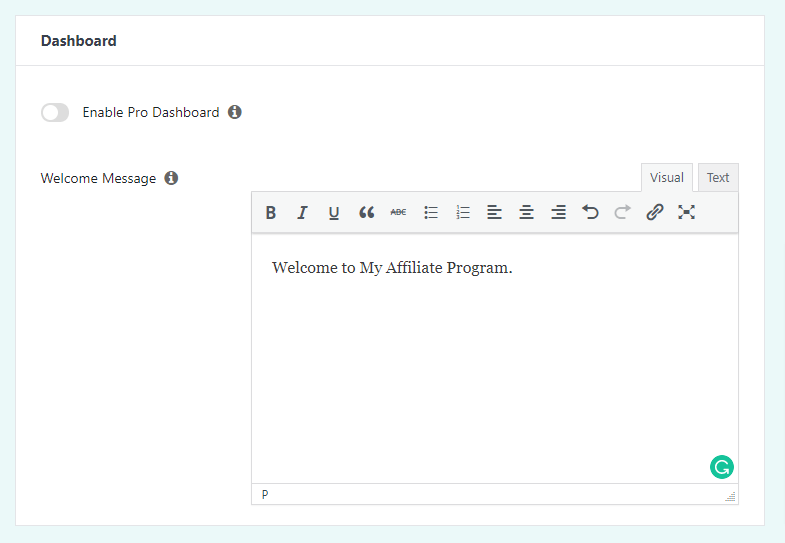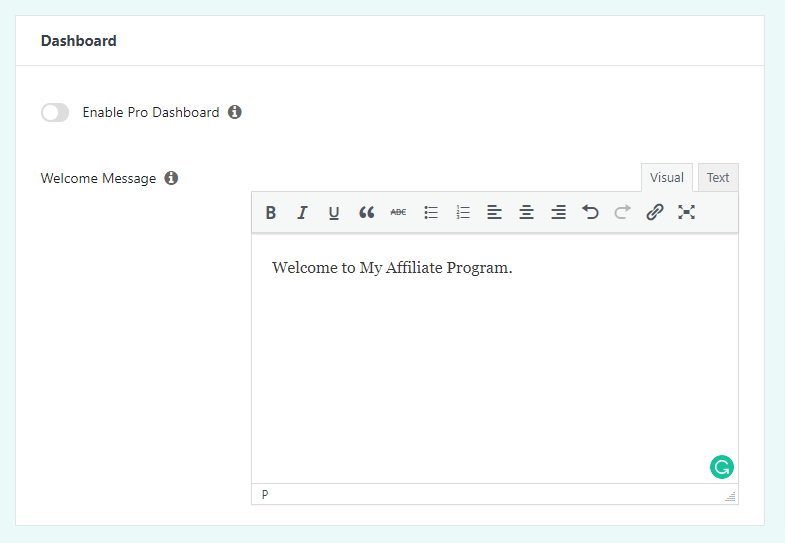 Click on Update Options to save and publish it.
2. Provide Affiliates With Clear Guidelines
Guidelines can help new recruits seamlessly integrate into your program. Your directives should cover your values and best practices, such as adding disclosures and maintaining your brand's voice.
Clear guidelines can be especially valuable to ensuring your program is in full compliance with the FTC. Such safeguards may be just what you need to protect your brand and against serious consequences if your affiliates violate disclosure laws.
Of course, building up a series of guidelines is an on-going process, and it can be a lot of information for partners to digest at once. Given this, try to keep your guidelines simple and remember to notify partners of any updates.
Also, look to break up text with media, such as screenshots, infographics, and videos. Consider using examples to illustrate key guidelines. You can also organize content in a resource hub on your website to centralize your materials.
Finally, you might want to use Frequently Asked Questions (FAQs) as another means of directing new partners to your guidelines. An FAQ page can provide vital answers no matter when your affiliates find themselves needing information.
3. Supply Your Partners With Relevant Materials
When a recruit is fully equipped with relevant marketing tools, they're more likely to hit the ground running. With that in mind, providing affiliates with helpful materials can ease the transition into your program.
For instance, you might want to share lists of recommended resources – such as specific WordPress plugins – for your new partners to utilize. By gathering them together on a readily available page, you can ensure that your affiliates won't waste time searching for tools to improve their marketing skills.
Similarly, your affiliates may not feel comfortable creating graphics to promote your products. To give them a leg up, you can share some visuals they can use through your resource hub.
Each time you create a new banner ad, Easy Affiliate will automatically add it to your affiliate's dashboard. Simply go to Easy Affiliate > Creatives > Add New to upload the banner you would like to share: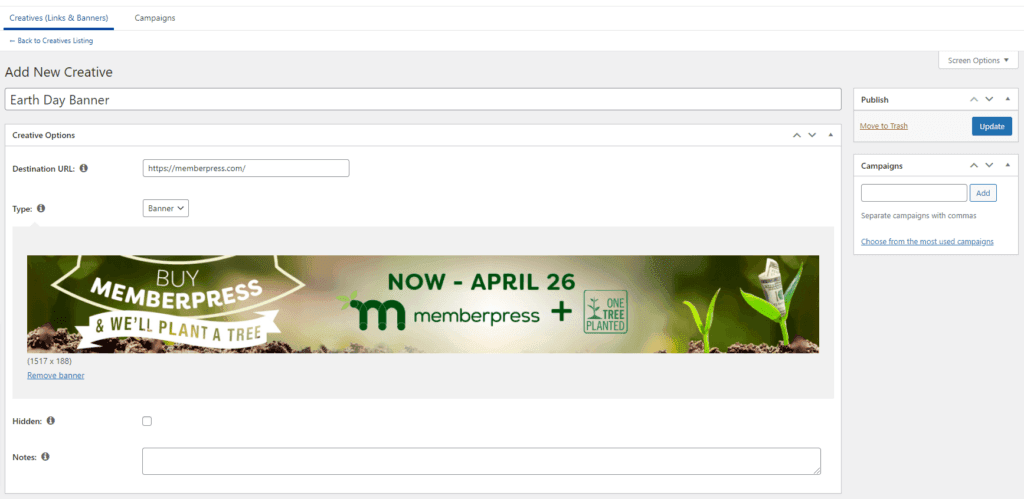 Click the blue Update button and your affiliate's will instantly have access to the new banner on their dashboard:

Affiliates can then incorporate your banner and links on their websites or in promotional content.
Conclusion
Attracting new recruits is an integral aspect of managing a thriving affiliate marketing program. However, once they've joined, you need to ensure they're fully prepared to succeed.
In this post, we shared three ways you can prepare your affiliate program's recruits:
Create orientation training for your new members.
Ensure you have clear guidelines to help direct your partners.
Supply them with resources and materials they need for a solid head start.
Do you have questions about how you can ensure that your recruits are properly prepared for your affiliate program? Ask away in the comments section below!
If you liked this post, be sure to follow us on Twitter, Facebook, and LinkedIn! And don't forget to subscribe in the box below.