The quality of your program's affiliates will contribute significantly to your business' success. This is why finding the best affiliates possible is one step in the recruitment process you can't afford to overlook. However, even if you have a solid affiliate program in place, you may still struggle to find the right candidates.
Fortunately, it's possible to recruit valuable affiliates to your program without digging through dozens of applications. By following a few basic strategies, you can complete this process quickly and effectively.
In this post, we'll first discuss why quality affiliates are so important. Then we'll outline three stellar tips that will help you find and recruit quality affiliates to your program. Let's get started!
Why Quality Affiliates Are Important
Affiliates are the soul of your program, which makes it essential that you make the best selections possible. While quality can be subjective, there are two concrete elements that contribute to this criteria. You'll want to look for affiliates with experience and industry knowledge, as well as those you can trust to follow program policies and represent your business.
One of the most obvious ways these high-quality affiliates can benefit your business is through increased sales. Plus, when you work with awesome affiliates they can also encourage others to join your program. Therefore, finding the right affiliates for your business should be a top priority.
3 Stellar Tips for Recruiting Quality Affiliates to Your Program
While finding quality affiliates may seem like a daunting task at first, there are a number of simple strategies that can bolster your efforts. Let's take a look at a few of the best ones.
1. Actively Network on Social Media
As a marketer, you may already use social media to reach new leads. However, networking on social media can also help you improve your affiliate outreach efforts.
There are two main benefits to using social media this way. First, an active presence establishes you as a credible business, thereby enhancing your affiliate program. Second, it helps you expand your reach and open up your affiliate products to new audiences. This paves the way for affiliate recruits you may not have been able to reach otherwise.
To implement this strategy, you'll need to choose the right platform for attracting industry affiliates. You can do this by analyzing audience demographics (in this case, your 'audience' is affiliate recruits). When you've settled on the right platform, it's important to incorporate targeted keywords in your content and follow platform-specific standards, such as using Mentions on Facebook or hashtags on Twitter:
Overall, consistency is key when it comes to social media. This means you need to stay active on your accounts by frequently participating in discussions and sharing valuable content. We recommend starting off with just one or two platforms, so you can focus in on them.
2. Reward Affiliates for Their Recruitment Efforts
Along with promoting your products, your affiliates can also help advocate for your program. This can ease your burden, and can also lead to an increase in quality affiliate recruits.
Giving your affiliates rewards for their recruitment efforts provides them with motivation. In particular, recurring rewards (such as allowing your affiliates to make a percentage of their recruits' sales) motivate them to select new affiliates they believe will perform well. This is a win-win for you.
Your first step in this strategy will be to select a reward type. This means deciding between a one-time or recurring reward and determining its exact form. Then you'll need to implement that reward. When you use Easy Affiliate, this is a simple task because our plugin enables you to set up affiliate tiers: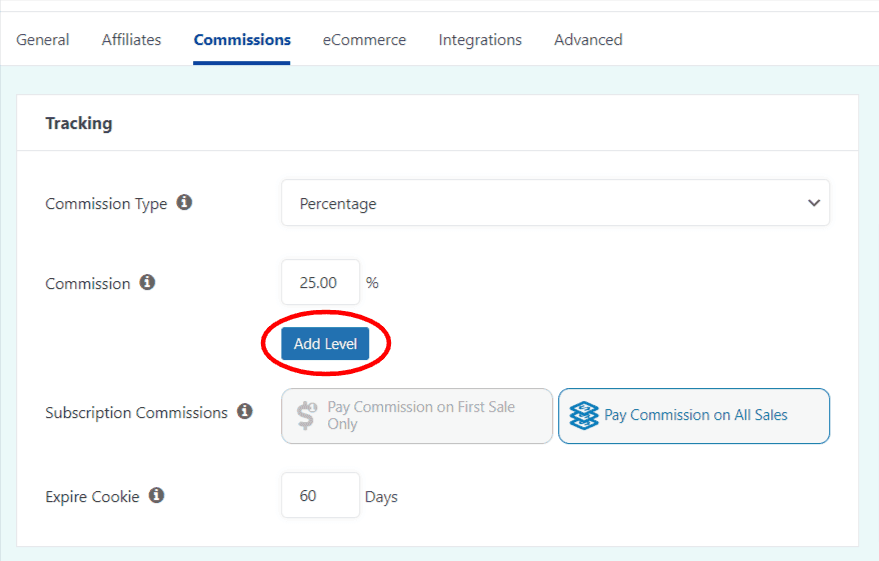 All you need to do is head to Easy Affiliate > Settings > Commissions. You can then set commission rates per affiliate level. For subscriptions, you can choose which transactions to pay commissions on. Check the Pay Commission on First Sale Only button if you'd like affiliates to receive a one-time payment. Or, click the Pay Commission on All Sales button if you'd like to pay affiliates each time a subscription is renewed.
When you are finished, be sure to click the blue Update Options button at the bottom of the page.
3. Partner With Like-Minded Businesses
Thanks to affiliate marketing's expanding popularity, you have a number of business growth options at your disposal. For example, you can partner with like-minded businesses for the purposes of affiliate expansion. This means finding other industry businesses with affiliates and working with them to expand both programs.
The best thing about this kind of partnership is that you get access to an already-established affiliate list. While this doesn't automatically mean you'll gain all of your partner's affiliates, your social media presence and affiliate incentives (as outlined in the above two tips) can help attract many of those affiliates to your program.
Of course, you'll first need to locate complementary businesses that aren't competitors within your industry. For instance, if you sell fitness equipment you could partner with a health foods business that has an active affiliate program. It may take a bit of work to find the right match, but here are two tips to get you started:
Use your connections. If you have an active social media presence, it's likely that you know someone (even indirectly) who would make a great partner.
Attend industry events. This is a perfect way to expand your networking to the real world, and get a personal feel for any potential business partners.
It's also a smart idea to offer a special affiliate commission rate to your new partner's affiliates. This will encourage more newcomers to take the plunge.
Conclusion
A strong and successful affiliate program rests on a foundation of quality affiliates. Therefore, it's essential to refine your recruitment efforts and focus on finding the affiliates who are best suited to your program.
In this post, we've outlined three tips you can use to find and recruit quality affiliates. To quickly recap, they are:
Actively network on social media.
Reward affiliates for their recruitment efforts.
Partner with like-minded businesses.
Do you have any questions about how to recruit quality affiliates to your program, or how Easy Affiliate can help? Let us know in the comments section below!
If you liked this post, be sure to follow us on Twitter, Facebook, and LinkedIn! And don't forget to subscribe in the box below.