Affiliate marketing can be very profitable when done right. According to a Business Insider report, it accounts for about 15 percent of overall revenue in the digital media industry. However, there are some common mistakes business owners are prone to making when starting new programs, which can hamper long-term success.
By avoiding these stumbling blocks, you can maximize your income and build profitable relationships with your marketing partners or affiliates. Fortunately that isn't hard to do – in this case, a little foreknowledge goes a long way.
In this article, we'll look at the top six mistakes commonly made when starting an affiliate marketing program, and talk about how to avoid them. Let's get started!
1. Neglecting to Promote Your Affiliate Program
First on our list is neglecting to promote your affiliate marketing program. It's nearly impossible to make your program a success if you haven't generated any awareness about it.
Ideally, you'll want to begin advertising your program even before it's launched. You can start by letting your existing audience know about it (for example, through an email blast), and by clarifying its benefits and how much they can earn.
In addition, it's a good idea to set up banners on your home page (or any other page with high visibility):
Social media posts can also be an effective means for notifying both existing and new followers about your program. All of this content can lead interested parties to a dedicated page that explains all of the key details.
2. Forgetting to Vet Your Affiliate Partners
It's tempting to indiscriminately accept anyone who applies to your affiliate program. This comes from a desire to grow it as quickly as possible. However, it's smart to perform some due diligence and acquire basic background information for each applicant, since they'll be functioning as an advocate for your products or services.
Going into partnerships with people whose only goal is to make a quick buck can give your brand a bad reputation. Additionally, since these individuals may also be prone to spamming links and engaging in other less-than-stellar practices, your page rankings could be negatively affected.
Therefore, it's best to ensure that everyone you accept satisfies the following (at a minimum):
Has a quality content channel (blog, podcast, social profiles, etc.) that's regularly updated
Is a genuine business or has previous affiliate experience
Does not engage in spammy practices in their existing content
Is established within their niche and has the trust of their audience (as indicated by a highly-engaged following, a strong social media presence, etc.)
Overall, you'll want to focus on gathering a small but solid band of affiliates, rather than a sizable number who might do more harm than good.
3. Failing to Pay Enough Commission
The appeal of an affiliate marketing program is that anyone can earn money by promoting a brand's products or services. While there's certainly some work to be done, affiliates can bring in what's essentially passive income once the right structures are in place.
With that being said, the rewards will still need to be worthwhile in order to attract quality marketers. Since many businesses now have affiliate programs for promoting their offerings, it's important to stand out or you risk losing to the competition. If your commission rates aren't appealing enough, you may see few applicants.
Admittedly, it may not be feasible to pay high rates for all of your products. However, it's generally smart to have a list of high-commission items. Additionally, you'll want to ensure that payments are sent out as early as possible, and according to your affiliate agreement. Otherwise, your partners may lose their motivation for promoting your brand.
In the same vein, it's important that you do not reduce commissions after sign-ups. This can cause your affiliates to stop promoting your products, or even leave your program entirely.
4. Not Tracking Affiliate Activities
Even your best efforts at vetting potential affiliates might be inadequate. You might find that you still have some marketing partners who overstep their bounds and engage in questionable or even unethical practices.
Therefore, you'll want to set up a consistent schedule for reviewing affiliate traffic and sales for inconsistencies. Proactively monitoring your affiliates this way can ensure that they do not damage your reputation. It might even help you contain mishaps early on.
It's also very important to define the terms and conditions for your program before launching it: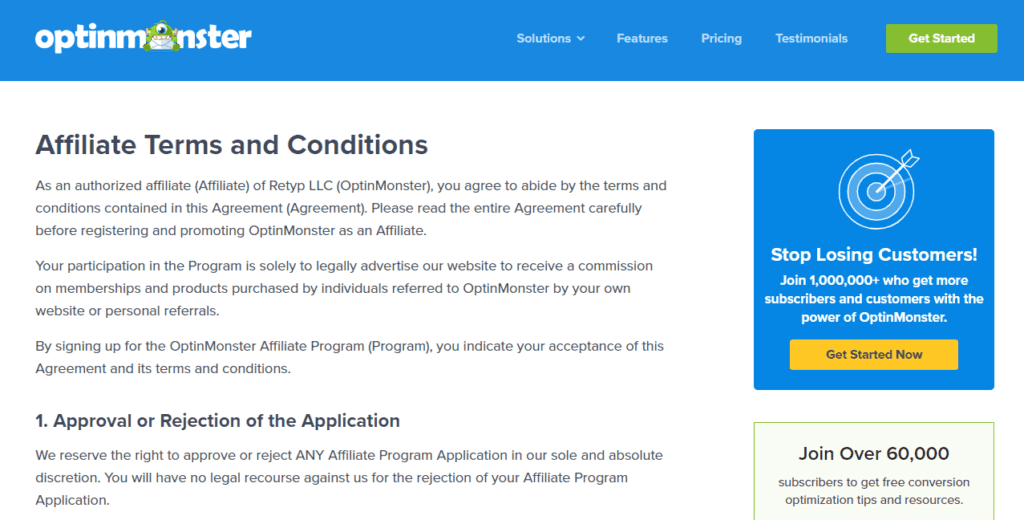 Then you'll just have to enforce them as needed, which can serve to deter further mischief.
5. Neglecting to Spell Out Acceptable and Unacceptable Marketing Strategies
We've established that some affiliates may engage in questionable marketing practices, regardless of your best efforts to vet them at the application stage. However, it's also possible that you simply haven't made your rules clear enough.
When starting your program, you'll want to create unambiguous standards about acceptable and unacceptable practices. For example, some companies forbid their affiliates from bidding on certain brand keywords in Google AdWords.
Consider including a list of allowed promotional activities in your affiliate terms, and forbidding everything else. This way, you can avoid the risk of your partners using techniques you're unfamiliar with, and keep your reputation sparkling.
6. Failing to Treat Your Affiliates Like Business Partners
Affiliate partnerships are business relationships. Therefore, you'll want to treat them as such. Although it's your responsibility to lay down rules to ensure that affiliates do not damage your brand's reputation, you'll also want to allow some flexibility and avoid treating them like employees.
To begin with, you should consider allowing flexible marketing techniques (within your established constraints, as discussed above). You'll also want to avoid creating too many rules, and generally being heavy-handed. The goal is to build and maintain solid working relationships with your affiliates.
Communication is a key factor in building such strong partnerships. Therefore, you'll want to keep the lines of communication open, listening to affiliates' concerns and suggestions. This might require scheduling regular meetings, as well as sending newsletters and educational content.
Another advantage of communicating with your affiliates is that since they're often in direct contact with your end users, you can gain more awareness about what products or services your audiences want and are willing to pay for. Therefore, it's best to be proactive about soliciting such feedback, as your affiliates may unintentionally gloss over it.
Conclusion
Starting an affiliate marketing program can be an excellent way to increase your revenue. When done the right way, you can build long-term relationships with partners who will help create more awareness for your brand. You can also gain deeper insights into the needs of your target audiences.
Along the way, it's also vital to avoid these six common mistakes:
Neglecting to promote your affiliate program.
Forgetting to vet your affiliate partners.
Failing to pay enough commissions.
Not tracking affiliate activities.
Neglecting to spell out acceptable and unacceptable marketing strategies.
Failing to treat your affiliates like business partners.
Have you made any of these mistakes, and how have you fixed (or how do you plan to fix) them? Let us know in the comments below!
If you liked this post, be sure to follow us on Twitter, Facebook, and LinkedIn! And don't forget to subscribe in the box below.