It may seem like the search engine optimization (SEO) tactics you can implement on your small business website are endless. This can make getting started with SEO seem overwhelming. It's critical to have a strategic approach when you're deciding which methods to use.
If you hone in on the most important methods, launching your SEO strategy can be a lot more manageable. When you focus on the essentials, such as quality content and a solid keyword strategy, you can drastically improve your site's search engine rankings.
In this post, we'll explain why SEO is vital to the success of your small business. Then we'll explore four SEO hacks, offering advice on how to implement them along the way. Let's dive in!
Why SEO is Crucial to the Success of Your Online Business
In a nutshell, SEO is the process of intentionally improving your website in order to boost its visibility in search engines such as Google. With so many sites out there to compete with, it has become an essential piece of any online business strategy. In fact, 61% of marketers say that improving SEO is their top priority.
So you might be wondering how your website can make it to the top of the search engine results pages (SERPs). Your site's ranking is largely determined by many factors, including (but not limited to) the following:
Keywords and keyword placement. These are highly-searched words in your niche or from your target audience. Keywords should appear strategically in all of your content, such as articles, titles, URLs, meta tags, image file names, and more.
Site performance. This refers to how quickly your content and pages load. Visitors will abandon websites due to slow loading times. As such, you'll want to be sure your site is nice and speedy.
User Experience (UX). This describes how site visitors experience your pages and posts. It includes usability, navigation, and more.
A strong SEO strategy can help increase brand recognition, click-through rates (CTRs), and even sales. What's more, SEO best practices can be particularly beneficial for affiliate sites, which need high organic traffic in order to maximize commissions.
4 Ways to Improve Your Website's SEO
There are many SEO strategies to choose from, but selecting the most effective tactics can help kickstart your ecommerce company sooner. With this in mind, here are four SEO hacks you may want to consider!
1. Provide Top-Tier Content
Producing quality content on your website is one of the best ways to improve SEO. Excellent material creates a better UX and can therefore boost your CTRs. Plus, the better your pages are, the easier it is for a search engine bot to assess and rank them.
With this in mind, it's best to focus on creating exceptional blog posts, videos, and images. That way, you can establish your credibility and authority in your niche.
To produce quality content consistently, we suggest using a content calendar such as Nelio Content or Strive:
Creating exceptional content on a regular basis can help build traffic organically, thus communicating to search engines that your content is useful. On the flip side, posting sporadically can create an unreliable image. The good news is that a bit of planning can go a long way.
2. Optimize for Keywords
Keywords are an important aspect of SEO – they signal to search engines how relevant your site is to a particular search. As a result, they help users find your content.
You can discover useful keywords with the help of tools such as Google Trends and Google Keyword Planner: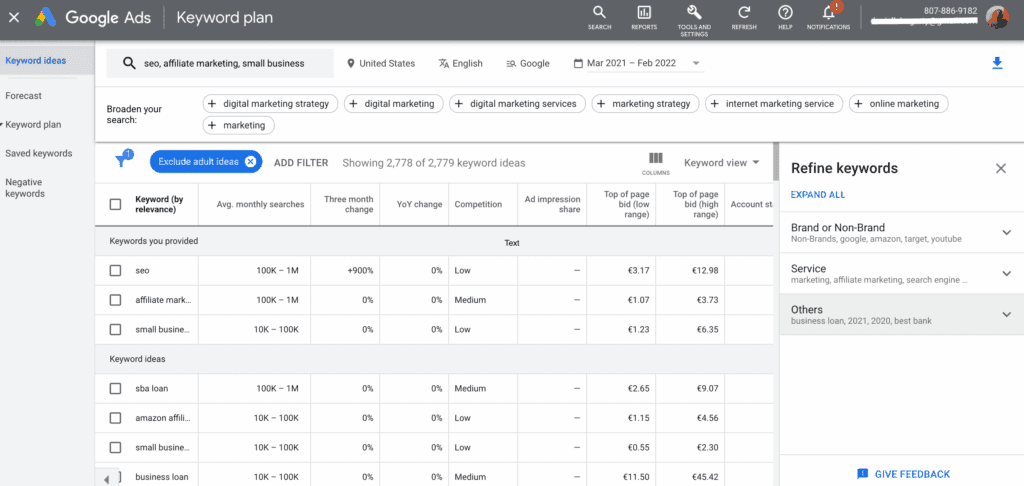 It's best to select highly-searched keywords with low competition. They should also be relevant to your niche, product, or services. Long-tail keywords can also be quite effective.
Additionally, you would be wise to place these keywords in important areas of your website, such as titles, meta tags, and image file names. If you run an affiliate site, you can also try creating automatic affiliate links based on your chosen keywords with our Easy Affiliate plugin.
Overall, optimizing keywords on your website is a continuous process of trial and error. However, simply getting started puts you on the path toward improving your site's SEO.
3. Increase Backlinks to Your Site
Simply put, backlinks are links on other websites that lead back to yours. This happens when another website owner believes one of your pages is relevant enough to include a link to in their content.
Backlinks are important because they help expand your audience and establish your authority. They improve SEO by indicating to search engines that your website is valuable and accurate.
There are several things you can do to increase your backlinks. One easy method is by writing guest posts on other sites in your niche.
You can naturally include links to your own site in the posts you produce. To find collaborators, you can simply search for relevant blogs in your field, and contact the site owner or blog author to offer your time and services.
You might also want to try out backlinking tools such as Semrush: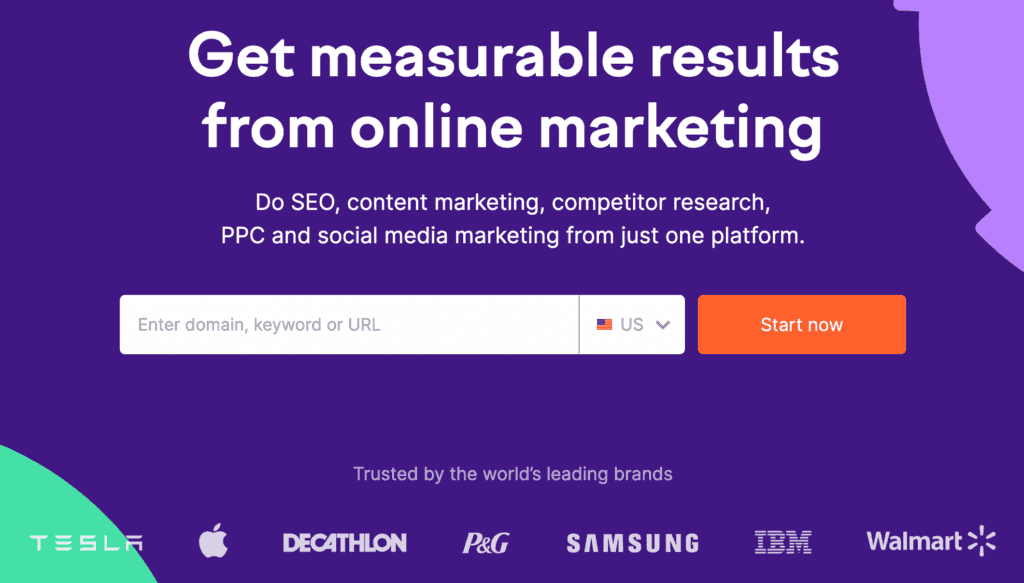 Semrush offers sophisticated backlink analytics to help you audit your backlinks and find organic opportunities to create them.
Finally, you might want to try being active on forums in your niche. Posting regularly in forums within your target industry can strengthen your credibility and widen your reach, all while building backlinks to your site.
4. Enable Responsive Design
More than half of web traffic comes from mobile devices. Why is this important to SEO? When Google crawls your pages, it's also checking for mobile adaptability. This means that having a mobile-friendly design is essential to increase your business site's traffic: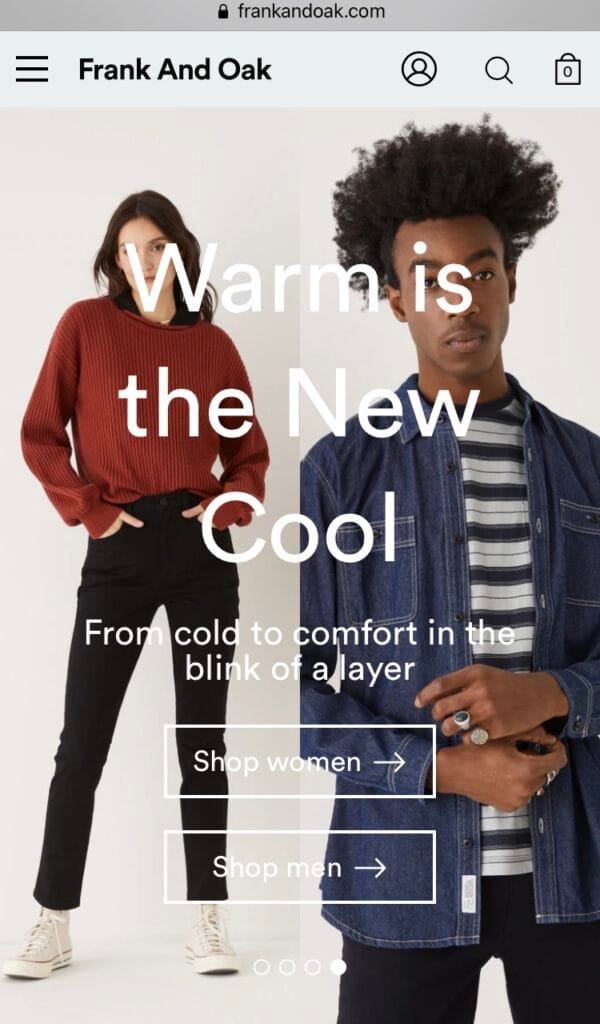 If your site isn't mobile-ready, this can create a poor UX and can cause you to lose visitors. You can enable mobile design by choosing a mobile-friendly theme or adding design features that support additional devices.
When you do this, we recommend paying particular attention to your menus and other navigation, as these can suffer if they are not optimized for mobile devices. Additionally, it would be wise to ensure that your checkout process is seamless for mobile users too.
Conclusion
With so many possibilities, you might be intimidated by everything involved in SEO. However, developing a simple SEO strategy can help maximize traffic to your site and boost your conversions organically.
To recap, here are four SEO hacks to help you grow your small ecommerce business:
Produce top-quality content.
Select highly-searched, relevant keywords and place them strategically.
Increase backlinks via guest blogging, participating in forums, and using marketing tools such as Semrush.
Ensure that your site is mobile-responsive.
Do you have any questions about how to improve your site's SEO? Let us know in the comments section below!
If you liked this article, follow us on Twitter, Facebook, Pinterest, and LinkedIn. And don't forget to subscribe to our newsletter 🐝