One key to being a successful affiliate is to share fresh content on social media. It's also important to create new content regularly. Of course, that can be a monumental task for even the most prolific affiliates.
That's where repurposing content can be a lifesaver. By reusing articles, blog posts, videos, infographics, and other forms of media that you already have on hand, you could save yourself a lot of work.
This post will take a look at some of the advantages of repurposing your affiliate site's content for social media. Then we'll share a few tips for doing so. Let's dive in!
Why It's Smart to Repurpose Affiliate Site Content for Social Media
When you repurpose content, you take something you already have and transform it for a different use or platform. Social media offers an excellent way to engage your audience by taking your affiliate content and using it to expand your reach.
Consider how social media is a central part of most people's lives: 90% of Millennials use it, as do over 77% of Gen X, and nearly half of Baby Boomers. Of course, some users prefer Instagram while others rely on Twitter or Facebook, so it makes sense to focus your attention on multiple platforms.
Targeting multiple platforms enables you to transform actionable content, or content that increases your conversions, that didn't succeed on one platform and share it on another site instead. When you do, you save yourself work in the long run. For instance, a video you worked hard on that didn't get as many views as you wanted can easily become an Instagram Story.
This is an especially important strategy for affiliates. The more platforms you use, the more chances you'll have to share your links. Plus, you can generate traffic by using the right keywords repeatedly without appearing spammy to your audience. As an affiliate, you really can't go wrong by branching out and reusing your content.
How to Repurpose Content for Social Media (4 Key Tips)
The first step to repurposing your affiliate content is to know which platforms works best specifically for affiliates. Once you do, you can use that knowledge to your advantage in a number of ways. Let's look at four of the most effective options.
1. Use Infographics to Translate Your Website Content to Instagram
Effective infographics can be challenging to create, but the benefit from doing so can be well worth your time. After all, people absorb information from visuals 60,000 times faster than through text.
So, if you have a large Instagram platform, or are looking to expand, it makes sense to turn some of your affiliate blog posts into infographics:

To keep your infographic from being overwhelmed with information, consider using a snippet of a larger post to act as a teaser. This can be a snapshot of your overall content, designed to get your audience clicking on those affiliate links.
Infographics are an excellent way to deliver quick, actionable content that's tailored for Instagram and similar platforms. Plus, there are plenty of tools you can use to create infographics quickly, such as Canva.
2. Take Your Photo Blog to Pinterest to Drive Traffic
Another growing platform, especially for affiliates, is Pinterest. This social site uses pictures, videos, and GIFs to drive traffic, and enables you to backlink affiliate marketing material. So if you have a photo-centric blog, or your website uses a lot of images, you can reuse them on Pinterest.
The best part is that Pinterest has some useful features for marketers, including analytics tracking and the ability to connect your profile to your site. This way, you have the opportunity to not only use your affiliate links, but to increase clicks on your website as well:

Pinterest is a top platform for affiliates, since it's easy to use and you can categorize different boards to support various affiliate links. The trick to getting your pins noticed is to be as descriptive as you can. Classify your boards well, and make sure that each pin has a detailed label to drive the right traffic.
2. Turn Blog Posts into Tweets
Tweets may seem hard to navigate at first, because you only get 280 characters to work with. However, Twitter is a great medium for affiliate-focused content and backlinks. For instance, you can integrate an affiliate link into viral tweets to generate more exposure.
To get your tweets noticed, add in some relevant hashtags and keywords, but try not to overdo it. As with other mediums, you may be seen as spammy, and people might skip over your tweets. Plus, while you now have double the character space, it's still a tight fit to get your message across, add a backlink, and include tags: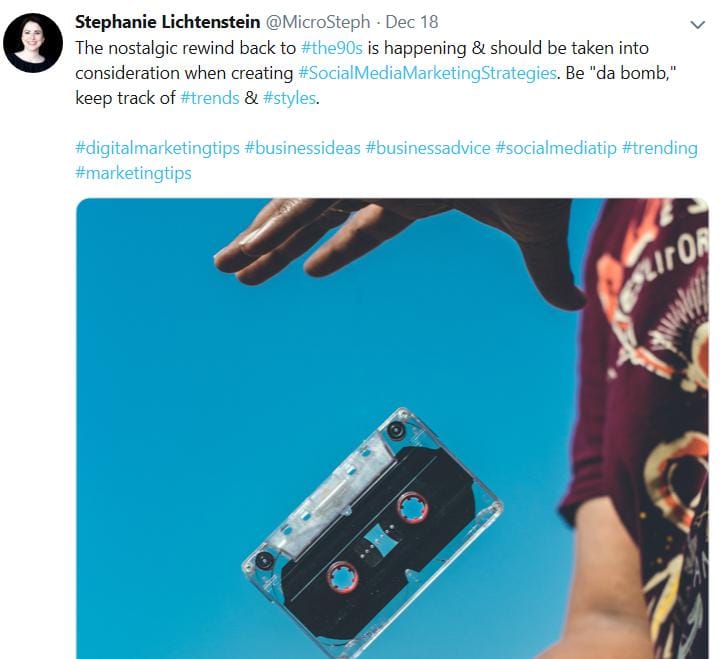 That's where Twitter threads come in handy. Now, you can add to a tweet easily by creating a thread, which is a string of connected messages. This makes translating longer content, such as a blog post, into a tweet much easier.
Don't forget to connect your social media accounts as well, and link your blog to Twitter. With features like Click to Tweet, it's never been easier to get your links shared across multiple platforms. Click to Tweet enables you to add a link that helps your readers effortlessly share your content on Twitter.
3. Re-Publish Long-Form Content on Facebook or LinkedIn
With nearly 2.5 billion active users on Facebook, and almost 600 million users on LinkedIn, it makes sense to leverage both platforms. This means taking your affiliate marketing beyond basic Facebook advertising.
Both of these platforms lend themselves well to publishing longer content, also known as long-form content, such as posts and articles:
Let's take a closer look at Facebook. With so many users, and the ability to target your content using groups, keywords, and hashtags, you're likely to find your target audience.
Unlike Twitter, Instagram, and Pinterest, Facebook handles long-form content well. This is especially important, as it enables readers to share your content on their own profiles and permits you to post content to your brand's page in order to grow your audience.
Once you build up your user base, long-form content is what may keep people coming back to you time and time again. You're more likely to see people spending more time on your pages and to attract more engagement: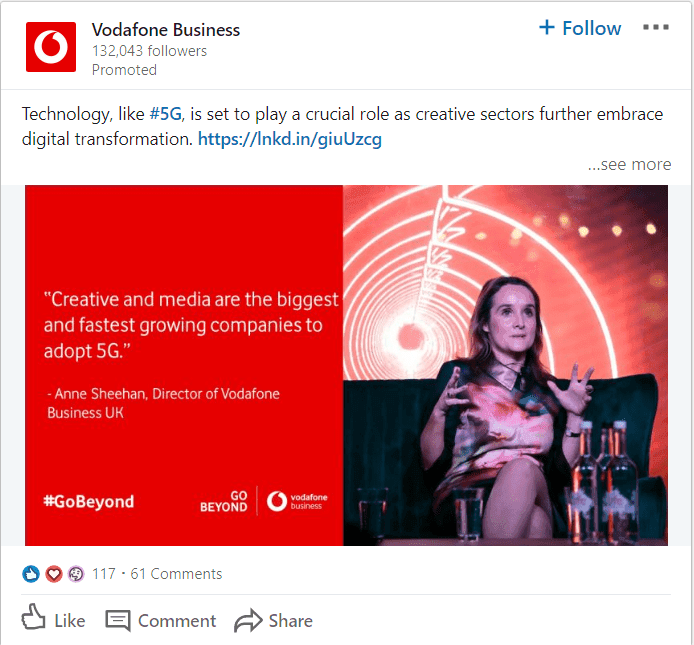 This tactic also works well on LinkedIn. LinkedIn is the most professional social media platform, and because of that, it may help to boost your brand's authority. After all, nearly half of all people in the US who have college degrees are on LinkedIn, and 45% of all LinkedIn users are upper management.
Long-form content works best here because, while posts can get you brand visibility, detailed articles will help to build your authority. Similar to Facebook, articles that average 2,000-3,000 words and provide genuinely useful information are typically successful. That makes these platforms an ideal place for repurposing blog posts and even white papers.
Conclusion
While you might wish that recycling content were as simple as copying and pasting old media, you really do need to put effort into the transformation process. You want the quality of your affiliate content to be stellar on every platform.
By following these steps, you can be well on your way to optimizing the content you produce as an affiliate:
Use infographics to share information on Instagram faster and wider.
Take blog media to Pinterest in order to drive traffic.
Turn blog posts and affiliate links into tweets.
Re-publish long-form content on platforms like Facebook and LinkedIn.
Do you have any questions about repurposing your affiliate content for social media? Leave them for us below!
If you liked this post, be sure to follow us on Twitter, Facebook, and LinkedIn! And don't forget to subscribe in the box below.