As an affiliate marketer, it's important to be transparent regarding your program. From a business perspective, transparency could help you to yield greater conversion rates and sales. More importantly, it will promote trust between you and your affiliates. Unfortunately, understanding what constitutes transparency – and how to achieve it – can be difficult.
Fortunately, there are a few practices – such as the disclosure of affiliate links and the sharing of statistics – that add transparency to your affiliate program. When implemented, these practices will benefit you, your audience, and your affiliates.
In this post, we'll first offer an introduction to affiliate program transparency. You'll learn how transparency can benefit your business, before we offer three tips you can use to implement transparency in your own affiliate program. Let's get started!
What Transparency Is (And How It Benefits Your Affiliate Program)
Transparency is a concept that implies openness, communication, and accountability – all important concepts within affiliate marketing. After all, for affiliate marketing to succeed, strong relationships have to be formed, and that's only possible when transparency is achieved.
To get an idea of what transparency looks like in marketing, here are three tell-tale signs that an affiliate business practices transparency:
It follows Federal Trade Commission (FTC) practices, especially as it pertains to link and advertising disclosures.
The manager isn't afraid to answer questions or concerns, and speaks openly with affiliates.
What's more, they're open with affiliates about the program's status and policies.
Transparency has a variety of benefits, although the overarching positive is that by employing it you'll likely attract high-quality affiliates. This is because they'll be more willing to work with open and communicative affiliate companies. What's more, customers trust companies that treat them respectfully, and this includes disclosing when and where affiliate links are being used.
Overall, there's a lot to gain by implementing transparency, so let's take a look at how to do so.
3 Tips for Increasing the Transparency in Your Affiliate Marketing
Increasing your program's transparency is quite simple. Here are three tips to get you started on the right path.
1. Disclose Affiliate Links

Perhaps one of the most important things you'll learn as a marketer is how to properly disclose affiliate links. Doing this indicates you'll earn commission upon clicking the link. This is an essential technique, especially as your affiliates will be looking to you to learn fair and best practices. In addition, you'll also build trust with your visitors.
With the above in mind, here are a few tips for disclosing affiliate links properly:
Follow FTC guidelines. Essentially, you want to focus on clear and conspicuous disclosures. This means disclosures placed near affiliate links and repeated when necessary.
Use clear language. Use obvious words, such as "commission" and "paid" to let your readers know that you do receive payments from affiliate links.
Be consistent. Use the same disclosure message throughout your website. This will make it easier for consumers to recognize, and generally avoids confusion.
As a marketer, affiliate links are at the heart of your business. This requires you use them wisely (i.e. practice proper disclosure), so you'll build trust with your readers while also showing your affiliates how it's done.
2. Create Clear Affiliate Policies
Affiliate policies are simply guidelines that clearly outline expectations. They tell your affiliates what you expect from them, and when presented correctly, can help your program to appear cohesive and professional.
In order to create clear affiliate policies, include these three steps in your process:
Be consistent and use direct language. Use obvious language that cannot be misinterpreted, and provide further explanation for more elusive concepts.
Provide examples. Include screenshots, videos, or other visual aids on your affiliate policy page if possible. This enables you to clearly show your affiliates exactly how you'd like things to be done.
Be open to (and invite) communication. Your affiliates should always feel free to come to you with any questions, and this has the benefit of strengthening your new open and transparent policy.
In short, a clear affiliate policy will cut down on poor business practices (such as improperly disclosing links) and provide your affiliates with a go-to guide for common questions and misunderstandings – so it pays to spend some time on this.
3. Share Relevant Affiliate Reports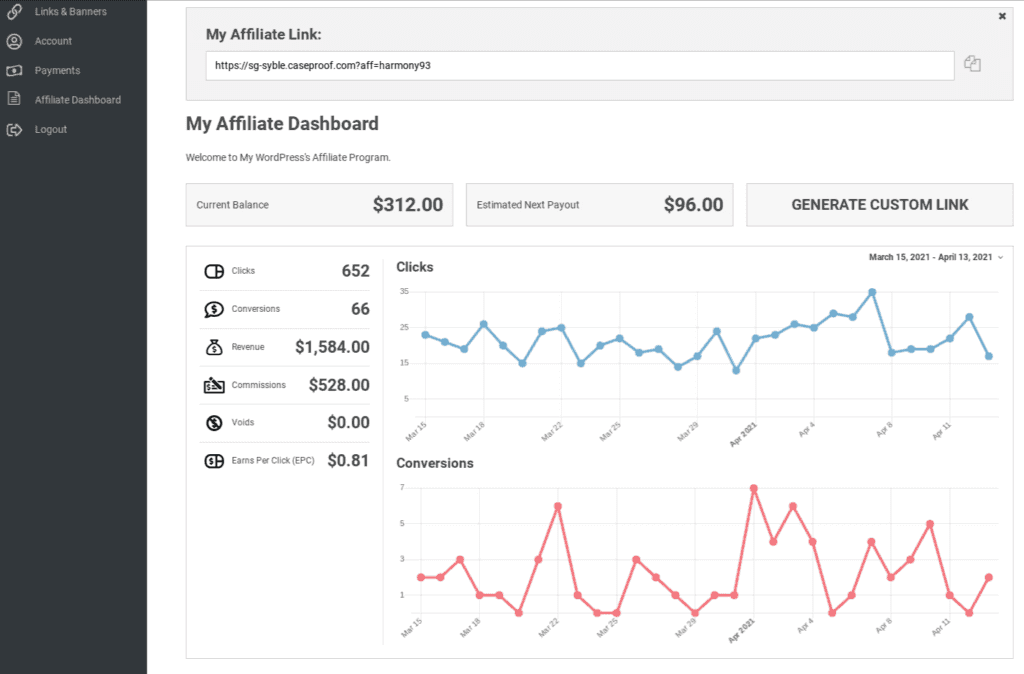 Good reporting enables you to see your affiliate sales, earnings, and link clicks all from a central location. While some managers will monitor these privately, it's a good idea to give affiliates access to this information too. This is because firstly, your affiliates are likely see this data as 'belonging' to them. However, a greater benefit is that having clear statistics can help them to improve in the future.
Fortunately, Easy Affiliate makes sharing relevant reports with your affiliates simple through the Affiliate Dashboard.
Conclusion
One of the best things you can do for your affiliate program is to implement transparent marketing practices. This leads to trust among your audience and your affiliates, and ultimately leads to high-quality affiliate recruits and more sales. It's a win-win all around!
In this post, we've offered three tips for increasing the transparency in your affiliate marketing. Let's quickly recap:
Disclose your affiliate links.
Create clear and thorough affiliate policies.
Share any relevant reports and statistics with your affiliates.
Do you have any questions about transparency in affiliate marketing, or how you can go about introducing it into your program? Let us know in the comments section below!
If you liked this post, be sure to follow us on Twitter, Facebook, and LinkedIn! And don't forget to subscribe in the box below.