If you're looking for a way to increase your affiliate revenue, video content may be your answer. Yet, to the uninitiated, this strategy may seem daunting.
Luckily, creating and publishing videos as an affiliate is easier than ever. Smartphones make filming a breeze. Plus, there are many websites and apps completely devoted to hosting this type of content.
In this article, we'll take a look at the benefits of expanding your affiliate marketing strategy to video. Then we'll share tips for doing so. Let's dive in!
Why You Should Include Videos in Your Affiliate Marketing Strategy
As an affiliate, you have a lot of options when it comes to channels for promoting products and services to your audience. Blogs and social media are popular routes, but the rise of video content has led to more influencers turning to this medium:
Video has proven to be an effective way to reach audiences. For instance, incorporating this type of content on landing pages has been shown to increase conversion rates by as much as 80%.
Additionally, brands have increased their email click-through rates (CTRs) by 20–40 percent by including video content. For an affiliate, this translates to more commissions and higher revenue.
These numbers likely stem from the variety of advantages video content has over, say, a blog post. Due to our ever-decreasing attention spans, your audience is more likely to invest in a five-minute video than in reading your 1,500-word article.
Additionally, people are better able to recall visual content than something they've read. Videos are more likely to be memorable and stick with your audience, potentially leading to more conversion down the line.
Finally, video is proven to have a high return on investment (ROI). Even if you're filming on your smartphone and using a low-cost editing software such as iMovie, you'll likely still see an increase in revenue.
3 Key Tips for Using Video as an Affiliate Marketer
There's no single way to use videos as an affiliate marketer. However, there are some tips to help you along. Here are three you can use to increase your chances of success.
1. Create a Clear Call to Action (CTA)
A CTA is an essential part of any affiliate marketing content. This is your chance to draw attention to your links and encourage leads to click on them. You might also suggest other forms of engagement to help build your audience.
Some common CTAs you might incorporate into your video content include:
Instructions for using your affiliate link to find more information on a product or service you're promoting
Suggestions for participating in the comments section of your video
Information on special deals or coupons viewers can take advantage of by using your affiliate promotion code
A list of where to follow you on social media
Reminders to subscribe to your YouTube channel for more video content
Video CTAs are often placed at the end:
However, you can use them at various points throughout your content so long as you don't overdo it. Keep your directives simple and practical for maximum effect.
Additionally, if you encourage viewers to click on your affiliate links in your CTA, make sure they're readily available and easy to locate. Consider placing them in your YouTube video description or social media post captions.
2. Optimize Your Videos for Search Engines
Just as you would optimize a blog post for search engines, you should do the same for your videos. Not only will this help you gain traction on platforms such as YouTube, but it can also help you appear in Google searches:
Keyword research is a vital factor in this process. You can use tools such as Google Keyword Planner or Moz's Keyword Explorer, in addition to conducting your own video searches to see what terms are ranking. Then, incorporate your findings into your titles and descriptions.
Transcripts are another means of increasing your videos' SEO. By publishing a written version of your visual content on your website, you gain another opportunity to put your keywords to work.
Lastly, watch time, or the average duration of views for a video, is the top ranking factor for YouTube. Creating interesting, valuable content that is highly sharable is one of the best ways to rise up through results.
3. Keep Your Video Content Relatively Short
As we mentioned earlier, human attention spans are becoming shorter at an alarming rate. This means that in order to keep viewers engaged, you'll want your videos to stay concise.
The average length for high-ranking videos on YouTube is just under four and a half minutes. Especially if you're just getting started, this is a smart timestamp to aim for.
That said, there are plenty of video content creators who rank well while consistently publishing videos that approach ten minutes or even longer. If you want to aim for this goal, it's important to keep viewers hooked so they don't get bored and click away.
One strategy for achieving this is creating list-style videos such as top-ten roundups:
You can also hint at or promise key information later in your video to encourage viewers to stick around until the end.
Where to Host and Share Your Videos
Tapping into your existing audience is a smart move. If you already have a strong following on your affiliate website or social media accounts, you'll likely want to share your video content on those platforms.
However, there are drawbacks to uploading videos to your WordPress site or sharing them exclusively on social networks. For starters, large media files put a significant drag on your website's performance.
As far as social media is concerned, older posts can easily get lost in your feeds over time. This decreases the conversion opportunities for your video content.
To work around these limitations, it's wise to host your videos on a platform such as YouTube: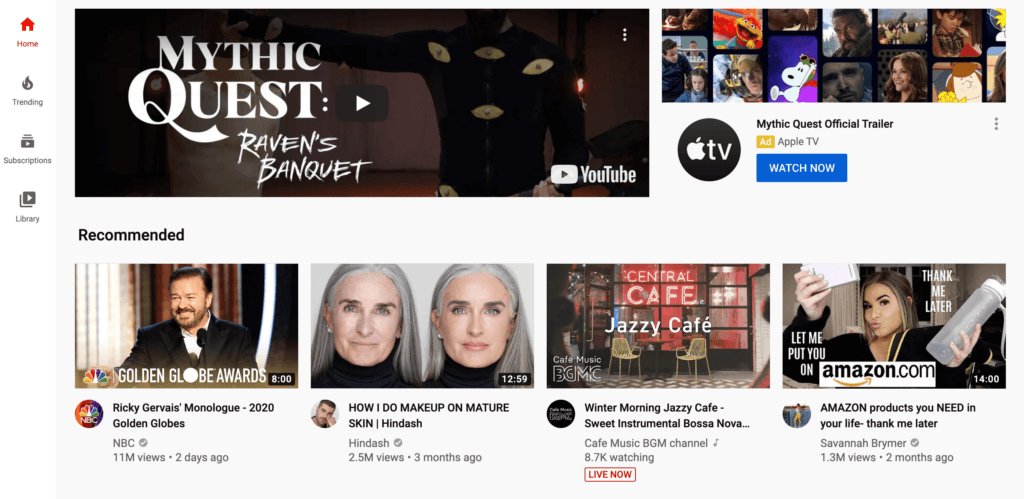 This enables you to embed videos on your website with minimal impact on loading speed, and provides a place where potential buyers can find your content at any point in time.
Plus, YouTube is a prime platform for affiliate marketing. Nearly two billion logged-in users visit it each month, so you know there's an audience waiting. You also have the option to monetize your videos with ads and share links in your descriptions.
Another factor to consider is newer platforms designed for short, entertaining video content. TikTok is currently one of the most popular mobile apps, and now enables you to link viewers to third-party websites.
Conclusion
While entering a new field of marketing can seem overwhelming, using videos as an affiliate is worth the effort. Not only is it one of the most popular mediums, but it's relatively straightforward to get started.
If you keep the following in mind for your video strategy, you stand a higher chance of success:
Create a strong CTA and clearly display your links.
Optimize your videos for search engines.
Keep your videos relatively short, below the five minute mark.
Do you have any questions or thoughts about using videos as an affiliate? Let us know in the comments section below!
If you liked this post, be sure to follow us on Twitter, Facebook, and LinkedIn! And don't forget to subscribe in the box below.