Selling affiliate products, while a great source of income, can also be challenging in today's crowded online space. In particular, one area many affiliate marketers struggle with is converting products into sales.
Product reviews are an effective yet often-overlooked type of content that affiliate marketers can use to boost conversions. In fact, studies show that as many as 93% of shoppers say online reviews influence their purchasing decisions. When done correctly, product reviews can help your audience make educated and well-informed buying decisions that, in turn, increase conversion rates.
In this article, we'll discuss how you can use product reviews to boost conversions. Then we'll provide some helpful tips for how to create quality product reviews. Let's get started!
How Product Reviews Can Boost Conversions for Affiliates
Product reviews give you the opportunity to build trust with your audience, and position your brand as a credible authority. In fact, research has found that 91% of consumers trust online reviews just as much as they do personal recommendations.
Thorough and well-written product reviews enable you to provide customers with in-depth information that facilitates informed purchasing decisions. Offering specific details about an item gives users the information they need to determine whether it's what they are looking for and if it is likely to meet their unique needs.
Product reviews can help to boost your search rankings as well. Google is constantly changing its algorithms, but one thing it always considers is how original your content is. Websites that provide unique, informative, and helpful content are often considered more valuable. Online reviews are a perfect example of that type of content.
4 Tips For Creating Quality Product Reviews
Now that you understand the importance of using product reviews to boost conversions, it's time to learn how to create them. Here are four tips to get you started.
1. Use Images/Videos
Anyone who has purchased something online knows that what you get doesn't always match your expectations. Using images and videos in your product reviews is an effective way to show visitors what the products look like in real life. This offers a more realistic view of what they can expect.
Seeing or watching someone use a product helps readers visually connect with it, and get a sense for how it would work for them. It's also a smart idea to create your own original images, rather than using stock photos you find elsewhere (or on the original seller's site). After all, most customers are more likely to trust a third party than the brand itself.
When including images in your product review, make sure they are high quality. It's also smart to include multiple pictures to show different angles and use cases. Depending on the type of product you are reviewing, recording a video can also be helpful to demonstrate what other buyers can expect.
2. Make Reviews Scannable and Visually Appealing
As a general rule, people will be more inclined to read your review if it is formatted in a way that is easy to scan and digest. This means using multiple paragraphs to organize your thoughts, and including lists, graphics, and charts where applicable to break up the text.
Successful product reviews frequently incorporate a rating or metric system that informs viewers about how the review's results were determined. For lengthy product reviews, it's also helpful to include a summary box at the end that highlights the main takeaway points: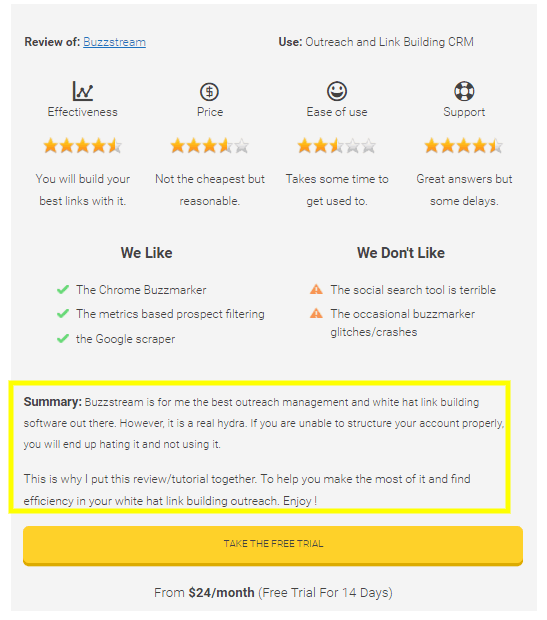 Take a look at this example of a well-formatted product review:
In addition to including an image of the dress on to show how it fits, the review is easy to scan. It provides enough information in a concise manner for the reader to understand how the reviewer feels about the product, as well as some supporting details that add context to the review.
3. Be Thorough, Descriptive, and Specific
When it comes to writing quality product reviews that boost conversions, the more specific you can be, the better. Using unique and descriptive language will give the reader a better sense for what the product is like to use.
Don't be afraid to include any cons or drawbacks of the item. The more honest you are in your reviews, the most likely customers are to trust you. This also shows that you are not overly biased towards the brand, and are instead giving your honest opinions.
In addition, consider what questions or concerns a person may have before buying the product, and aim to answer or address those points in your product review. A quality review is one that leaves the reader with few if any unanswered questions about the item.
Finally, adding some backstory and personal details to your review can help to humanize it and make it more relatable. Explain what pain points the product helped alleviate, for example, and discuss any surprising uses or benefits. This is a great way to make your review stand out and feel less generic.
4. Link Strategically
Link building is an important aspect of SEO, and when done right can help your reviews rank higher in search results. Product reviews offer an organic opportunity for affiliate marketers to link to specific product pages.
To help customers who are close to buying make a decision, it's important to include links strategically within your review. That way, visitors are able to easily navigate to the product purchasing page.
In addition, it's best to use attractive buttons for your affiliate links that stand out and are conveniently placed. It's also a good idea to include links to reviews of similar products. Just make sure you are transparent about the use of affiliate links.
Using our Easy Affiliate plugin for your WordPress site enables you to seamlessly track link click-throughs: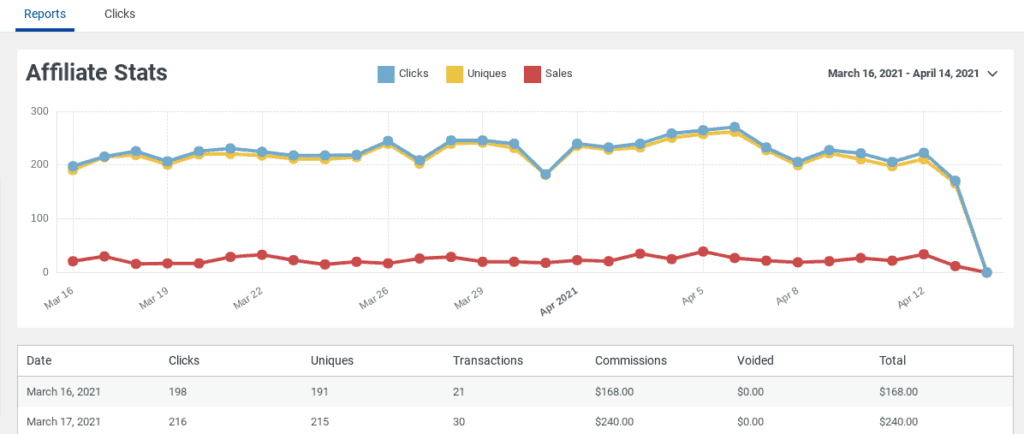 Measuring the performance of your reviews' links is an excellent way to improve conversions over time.
Lastly, take advantage of local links. Local links are links, brand mentions, and references to your your business from other local businesses. These types of links can be very powerful for establishing trust, especially when they appear in the context of a product review.
The Respona email outreach service has an excellent article on local link building that you might want to check out to get started.
Conclusion
As an affiliate blogger or marketer, the success of your business hinges on creating quality content. Product reviews can help boost conversions by increasing trust with your audience, improving SEO rankings, and helping readers make informed buying decisions.
As we covered in this article, there are many ways you can create effective product reviews, including:
Using high-quality images, videos, and other media.
Making reviews visible and interactive, so users can rate and respond to them.
Writing reviews that are thorough, detailed, and specific, which outline the advantages and drawbacks of the items.
Strategically using affiliate links, and tracking the results.
Do you have any questions about how Easy Affiliate can help you create better product reviews? Let us know in the comments section below!
If you liked this post, be sure to follow us on Twitter, Facebook, and LinkedIn! And don't forget to subscribe in the box below.