Promoting your business can be an intimidating process. So you might be hesitant to approach your customers about becoming brand ambassadors. However, encouraging word-of-mouth referrals is a great way to generate buzz around your products or services.
Fortunately, customer referral programs are simple to set up. Plus, they can help you retain existing shoppers while also bringing in new leads. With WordPress plugins like Easy Affiliate, you can easily track the performance of your program and support long-term growth.
In this post, we'll discuss the benefits of launching a customer referral program. Then, we'll teach you how to create your own in four simple steps. Let's get started!
Why You Might Want to Create a Customer Referral Program
A referral program is a recommendation-based marketing strategy that rewards existing customers for advocating for a business. It is highly effective, simply because customers are more likely to believe in those previous buyers.
In fact, 92% of people trust recommendations from friends and family over any other form of marketing:

Furthermore, acquiring new customers can be expensive, but referred visitors have a much lower customer acquisition cost (CAC). Additionally, clients gained in this way tend to be 18% more loyal. Overall, a healthy customer referral program can help you gain new leads, create brand loyalty, and increase your revenue.
How to Create a Customer Referral Program (In 4 Steps)
Now that you know the benefits of referral programs, you're probably wondering how to launch your own. So let's learn how you can create one in four steps.
Step 1: Do Your Research
First, you might want to consider defining your target audience. This involves thinking about your ideal referral customer. This is an essential step, since you'll want to gain visitors who are actually interested in your business.
This target audience will likely be one of your various customer personas. If you're having trouble with this task, you might want to survey your existing clientele.
After that, it would be wise to identify your goals for the program. Whether your business needs to gain new customers, increase revenue, or encourage repeat purchases, you can cater your referral program to meet your unique needs.
One tactic you may want to take is directing more attention to your most popular items:
When developing a referral marketing program, it's best to choose products that have a good amount of monthly transactions and satisfied customers. This is because word-of-mouth recommendations are most effective for accelerating growth rather than starting it.
For example, before LIVELY launched its referral program, it already had a sizable customer base:
However, its "Refer a Friend" program sparked a rapid increase in sales. Only 48 hours after the program launched, the LIVELY online store saw 300,000 sessions.
It's also important to note that your customers might already be referring your business to other people. If you suspect this is happening, consider assessing where these silent recommendations are coming from.
Step 2: Identify and Advertise Your Incentives
Next, you'll want to determine how you'll reward customers who refer your business. Your incentive should be valuable enough to encourage referrals, but not enough to damage your profit margins.
You could reward your referrers by offering discounts, gift cards, product upgrades, or mystery gifts. If you can't afford to give incentives to every customer, you could create a contest or giveaway: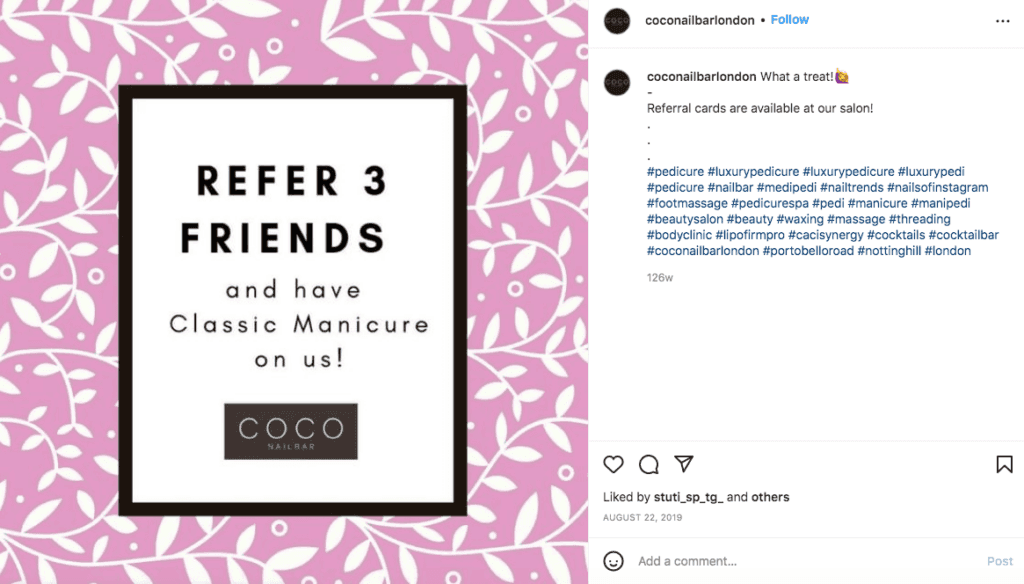 Another option is to host a double-sided referral program. With this method, you offer incentives to both the referred person as well as the referrer.
Once you know what you're going to offer, you'll want to alert your customers about these new potential perks. You could do this on your website, in blog posts, or via social media.
Additionally, if you're interested in creating an email campaign, MailChimp is a great platform. With its audience-management tools, you can quickly and easily inform your customers about your referral program.
Step 3: Find a Platform to Run Your Referral Program
If you're already running a WordPress website, then you're in good shape. This content management system (CMS) is compatible with a wealth of tools and plugins that can help you optimize your referral program.
For example, our own Easy Affiliate plugin offers a beginner-friendly platform for affiliate marketing and referral programs: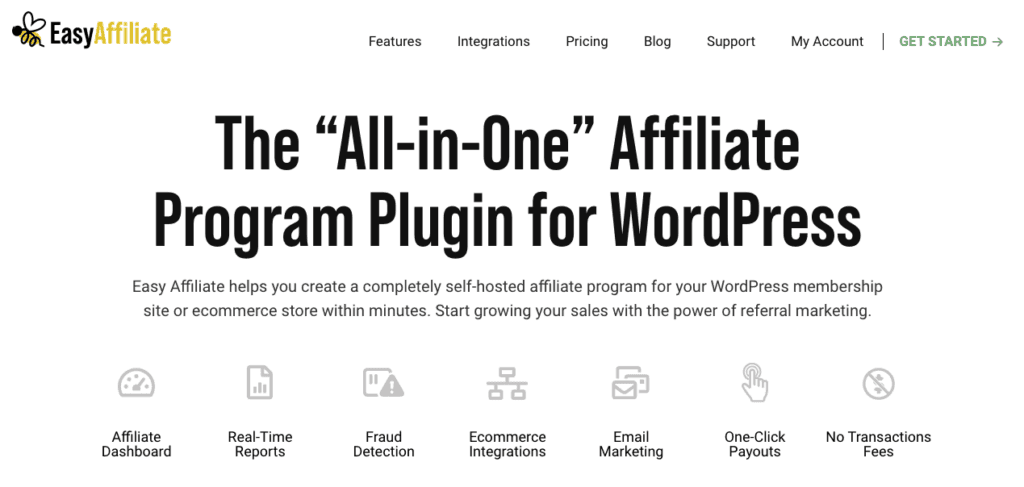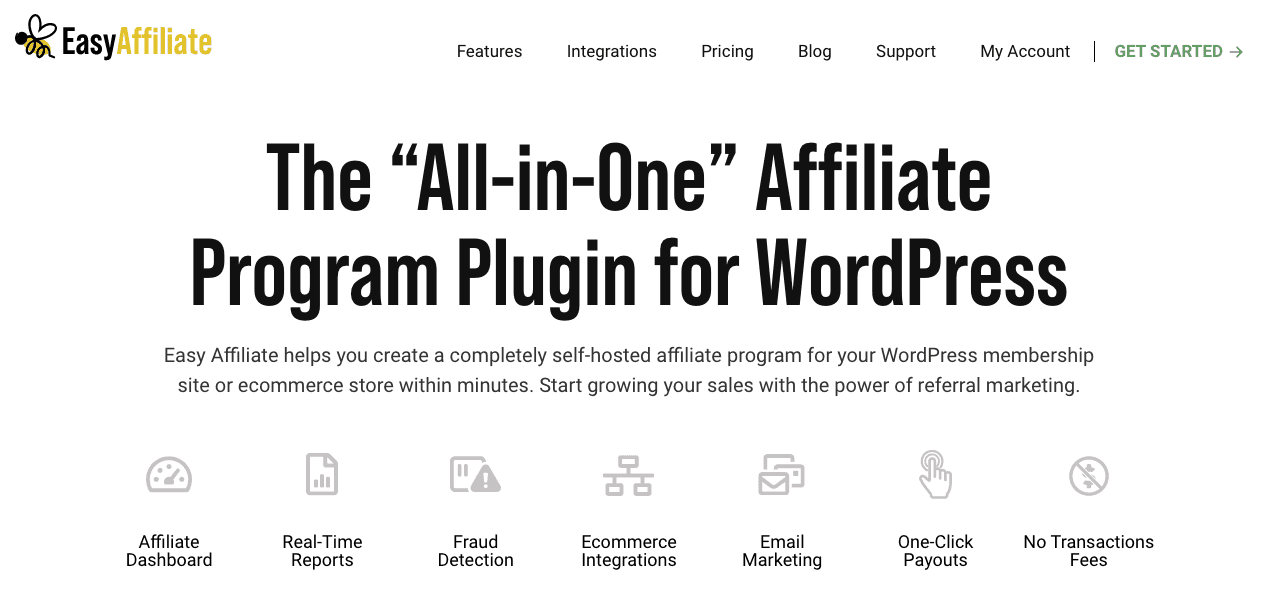 Easy Affiliate comes with built-in WooCommerce integration, so you can quickly add an affiliate program to your store. With this plugin, you can also pay referrers with PayPal 1-click payouts, and use MailChimp for managing emailing lists.
To get started with Easy Affiliate, first you'll need to choose a plan. Then you can navigate to your WordPress dashboard to install and activate the plugin. After that, it's time to create and track your referral program.
Step 4: Track Your Referrals
Although Easy Affiliate is designed to track affiliate programs, you can also use it for managing referrals and well. The difference between affiliates and referrers is their payment. Affiliates receive a commission, but referrers can gain fixed discounts or other promotions.
To run your referral program through Easy Affiliate, you can customize your payment method. You can set referrers' commissions at "0", and email their discounts directly to them instead. Alternatively, you might consider adding a threshold to stop paying commissions after a certain amount.
You can also monitor your referral links using the Affiliate Dashboard. There, you can view real-time reports of your program's performance:
Based on these detailed graphics, you can make changes to improve your program over time. Additionally, Easy Affiliate comes with fraud protection, which can filter out bots and prevent referrers from using their own links.
Conclusion
As a business owner, you can efficiently widen your audience by setting up a customer referral program. When you turn your existing customers into brand ambassadors, you can improve your visibility and generate new, high-quality leads.
Let's recap the four steps you can take to create a successful customer referral program:
Do your research.
Identify and advertise your incentives.
Find a platform, such as Easy Affiliate, to run your referral program.
Track your referrals.
Do you have any questions about launching your first referral program? Ask us in the comments section below!
If you liked this article, follow us on Twitter, Facebook, Pinterest, and LinkedIn. And don't forget to subscribe to our newsletter 🐝