Every type of business lives and dies by specific sets of metrics, including affiliate marketing. Understanding what Key Performance Indicators (KPIs) matter most is essential if you want to get the complete picture of how well your business is doing.
Each key performance indicator gives you insight into your business and its health. If you know you're underperforming in a specific area by looking at a particular KPI, then you'll see where you need to focus your efforts.
In this article, we'll discuss the concept of KPIs and why they're essential in affiliate marketing. Then we'll go over five critical affiliate marketing KPIs you need to pay attention to. Let's get to it!
Why KPIs Matter in Affiliate Marketing
KPIs matter in every industry and affiliate marketing is no exception.
If you're running an affiliate business, you'll want to track data such as how many conversions you're getting, who your top affiliates are, how much you're paying out each month, and more:
Being able to access all that information enables you to identify areas where your business is performing well and others where it's lagging behind.
For example, if you're getting low conversion rates, you might want to provide affiliates with new marketing materials to make their job easier.
Ideally, you'll check your affiliate marketing KPIs as often as possible. That way, you'll be able to spot problems with your program early and take the necessary steps to correct them.
5 Affiliate Marketing KPIs You Need to Monitor
Which affiliate plugin you use will determine what KPIs you have access to. With Easy Affiliate, you'll be able to stay on top of all the KPIs that we're going to explore in this section (as well as several others).
1. Conversions
Conversions are perhaps the most important KPI for an affiliate marketing program.
Each conversion translates to a sale from one of your affiliates. The higher the conversions, the more money you and your affiliates will make.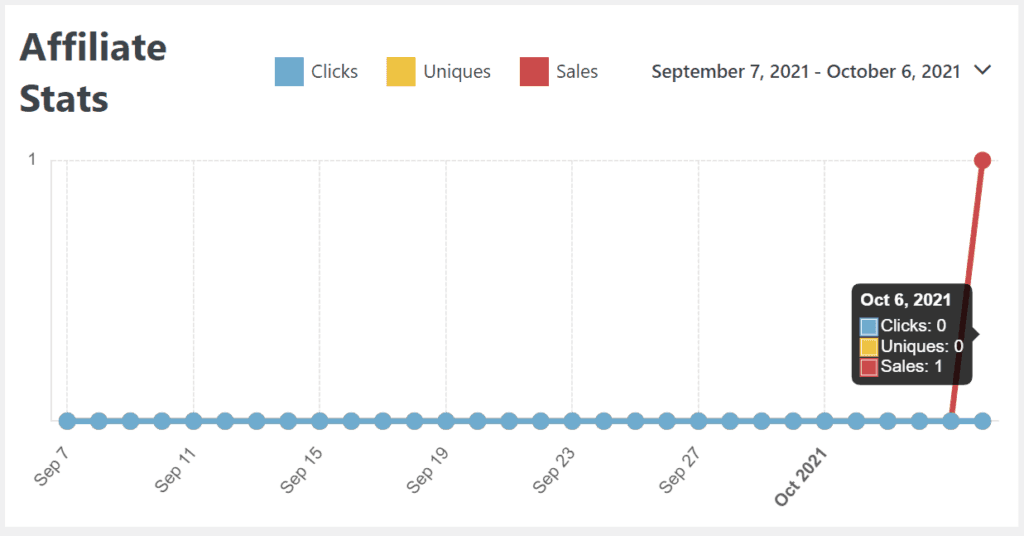 If you're not seeing any conversions, it can point to several issues within your affiliate program, such as:
Not paying affiliates enough to encourage them
A poor crop of affiliate marketers
Issues with your products or services
Interpreting what each KPI means can be complicated, but it's a skill that you'll pick up if you stay on top of the numbers. If your conversions are increasing, then you're doing something right.
2. Clicks
In affiliate marketing, clicks tell you how many users end up on your site thanks to your referrals.
Naturally, you want as many clicks as possible, even if only a small percentage of them translate to conversions (which is normal).
If you're already working with multiple affiliates, you should be getting a steady stream of referral clicks to your website. If that number remains at zero day after day, it means you need to look into attracting better affiliate marketers: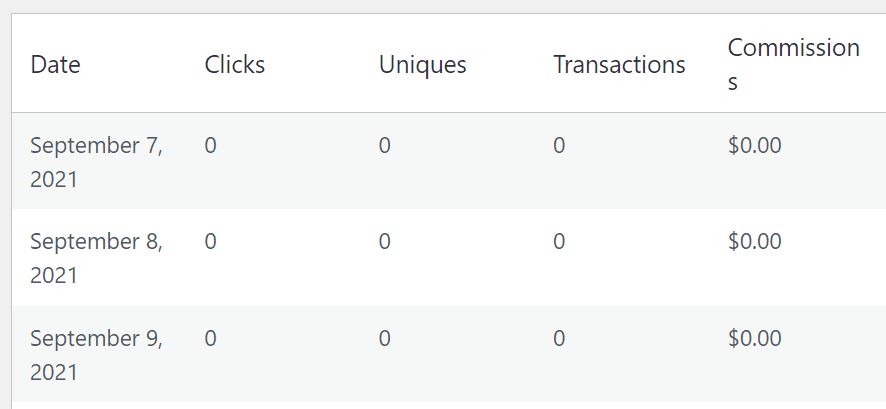 This KPI can also tell you who your most valuable affiliates are. Likewise, if you're getting a lot of links from a specific source but they don't convert well, then you know those are not high-value leads.
A high number of clicks with poor conversions can also point to underlying problems with your site's marketing content, such as its copy or images.
Assuming there's a market for your products, you should be getting a decent number of conversions as affiliates send more clicks your way.
3. Revenue and Commissions
Revenue and commissions go side by side as the two most important affiliate marketing KPIs.
The "commissions" KPI tells you how much money you need to pay affiliates out of your overall revenue from their efforts.
Assuming you're not overpaying affiliates, revenue should always be higher than commissions. The size of the margin between both KPIs will depend on the rates that you decide to set for your program: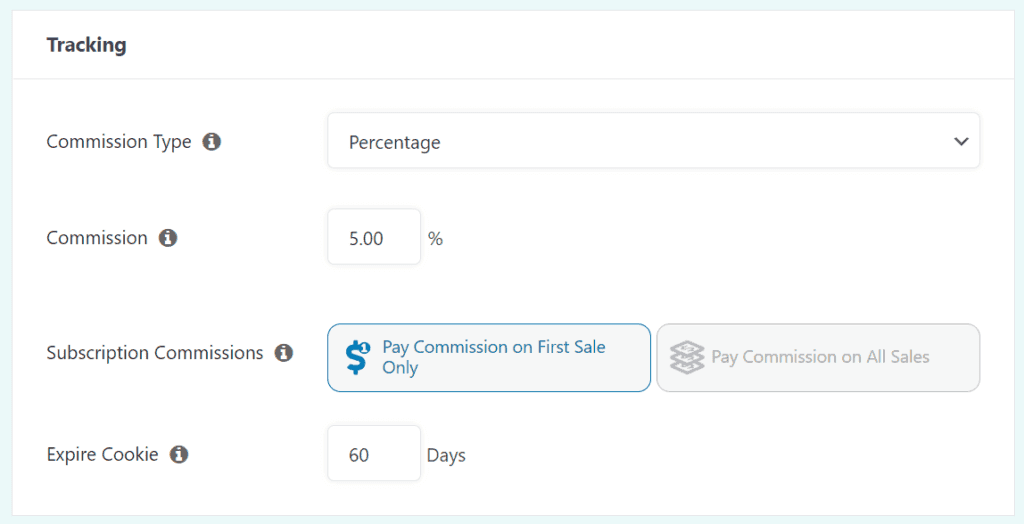 Keep in mind that if you want your affiliate program to be a success, you need to offer decent payouts. However, you don't want to go overboard with commissions as they might eat too much into the business' revenue.
4. Total Number of Affiliates
In most cases, you want to have as many affiliates as possible. An affiliate program that pays good rates and that markets a product or service that people want is a hot commodity.
That means the word will spread among affiliates and the program should grow at a healthy pace.
As the number of affiliates grows, you should see a direct increase in conversions. If that's not the case, it might be that some affiliates aren't carrying their weight.
In some cases, it can be a good thing to remove affiliates that don't represent your business and brand in the best light possible.
Overall, having a smaller number of high-performing affiliates can be better than enabling hundreds of users to sign up for the program.
With a smaller program and better affiliates, you can offer higher commissions, which in turn may incentivize those users to work harder.
5. Highest-Performing Affiliates
An affiliate program is only as successful as the members that make it possible. Affiliates are just like any other employee in that they're likely to start looking for greener pastures if they don't feel appreciated,
Monitoring who your best affiliates are provides you with the opportunity to offer high performers higher commissions:
Rewarding your best affiliates is a fantastic way to ensure that they stay on board and continue to send conversions your way.
There are always better-paying affiliate programs on the horizon, but treating your members well can tip the scales in your favor.
Conclusion
Affiliate programs are just like any other business in that if you don't pay attention to the numbers, a lot of things will slip by.
Monitoring the right KPIs will help ensure that you always know what's going on with your affiliates and how well your program is doing.
If you're using WordPress, Easy Affiliate enables you to monitor a broad range of affiliate marketing KPIs, including the following:
Conversions
Clicks
Revenue and commissions
Total number of affiliates
Highest-performing affiliates
Do you have any questions about which affiliate marketing KPIs you should be paying attention to? Let us know in the comments section below!
If you liked this article, follow us on Twitter, Facebook, and LinkedIn. And don't forget to subscribe in the box below!