Affiliate marketing programs are powered by content marketing. So it's important that quality copy, graphics, video, and other elements go into it. Your affiliates create much of this content, but you can boost their efforts for better performance by sharing additional assets they can incorporate into their blogs, social media, and other channels.
By providing affiliates for creatives, you're likely to see more conversions, build greater brand awareness, and strengthen your affiliate partnerships. There are many free or affordable resources available online, along with time-saving tools to help you get the job done faster.
In this article, we'll discuss several different types of effective creatives you can provide to your affiliates, along with tools and tips on how to make and share them. Let's get started!
An Introduction to Creatives (and Why You Want Them For Your Affiliates)
A "creative" is a promotional tool used to capture the attention of your audience. It can be a graphic, a well-written blurb, or another piece of content created to draw people to your product or service:
There are many benefits to working with affiliates, but one drawback is that it's easy for your brand identity to get lost in translation. Most of your partners probably create their own content to promote your products or services.
Although this saves you time and effort, it may also result in leads not seeing important assets such as your logo or other recognizable identifiers.
Providing premade creatives for affiliates and inviting them to include these assets in their content can help build more brand awareness among the new audiences. It also makes things slightly easier on your partners, which may improve their experience with your company, too.
How to Make Effective Creatives for Affiliates (4 Key Strategies)
You can leverage your knowledge about your products and your target audience to create content that will resonate with consumers and attract sales. Strive to design creatives that capture attention and inform people about your products. Here are some tools and tips that can assist you.
1. Design Eye-Catching Banner Ads
Banner ads are graphics usually placed at the top of web pages. They contain images and text, and link to your product or landing page. Their job is to get clicks:
Banner ads can be highly effective creatives. Even with the financial woes of 2020, spending on programmatic ads increased by 5.5 percent this year. And it's expected to grow by 23% in 2021. Although video is driving programmatic ad spending, banner ads are still in the top three formats.
The key is to create ads that resonate with your specific audience. Using a design tool such as Canva or Google Web Designer can help, as can high-quality images. Include a compelling call to action (CTA) as well.
Next, take advantage of Easy Affiliate's Link and Banners Creatives tool to upload your graphic and add insert your target link: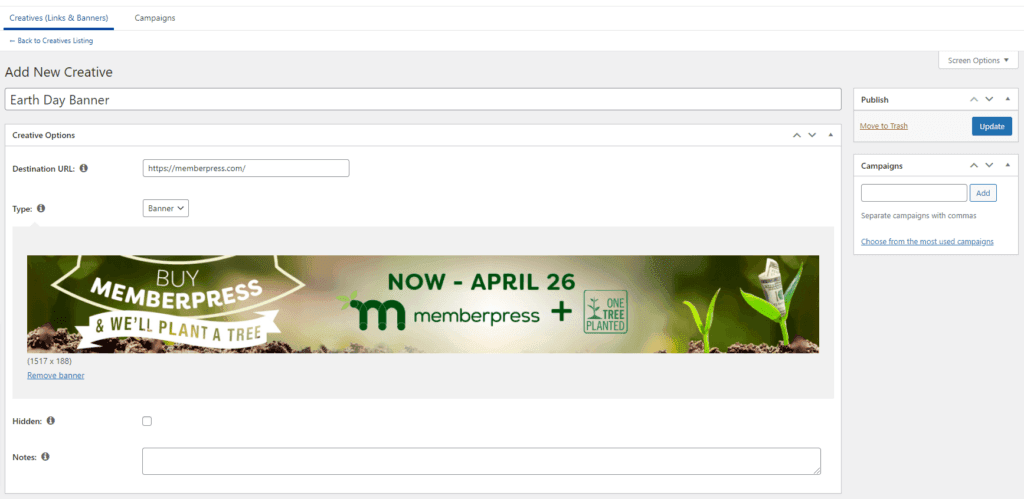 Easy Affiliate will automatically add affiliate links for your partners. They can then embed your banners on their websites to drive clicks.
2. Provide Your Essential Brand Assets
You can also supply other types of graphics to add visual components to your affiliate marketing assets. These can help you maintain visual consistency across channels and build brand awareness.
One of the most basic visual assets you should share with your affiliates is your logo. They can include this in the content they publish about your products or services to help their audiences remember and recognize your brand.
You might also consider putting together a brand-style guide to share with affiliates. This document might include your brand colors, fonts, and any other elements that are part of your business's online image. It can even encompass tone and voice, which play significant roles in your brand identity.
Sharing your style with your affiliates can help them more effectively convey your branding to their audiences. For instance, if your own website copy and social media posts tend to be on the lighthearted side, it may be confusing to leads if your affiliates portray your business as serious or stuffy.
You can include downloadable brand assets using the Easy Affiliate banners tool, or via your affiliate dashboard.
3. Share Approved Copy for Inclusion in Affiliate Content
Aside from visual assets, provide your affiliates with compelling copy to include in blog posts, social media posts, or other written content related to your products or services.
Hopefully, your partners are already persuasive writers. Even so, providing samples of marketing copy you approve can help you make sure everyone is on the same page.
If you're working with YouTube creators, you might also give a short script or a list of key points for them to include in their videos. This can help ensure that influencers are highlighting important features that may drive conversions.
When providing copy or scripts, make sure the content is consistent with your brand. You can include snippets of copy to be used as-is, blog post templates, promotional copy, swipe copy, and more.
Keep in mind that part of what makes affiliate marketing so effective is that consumers perceive affiliates as authentic and therefore trustworthy. It may be a better idea to supply a list of key points than pre-written copy so that publishers can inject some of their own voice and personality and maintain rapport with their audiences.
4. Develop Helpful Content That Is Shareable and Downloadable
Finally, there are a variety of informative creatives you can share with affiliates to enhance your brand's reputation and authority. These can be as small-scale as a social media graphic, or as extensive as an entire e-book.
Part of your affiliates' job is to educate their audiences about your products and how to use them. Infographics are highly shareable, and inform readers in an approachable, enjoyable way. They clarify meaning and add context to complex data.
Use these to demonstrate your products' value by including statistics, trends, and other data that support your customers' decision to buy. With Canva, you can make these quickly using its infographic template:
You can also present your data in a more formal way by creating downloadable content. Digital deliverables such as PDFs are an easy, cost-effective way to provide your affiliates (and customers) with supporting documentation such as:
Info sheets with product information, including specifications, comparisons, or case studies
Free industry reports for your customers to use as a shopping resources
Provide these creatives for affiliates as links they can include in their content.
Conclusion
You can boost the effectiveness of the content that drives your affiliate marketing program by giving your partners effective creatives to incorporate in their campaigns. The time you spend should yield a significant return on investment (ROI).
In this post, we discussed how to make effective creatives for affiliates, including:
Designing eye-catching banner ads.
Providing your affiliates with your essential brand assets.
Sharing approved copy for inclusion in affiliate content.
Developing helpful content that is shareable and downloadable, such as infographics and PDFs.
Do you have questions about how to make or share effective creatives for affiliates? Let us know in the comments section below!
If you liked this post, be sure to follow us on Twitter, Facebook, and LinkedIn! And don't forget to subscribe in the box below.