Third-party cookies have long been an essential tool in affiliate marketing, so a cookieless future may seem like a huge challenge for your business. If you're also juggling an ecommerce strategy, you might feel even more concerned about these new developments.
Fortunately, affiliate marketing and ecommerce are flexible fields. By strengthening your overall strategy, you can prepare to successfully handle the upcoming changes with ease.
In this article, we'll take a look at the cookieless future and ecommerce, and why your plan might be affected by the phasing out of third-party cookies. Then we'll cover three effective ways to adapt to the shifting digital landscape. Let's dive right in!
Why a Cookieless Future Could Impact Your Ecommerce Plan
Third-party cookies have been a useful internet tool for years. These little pieces of code can track users across websites, collecting relevant data for a personalized browsing experience. As such, cookies have been the technology of choice for affiliates who want to learn about their audience and track earned commissions.
Depending on how involved ecommerce is with your type of affiliate marketing network, third-party tracking may be indispensable. This is because cookies can do a lot more than just monitor conversions. For example, they can help you create highly targeted ads that are more likely to convert.
However, the utility of third-party cookies hasn't saved them from extinction. You might have heard about Google's plans to phase out third-party cookies by 2022. Furthermore, Mozilla and Apple are on the same track. This means that tracking technology as a whole is seeing its sunset years.
Finding a substitute may not be easy. What's more, while big tech companies have the resources to find new tracking methods, smaller businesses might feel the pinch.
You might not have the time or money to research new analytic technologies. This kind of hiccup has the potential to strain your budget and confuse your marketers. The cookieless future of ecommerce, particularly for affiliates, can therefore seem uncertain.
Fortunately, you're not entirely without direction. Though the landscape may be changing, interesting trends are emerging. As such, you can keep your sales up by accurately preparing for the cookieless future.
The Cookieless Future and Ecommerce (3 Ways to Adapt)
Here are three clever ways to prepare your ecommerce strategy for the cookieless future.
1. Talk to Your Affiliate Partners
Cookies may be one of the simplest ways to track users and commissions, but they're not the only option. Your organization will likely find a new way to properly credit your affiliates. When you find that solution, try to communicate it to your influencers.
For example, server-side cookies are starting to look like the most popular replacement. This technology tracks the first and final customer clicks. Then, it traces the path to find out which affiliate has earned you that conversion.
If you're thinking about using server-side cookies, consider sharing this plan with your partners. Understanding the process can make them feel more confident in their own marketing strategies. Thus, providing this information can help keep your sales up.
Furthermore, going into detail about your plans to adapt to a cookieless future can also establish your brand as a leader. So you may want to consider broadcasting the plans publicly as well. Leading affiliate group Commission Junction recently used this strategy:
Additionally, this approach may make you seem more approachable to new affiliates looking for networks to join. If influencers feel that you'll help them succeed through uncertain times, they may be more interested in partnering with you.
We recommend keeping your public communications simple. This can make your content more accessible for less experienced affiliates. If you're talking to your top earners, however, feel free to use helpful affiliate jargon for a more in-depth conversation.
2. Focus on Your Most Essential Customer Data
Tracking affiliate clicks is a big deal. However, it's probably not the only place you're using third-party cookies. You're likely using them to collect customer data as well. Since this information can inform your affiliate strategy, we recommend that you keep this element of your business in mind.
Addressing every area of your customer data can be overwhelming. For this reason, you might want to consider focusing on the most valuable data first. This approach can help you prioritize your tasks as you shift towards alternative tracking technology.
For example, you may be in the process of expansion. As a result, you could be using third-party cookies to find other websites that your users visit and seek out affiliates in that niche. Therefore, you'd want to prioritize this area of customer data to make sure it's ready for the cookieless future.
One option could be directly polling your visitors. You don't have to explicitly ask what websites they visit. Even understanding what content your audience favors could be helpful, as this sample from a musician's website shows: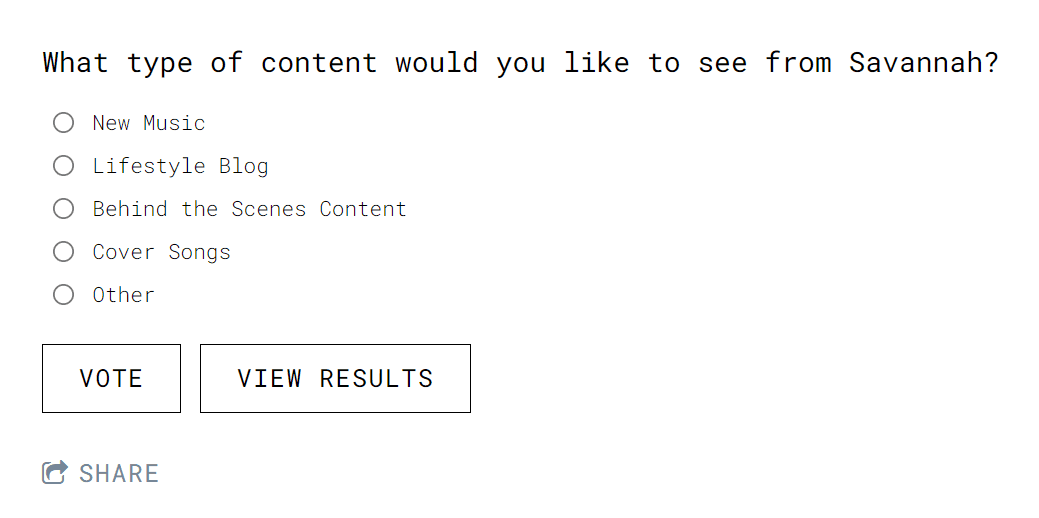 You might discover that viewers would love to see you run a blog or include instructional videos. This approach may not be a permanent solution, but it will help you sustain your program as more concrete tracking technology takes hold.
3. Increase Your Investment in Digital Marketing
From ecommerce pages to profitable membership sites, many online business put a lot of effort into building a positive image. Data gained by cookies have been a large part of this process. As such, a sudden shift away from this technology can affect your brand image.
We recommend that you support your online store by investing in other avenues of digital marketing. Though this cookieless future won't be here until 2022, shoring up your online presence can help you transition more easily when the time comes.
For example, you might want to consider putting more energy into keyword research. This can give you an idea of popular product trends within your niche. Exploring more evergreen forms of advertising, such as SMS marketing, may also be wise.
All of this can help establish your brand. However, you might also want to consider emphasizing your store's trustworthiness. As a recent news article from Apple shows, privacy is becoming an increasingly important issue for consumers: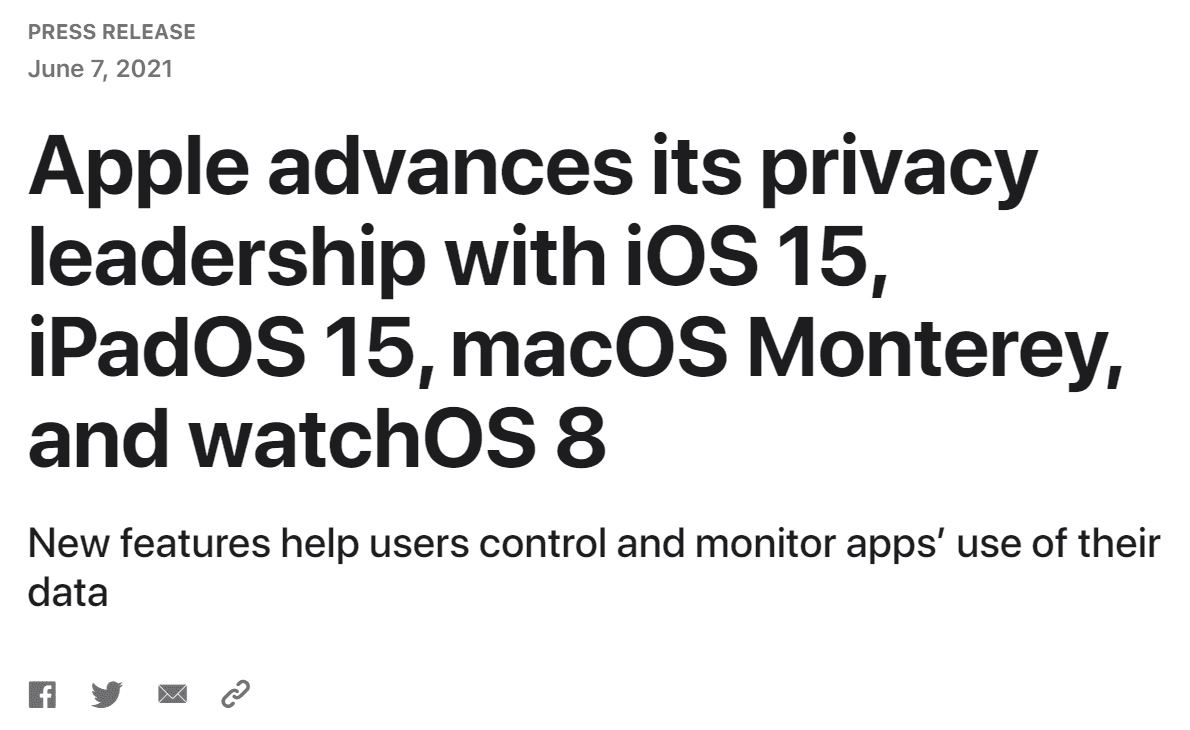 Therefore, try not to forget your audience as the world of affiliate marketing and ecommerce evolves. Digital marketing that emphasizes how you'll rise to meet customer needs can help establish your brand as a reliable leader.
Conclusion
The cookieless future of ecommerce has yet to truly take form. Affiliate networks and online stores will have to adapt to meet their customers' needs as technology evolves. Fortunately, you can prepare for these changes by strengthening those areas in your organization that are already successful.
In this article, we covered three ways that you can adapt to a cookieless future in ecommerce:
Keep your affiliate partners in the loop.
Decide which third-party cookie data you'll replace first.
Invest in the rest of your digital marketing strategy.
Do you have any questions about ecommerce and the cookieless future? Let us know in the comments section below!
If you liked this article, follow us on Twitter, Facebook, and LinkedIn. And don't forget to subscribe in the box below!