Investing in the right platform is essential if you want to succeed with your affiliate network. To avoid any setbacks, the platform should be easy to use and include useful analytical reports. You should also consider if it has the integrations that your business needs.
Fortunately, there are various affiliate platforms to choose from that are suitable for a range of different businesses. By understanding the pros and cons of each option, you can make a selection you'll be happy with over the long term.
In this post, we'll assess three of the most popular affiliate platforms: iDevAffiliate vs Post Affiliate Pro vs Easy Affiliate. Let's get started!
Features for iDevAffiliate vs Post Affiliate Pro vs Easy Affiliate
Each of the platforms we'll be looking at enables you to manage your affiliate network and view progress reports. However, there are also key differences in their overall feature sets.
Features: iDevAffiliate
iDevAffiliate is a beginner-friendly affiliate platform that also has excellent functionality for medium and large-sized businesses:

Here are some of iDevAffiliate's best features:
A user-friendly dashboard
Real-time traffic and commission reports
Integration with social media, ecommerce, member sites, and WordPress
Onboarding and ongoing support
Tier recruiting
iDevAffiliate has multiple integration options. You can link it with social media platforms, ecommerce programs, and advertising tools. In total, it has more than 175 integrations, enabling you to manage your entire marketing strategy from one place.
The platform includes a variety of useful reports, including your best-performing links and affiliate members. All of the data is easily accessible from your dashboard, and can be used to inform your affiliate strategy.
iDevAffiliate also enables tier recruiting with up to ten different levels. You can reward affiliates for onboarding their own marketers, and grow your network quickly and effectively.
Features: Post Affiliate Pro
Post Affiliate Pro is a premium affiliate platform that is targeted at large networks and businesses:

Here are Post Affiliate Pro's standout features:
Premium tracking methods and detailed affiliate reports
Private campaigns
Multiple commission types
Unique banners and promotional materials
Post Affiliate Pro has some of the most customizable commission options you can find. For example, you can establish commission groups, set lifetime and recurring payouts, and offer performance rewards. These settings enable you to run sales and manage your network over the long term.
This platform also offers multi-tier commissions and forced matrix tracking. With these tools, you can reward affiliates for their sales and transactions made by people they recruited.
Finally, Post Affiliate Pro offers some excellent marketing options. It supports various promotional banner formats, for example, enabling you to run sales and promotions within your network easily.
Features: Easy Affiliate
Easy Affiliate is a plugin that enables you to manage your affiliate network directly from your WordPress dashboard – an ideal option for small businesses with one to five websites: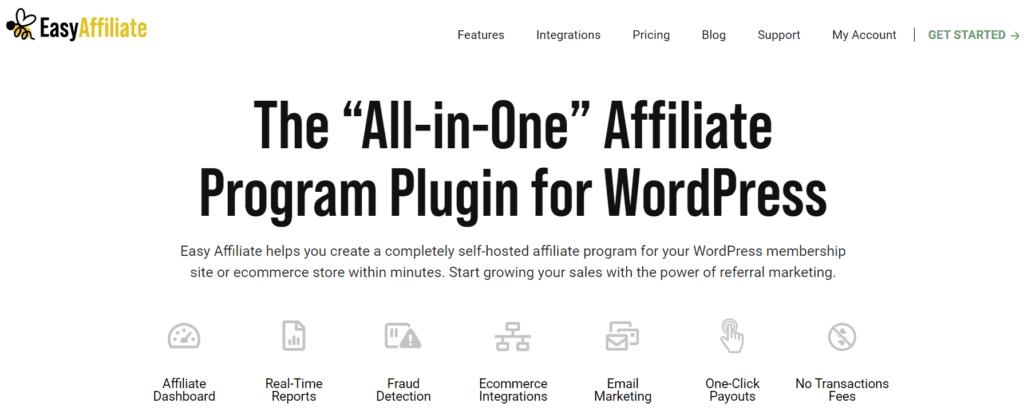 Here are some of our plugin's best features:
A customizable affiliate dashboard
Marketing and ecommerce integrations
Affiliate applications
Custom links
Affiliate reports and tracking tools
One of Easy Affiliate's biggest advantages is how well it integrates with other platforms. It is a WordPress plugin, so you can sync it with your website with minimal effort. In addition, the plugin has integrated ecommerce and email marketing programs.
Easy Affiliate also offers an affiliate applications feature. This feature can be used to input an application form for new network members. Potential affiliates will then have to fill out a form and request to join your network. As such, you can ensure that only serious and valuable marketers work for your program.
Our plugin also features a customizable dashboard that you can use to view analytics and track performance. In addition, Easy Affiliate plans enable you to set custom affiliate commissions to motivate and reward your network.
Ease of Use for iDevAffiliate vs Post Affiliate Pro vs Easy Affiliate
A user-friendly interface is one of an affiliate platform's most essential features. Let's see how each dashboard and sign-up process measures up.
Ease of Use: iDevAffiliate
iDevAffiliate is a very easy-to-use platform. To begin with, it has a simple sign-up form that only requires your personal details, payment type, and account name: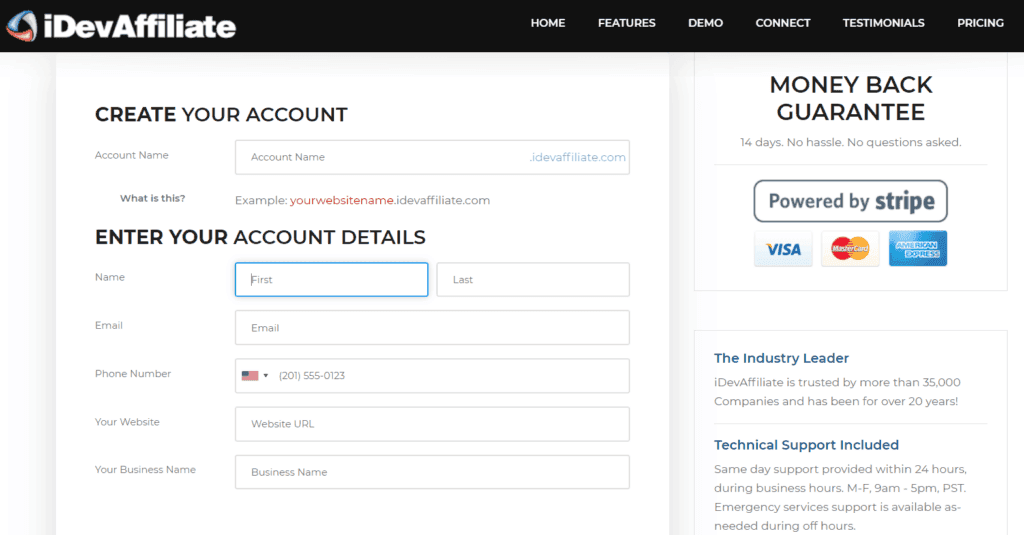 Once you've signed up, you will be taken to the dashboard, which includes an on-boarding process for new accounts: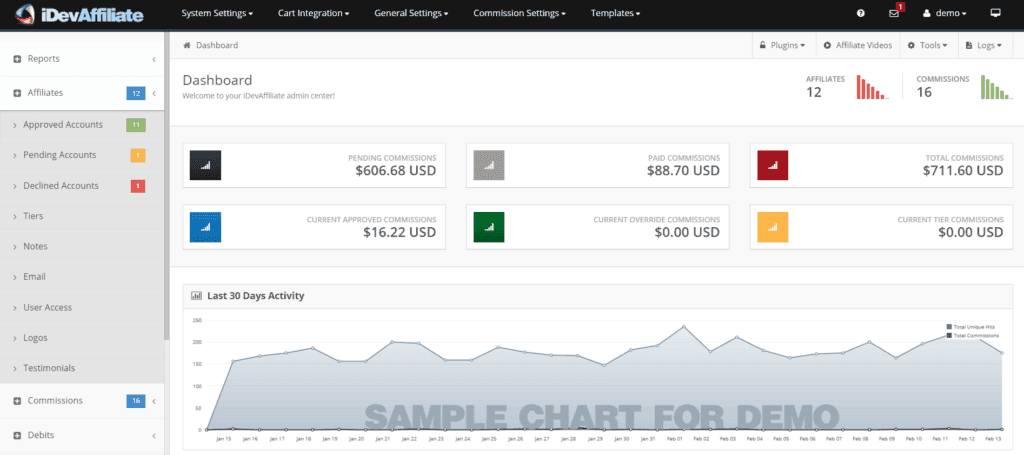 During the onboarding process, you will be taken through a ten-step process to set up your affiliate account. More than 40 hours of video tutorials can guide you through every step. In addition, there is an on-page wizard to help you track your progress.
From the dashboard, you can access all of your reports and tools in the side menu. Each category has a clear heading and drop-down menu items for subcategories. In addition, iDevAffiliate uses color-coding to show you approved, pending, and declined processes.
Overall, the interface is very intuitive and has a short learning curve for beginners.
Ease of Use: Post Affiliate Pro
Post Affiliate Pro has a sleek and professional interface, with premium tools that enable you to manage your affiliate network. It has a simple signup process that initially requests your basic details: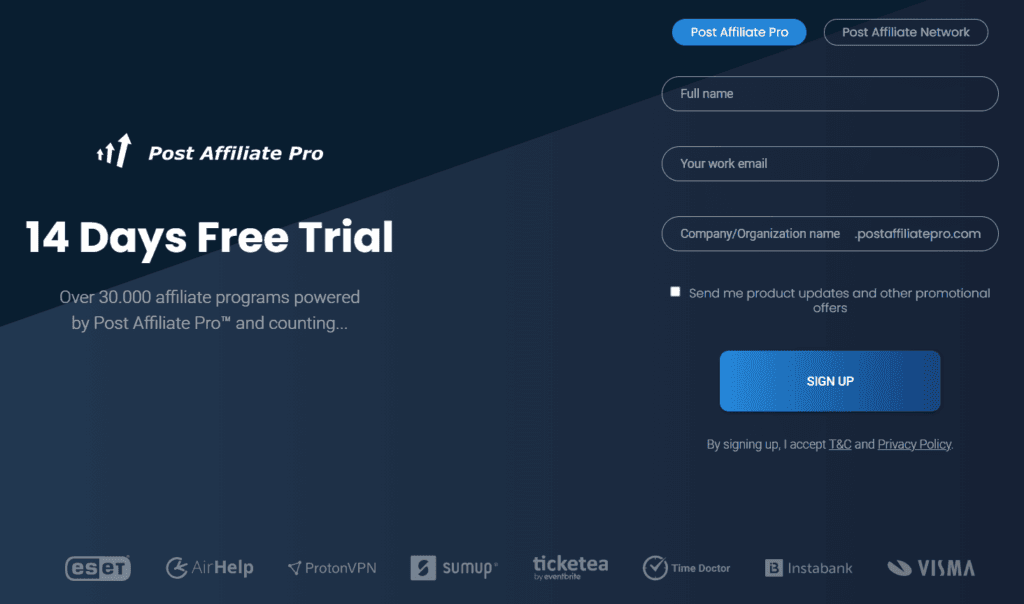 Once you fill in that information, the platform takes you through a more intensive sign-up process with your business data and payment information. Post Affiliate Pro also offers a 14-day free trial so you can test the interface.
Once you reach the Post Affiliate Pro dashboard, you can see a detailed menu with a variety of sub-menus: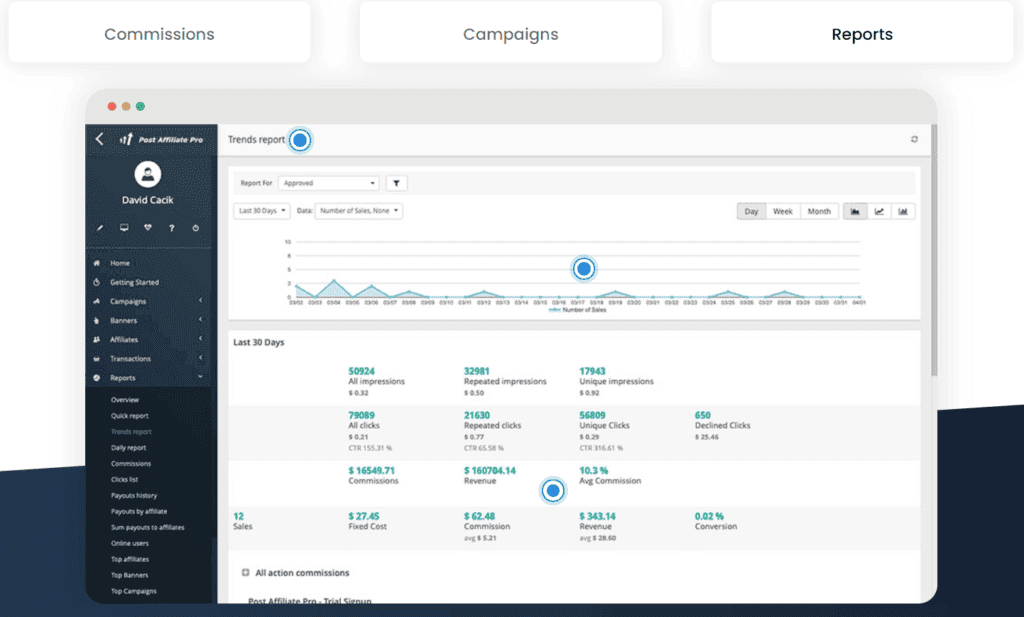 This is a very detailed dashboard that includes sections for reports, transactions, and affiliate management. You can also access your campaigns and promotional materials.
Each heading has a corresponding symbol to help you locate the tools you need. However, there are many different sub-headings, so it can feel overwhelming for new users. The platform helps with onboarding and includes helpful resources. Still, the learning curve is steeper than with other affiliate programs.
Ease of Use: Easy Affiliate
Easy Affiliate is one of the most beginner-friendly affiliate platforms on the market. When you sign up, you will be prompted to fill in a form with your personal details and your payment information: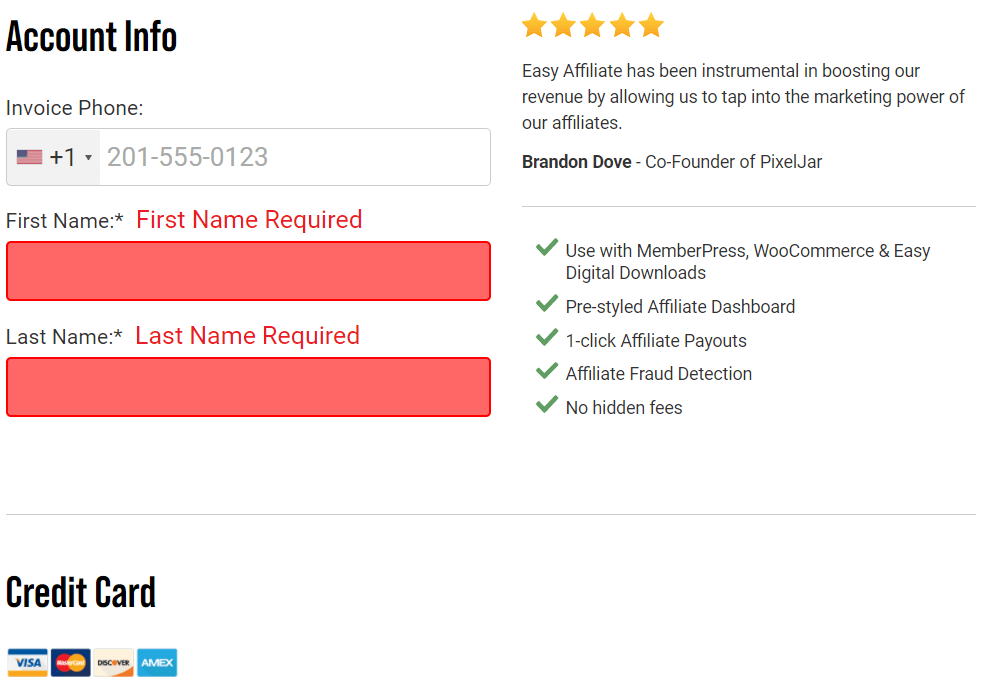 Once you have an active account, you can download the Easy Affiliate program files and install them in WordPress. Once you add the plugin to your dashboard, you will be able to control your affiliates from the Easy Affiliate heading: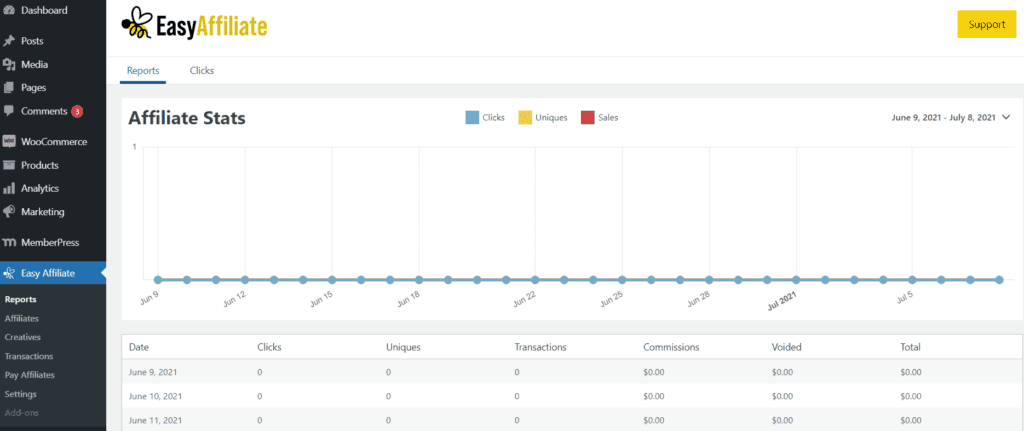 From this dashboard, you can view your reports and manage your affiliates. Each heading is clearly marked and has minimal details. Therefore, it is one of the easiest platforms to learn and master.
You can also integrate with other programs easily by navigating to the Add-ons menu: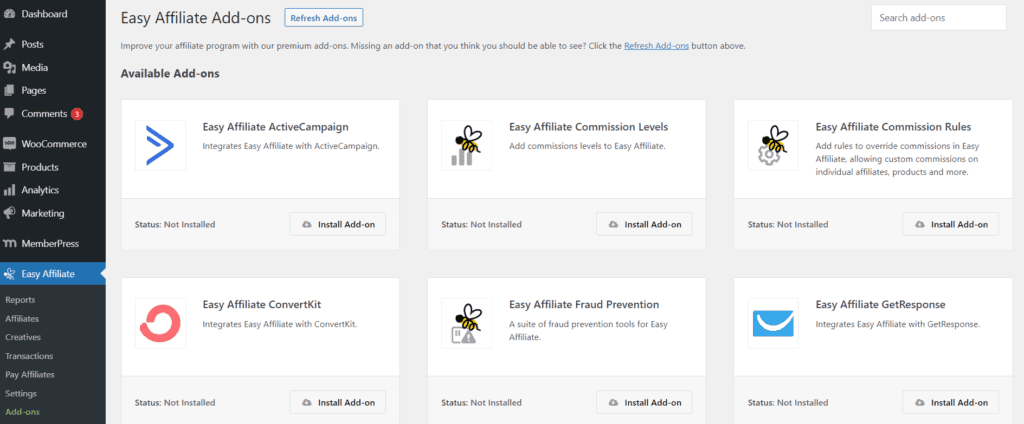 There, you can install and activate Easy Affiliate's extra features. You don't need to follow a complicated process. Getting the plugin up and running is as simple as clicking a few buttons and customizing your settings.
Support for iDevAffiliate vs Post Affiliate Pro vs Easy Affiliate
A helpful technical support team is an essential tool. Fortunately, each affiliate platform comes with customer service assistance and knowledge bases with how-to articles. Let's compare the differences between each option.
Support: iDevAffiliate
iDevAffiliate has a detailed support landing page that includes a knowledge base, FAQs, videos, and a dedicated technical support section:
There are clear article categories, and a search bar to refine your queries further. As such, iDevAffiliate offers one of the better support systems for affiliate marketers. The video section is one of its biggest advantages, because it can walk you through troubleshooting problems.
If you have a more specific technical issue, you can contact the support team directly. There is a ticketing system, a call center, and even a live chat function. However, the live chat uses AI instead of a real person.
Support: Post Affiliate Pro
Post Affiliate Pro has a ticket system that sends your written request directly to a customer support team member. You can also contact the call center, or use the live chat function if you need an immediate response to your query.
Additionally, there is a support portal that contains a library of troubleshooting articles: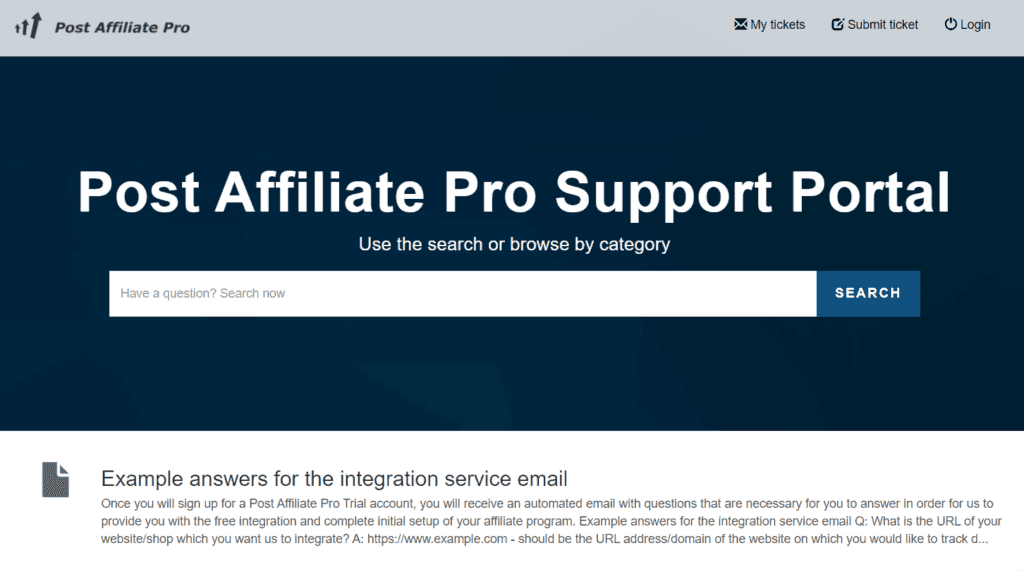 This portal has a search bar and categorized articles that cover common technical problems. Various sections cover topics such as installation, using Post Affiliate Pro features, payment systems, and more.
While Post Affiliate Pro has many resources, they can be challenging to locate. The documents are organized under headers, but there are hundreds of different articles in some sections. So it can be tricky to find the information you need.
Support: Easy Affiliate
Easy Affiliate offers a support ticket system for technical queries. Your request is sent to a customer service team, which will respond within two business days. We also offer a Knowledge Base with troubleshooting articles: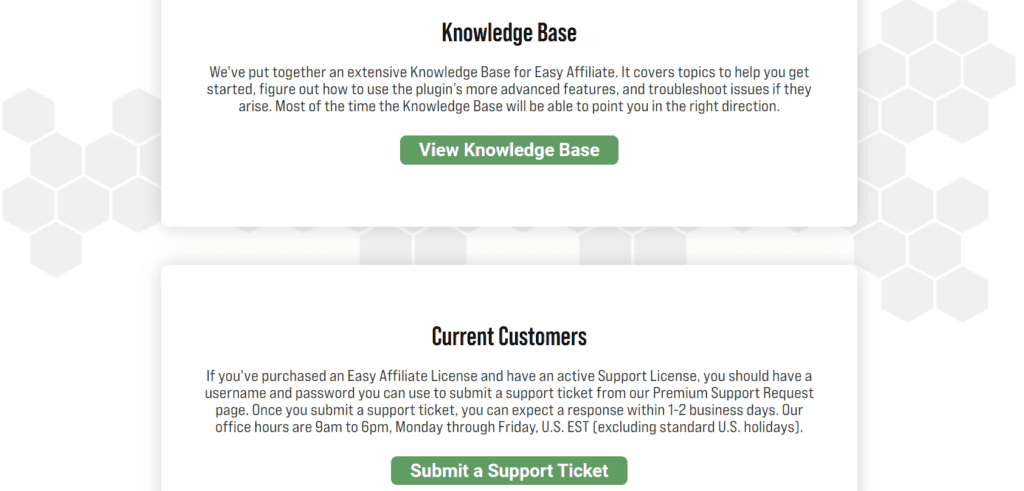 The Knowledge Base is one of Easy Affiliate's best features, because of how much information it contains. For example, you can find detailed how-to guides on everything from using campaigns to blocking affiliates.
Pricing for iDevAffiliate vs Post Affiliate Pro vs Easy Affiliate
All three affiliate programs offer subscription-based pricing plans. Each of these plans has different levels for various business sizes. Let's take a look at the prices for each platform, and what's included with your purchase.
Pricing: iDevAffiliate
iDevAffiliate offers various subscription-based pricing plans with monthly payments. If you want a Cloud-based plan, there are three different price options:
These plans include:
A hosted affiliate dashboard
Unlimited affiliates
SEO links
SSL encryption
Language packs
Zero caps on commissions
Paying for the more expensive plans gives you access to more clicks, subdomain parking, and preferential customer support.
iDevAffiliate also offers self-hosted plans with one-time fees. However, the one-time fee only includes one year of free download and upgrade service. Cost to maintain this service is $89.99 per year.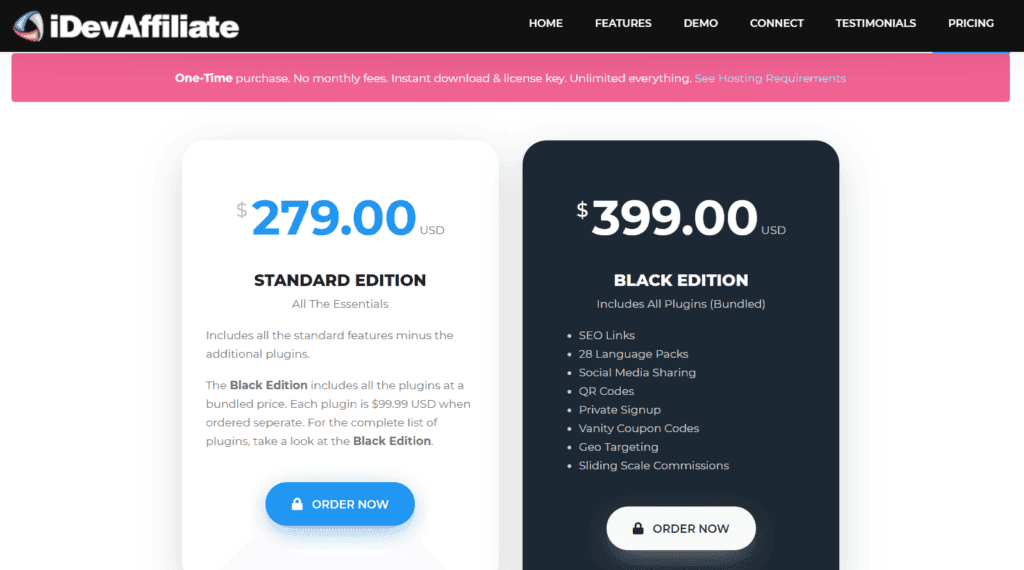 The Standard Edition includes all of the platform's features, but does not come with the plugins. Each of these plugins costs $99.99. Alternatively, you can choose the Black Edition if you want a fully inclusive, self-hosted bundle.
Pricing: Post Affiliate Pro
Post Affiliate Pro offers three different pricing plans with monthly subscription fees:
Each package includes these basic features:
Unlimited affiliates
Tracking tools
Technical support
Lifetime updates
However, the more expensive plans include higher-level affiliate tools and website integration. They also provide a larger quantity of tracking requests, onboarding support, and optimization for larger sites.
Post Affiliate Pro's premium packages are significantly more expensive than iDevAffiliate and Easy Affiliate subscriptions. However, they suit large networks that can take advantage of the professional affiliate tools.
Post Affiliate Pro does not offer one-time payments. However, it also does not charge commissions on transactions. Therefore, your monthly payment is fully inclusive.
Pricing: Easy Affiliate
Easy Affiliate has three different pricing plans for basic, small, and large-scale affiliate networks: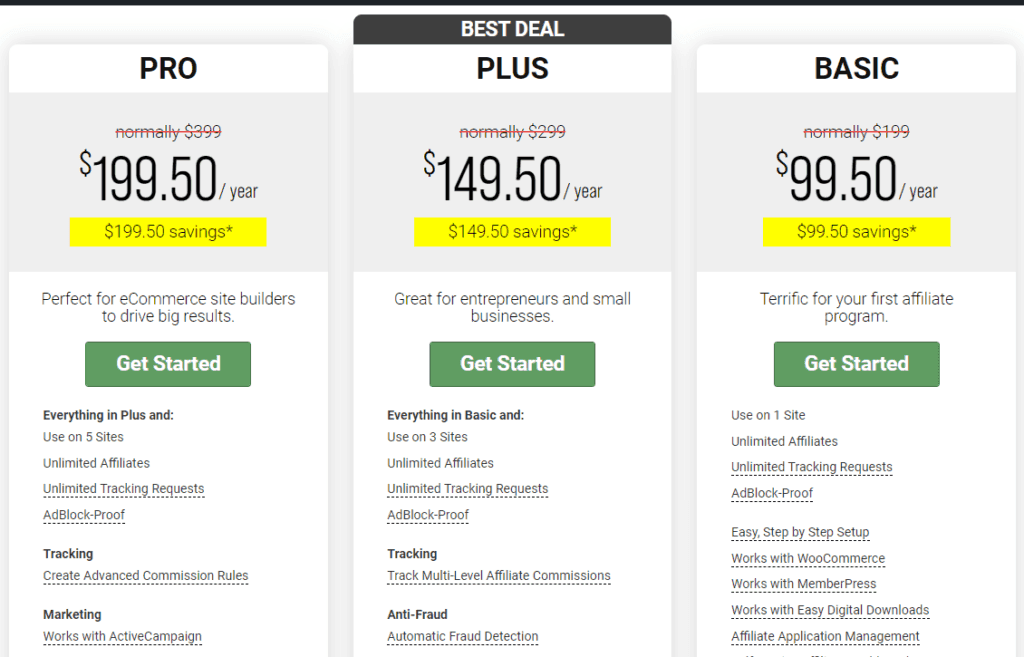 Each plan shares the following features:
Unlimited affiliates
Unlimited tracking requests
Ecommerce integrations
A customizable dashboard
Reports and analytics
Easy Affiliate offers unlimited tracking requests. The other two cloud-based programs charge you if you exceed your maximum cap.
One of the biggest differences between these plans is the number of included sites. For example, the Basic Plan only supports one site. However, Plus and Pro enable you to use the plugin on three and five sites respectively. In addition, the more expensive plans enable custom and multi-level affiliates.
Cost Comparison
The table below shows the three-year approximate cost difference between the three platforms for their most affordable plans.
iDevAffiliate
(Self-Hosted
Unlimited Sites)
Post Affiliate Pro
(Cloud-Based
Unlimited Sites)
Easy Affiliate
(Self-Hosted
1 Site)
One Time
Fee
$279 × 1
Annual
Subscription
$1164 × 3
Annual
Subscription
$99.50 × 3
Annual
Download/Upgrade
Service
$89.99 × 2
Annual
Download/Upgrade
Service
$0
Annual
Download/Upgrade
Service
$0
Tracking Requests
Unlimited
Tracking Requests
1 Mil/Month
Tracking Requests
Unlimited
3-Year Cost
$458.98
3-Year Cost
$3492
3-Year Cost
$298.50
Conclusion
Investing in the right affiliate platform is an essential step in your business' marketing strategy. There are many options on the market, so it's important to choose carefully. Different platforms come with various features, pricing plans, and levels of support.
Let's recap the key differences between iDevAffiliate vs Post Affiliate vs Easy Affiliate:
iDevAffiliate: Offers excellent integration with ecommerce programs, and ongoing technical support. An affordable option for larger-scale programs.
Post Affiliate Pro: Is a premium service with sophisticated tracking and analytical tools for your professional affiliate network. A good option for large-scale programs.
Easy Affiliate: Has a user-friendly and customizable dashboard that enables you to manage your affiliates with minimal fuss. The best option for small businesses.
Do you still have questions about using any of these affiliate platforms? Let us know in the comments!
If you liked this article, follow us on Twitter, Facebook, and LinkedIn. And don't forget to subscribe in the box below!