Having industry knowledge is critical for an affiliate marketing program to stay competitive. Without it, you could struggle to stay on top of the latest trends and tactics, leading to a negative impact on sales and overall performance.
Taking steps to build your industry knowledge can give you access to information that could be leveraged by your program and your affiliates. With effort, it may turn into new strategies and techniques to drive sales and click-throughs.
In this article, we'll first take a look at what "industry knowledge" means. Then, we'll offer practical tips for you to build yours to benefit your affiliate program. Let's get started!
Why Industry Knowledge Is Vital for Affiliate Programs
Industry knowledge consists of information on trends, practices, and processes related to your field. To stay effective, affiliate programs need to stay up-to-date on developments not only in their brands' niches, but also in marketing.
Your partners rely on your expertise to help them show off your products in the best light. Knowing the ins and outs of your industry can provide you with key details you can share with your affiliates to pass along to customers and drive sales.
No matter what area your brand is focused on, industry knowledge can help your affiliate marketing strategy, too. Understanding the landscape of this growing field can help you stay competitive when it comes to commission rates and other benefits.
Ultimately, your affiliate program needs partners who are authoritative on your products, brand, and niche. Bolstered with more thorough knowledge, your affiliates can promote your business in ways that entice leads, resulting in higher sales rates.
How You Can Build Industry Knowledge as an Affiliate Marketer (3 Key Tips)
If you're not familiar with the practice of building industry knowledge, it could seem overwhelming. Thankfully, there are a few ways you can make it easier.
1. Look to Leverage Networking
Networking can benefit your affiliate program in a number of ways. First, it can be a productive means of making meaningful connections with other brands in your field, as well as other marketers. This may help you find opportunities for collaboration, or even introduce you to influencers you can recruit.
Similarly, networking could be an opportunity to increase your industry knowledge. Specifically, it enables you to learn more about what others are doing to progress their brands, products, and marketing strategies.
Learning about the practices and principles of others in your field can tip you off to methods you can leverage to gain a competitive edge. For instance, if you discover that other businesses in your industry offer higher affiliate commission rates, you may be able to match them to attract new partners.
As we'll discuss later, conferences can be one way to network effectively. However, there are alternatives, such as social media and online business communities. These can be productive environments for exchanging ideas, tips, and advice to further your program.
2. Tap Into Industry News
No matter what field you're in, keeping tabs on industry news is important. It can provide you with valuable insights into a whole slew of trends, tactics, and insider tips that can broaden your knowledge and therefore improve your brand.
Of course, finding news sources that are relevant to you can be tricky. If that proves to be the case, consider platforms such as podcasts, trade journals, LinkedIn posts, and blogs. By varying where you find information, you can tune in to a wide range of perspectives to broaden your industry knowledge.
The latest advancements in your industry may also be useful to your affiliates. By pointing out key sources they should follow, you can provide key information your partners can mention in their promotions to drive sales.
You may want to centralize these references on a resource hub to help your affiliates stay ahead and up-to-date. One way to achieve this is by using our Easy Affiliate plugin.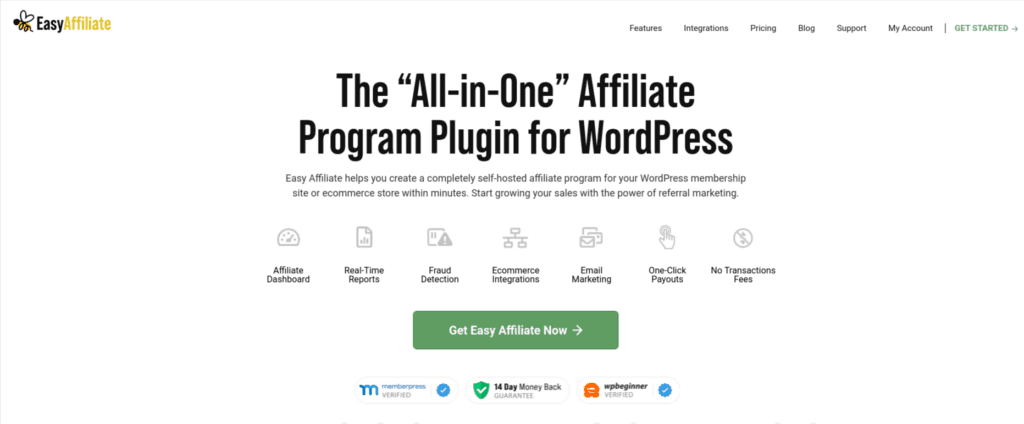 When you share your favorite sources via a resource hub with your affiliates, you'll be supporting their success. They can then use industry news to your mutual benefit.
3. Attend Affiliate and Industry Conferences
One of the best ways to stay on top of your affiliate marketing game is to attend conferences. There are dozens of these events held every year. They may provide you with access to some of the foremost figures in your sector, and information about changes in best practices.
Moreover, experts will be able to offer plenty of insights into future trends. Naturally, that may give your program a competitive edge since these conferences can provide you with knowledge you can adapt to meet your affiliates' needs.
If you become a sponsor at a conference, you could also use this as an opportunity to recruit new partners. Many affiliates attend these events looking for brand deals, so they're already open to listening to what you have to offer.
However, there are also industry conferences you may want to attend. They can be useful for staying up-to-date on trends and advancements in your field. Again, this can go on to help you develop and sell your products.
With all that information at your disposal, you can make the necessary preparations to maximize your short and long-term plans. By learning from authorities in your industry, you can formulate new strategies, onboard their tips, and make adjustments to your current tactics if necessary.
Through the knowledge and tips you gain from leaders in your niche as well as affiliates, you can incorporate new information and methods into your campaigns.
Conclusion
Industry knowledge can provide your affiliate program with a much-needed boost to help it stay competitive and effective. By seeking it out, you gain access to valuable information such as trends, tactics, and general advice you can use to strengthen your brand.
In this post, we covered three different ways you can build up your industry knowledge:
Network to develop professional relationships.
Tap into industry news for up-to-date information.
Attend conferences to gain access to expert insights.
Do you have any questions about how you can build industry knowledge as an affiliate marketer? Tell us in the comments section below!
If you liked this post, be sure to follow us on Twitter, Facebook, and LinkedIn! And don't forget to subscribe in the box below.