With affiliate spending forecast to reach $8.2 billion by 2022, there's never been a better time to partner with publishers and website owners who can promote your products for you. However, creating your own program can be a daunting prospect.
Fortunately, there are tools and networks that can provide everything you need to launch a world-class affiliate program. While there are plenty of options out there, we've done the research and concluded that the ShareASale network, CJ Affiliate, and our own Easy Affiliate plugin all have something special to offer your business. 
In this article, we'll discuss the differences between ShareASale, CJ Affiliate, and Easy Affiliate. We'll talk about their features, the level of support you can expect, and that all-important pricing aspect. Let's get started!
Features for ShareASale vs CJ Affiliate vs Easy Affiliate
When you're looking for an affiliate marketing solution, it makes sense to start with its features. The right platform will provide everything you need to set up, grow, and manage a successful affiliate network. With that in mind, let's start by looking at what each solution has to offer.
Features for ShareASale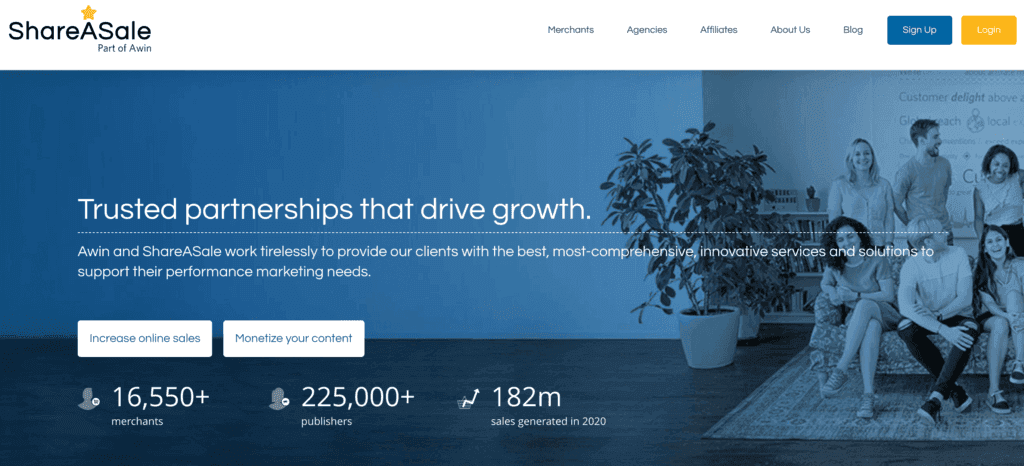 Founded in 2020, the ShareASale affiliate marketing network is now part of the Affiliate Window family, after being acquired in 2017 for an undisclosed amount. Today, you can use ShareASale to implement, track, and manage your affiliate marketing program.
According to its website, ShareASale currently hosts over 16,550 merchant programs and generated 182 million sales in 2020. This resulted in an impressive $14 billion revenue for its clients. 
To help you optimize your affiliate partnerships, ShareASale provides real-time insights and notifications. If you want to dig deeper, it also offers a suite of customizable reports. You can even set these reports to auto-generate based on a schedule set by you.
When it comes to analyzing your partners, ShareASale has an intuitive click stream graph. This enables you to explore an affiliate's performance relative to other clicks that occur in a single transaction.
After joining ShareASale, you can create a custom page where publishers can join your affiliate marketing program instantly. You can also quickly grow your partner base by sending targeted invitations based on niche, relevance, and performance criteria.
Features:
Provides personalized program diagnostics
Offers affiliate tagging and segmentation features
Features application rules
Includes automated marketing emails
Lets you fine-tune your affiliate payouts with ShareASale's advanced attribution tools
Enables you to connect with over 225,000 affiliate partners from around the world
Integrates with the Awin MasterTag (as part of the Awin family)
Once you've connected with a new partner, you can onboard them automatically with a targeted activation campaign. You can also use affiliate tagging to pull reports, send emails, provide special commissions, and even offer access to different creative assets.
Features for CJ Affiliate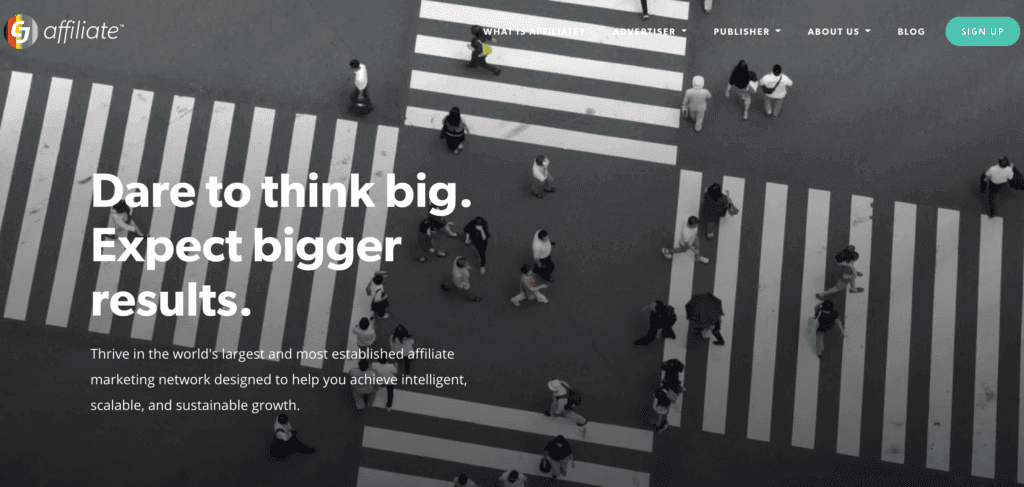 Formerly known as Commission Junction, CJ Affiliate network is an online advertising company operating in the affiliate marketing sector. Its clients include household names such as Barnes & Noble, InterContinental Hotels Group, and Office Depot.
To help you identify lucrative new partnerships, CJ Affiliate provides customer-level data and actionable insights. This ensures that you're recruiting the best possible partners for your program.
With its cross-platform support, CJ Affiliate can provide an insight into multi-device customer journeys. This helps you properly reward your partners, even when the purchasing path traverses several devices.
You can even use initiating and concluding device analytics to identify the journeys that generate the most revenue. This can be invaluable for optimizing your future affiliate activities.
CJ Affiliate's reports go into great detail, and can reveal a specific affiliate's influence on lifetime value, offline purchases, and orders per customer. When you need to make decisions fast, there are also on-demand, vertical-specific integration options. This can power real-time decision-making, so you can optimize your affiliate marketing program now rather than waiting until your end-of-the-month report.
Features:
Helps you connect with over 930 million consumers
Includes support for over 150 currencies
Provides uninterrupted, cookieless tracking
Features verticalized benchmarking
Offers automatic fraud detection via proprietary machine learning
Provides a tiered approach to fraud resolution
Enables you to monitor the relative effectiveness of your program with competitive publisher indexing
Offers a General Data Protection Regulation (GDPR) compliance suite of solutions
Fraud is a major concern for many companies. To help protect your program against fraudulent payments, CJ Affiliate proactively reviews every publisher prior to their first payments. This helps you detect fraud before a single cent changes hands.
Features for Easy Affiliate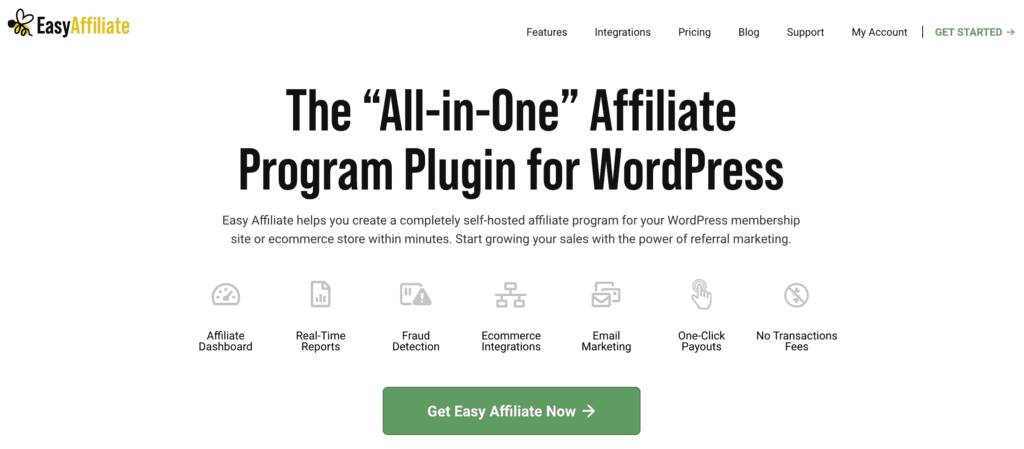 Our Easy Affiliate plugin is designed to help you create a high-converting partnership program for your WordPress membership site or ecommerce store. When you set up Easy Affiliate, it automatically generates all the pages you'll need to launch a successful affiliate network.
As soon as a new partner signs up, they'll get access to a unique Affiliate Dashboard. There they can access all the creative assets they need to create attention-grabbing campaigns, including banners.
The Affiliate Dashboard is pre-styled, but you can easily adjust it to integrate seamlessly with your site using the familiar WordPress Customizer. This ensures that your affiliate program feels like an integral part of your website, rather than an add-on provided by a third-party service.
As soon as you've enrolled your first partners, you can monitor all of their activities via Easy Affiliate's real-time reports. This includes transactions, how much you owe your partners, and a list of your top-performing affiliates.
As we mentioned earlier, fraud is a common concern for those in the affiliate marketing business. To help you avoid losing money, our Easy Affiliate plugin automatically flags or rejects suspicious affiliate behavior before you pay out.
Features:
Unlike affiliate networks, Easy Affiliate is fee-free, meaning you never pay a per-transaction fee or maintenance fee
You maintain total control of your program
Offers commission tracking
Lets you qualify your affiliates with a built-in Affiliate Application process
Provides support for PayPal mass payment files, offline payments, and one-click payments via PayPal
Features seamless integration with major email marketing services, including Mailchimp, ActiveCampaign, and ConvertKit
Your typical affiliate link is long and complex, and features an obvious tracking code. This can be off-putting to security-conscious shoppers, which may affect your click-through rates (CTRs) and conversions.
To help you achieve sky-high CTRs, Easy Affiliate has built-in support for the Pretty Links URL shortener and link cloaker plugin. This gives your partners the power to create shorter, more shareable, and much more user-friendly links.
Support for ShareASale vs CJ Affiliate vs Easy Affiliate
Running your own affiliate network isn't always straightforward. Even if your chosen solution has every feature on your wishlist, you may still run into the occasional problem. Before making a decision, it's important to verify that you'll have no problems accessing help – should you ever need it.
Support for ShareASale
When you sign up for ShareASale, you'll get instant access to training webinars and resources. It also offers an email support system: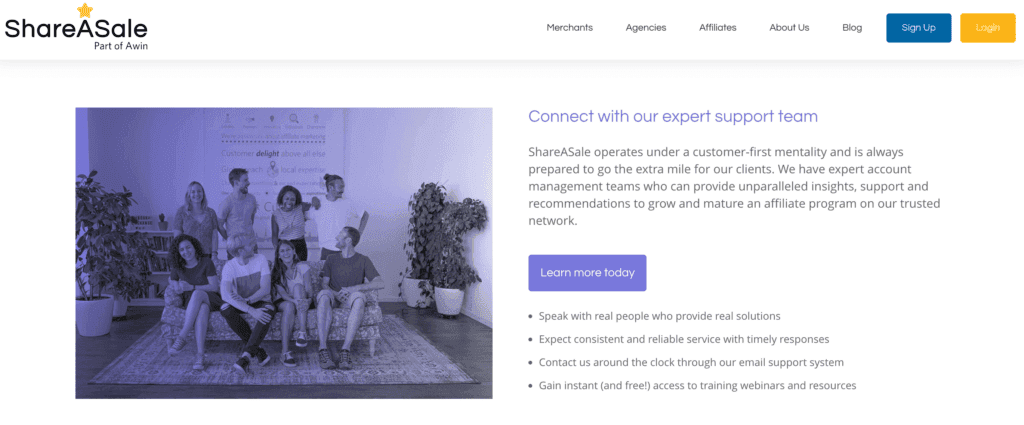 ShareASale has a dedicated account management team, which will be on-hand to provide the assistance and recommendations you need to grow your affiliate program. ShareASale also has a regularly updated blog with advice, best practices, and tutorials on how to get the most out of your affiliate program.
Support for CJ Affiliate
To help you find answers fast, CJ Affiliate has published separate FAQs for potential new clients and existing customers. It also has an extensive content hub where you'll find information-packed articles, videos, the latest industry news, and more: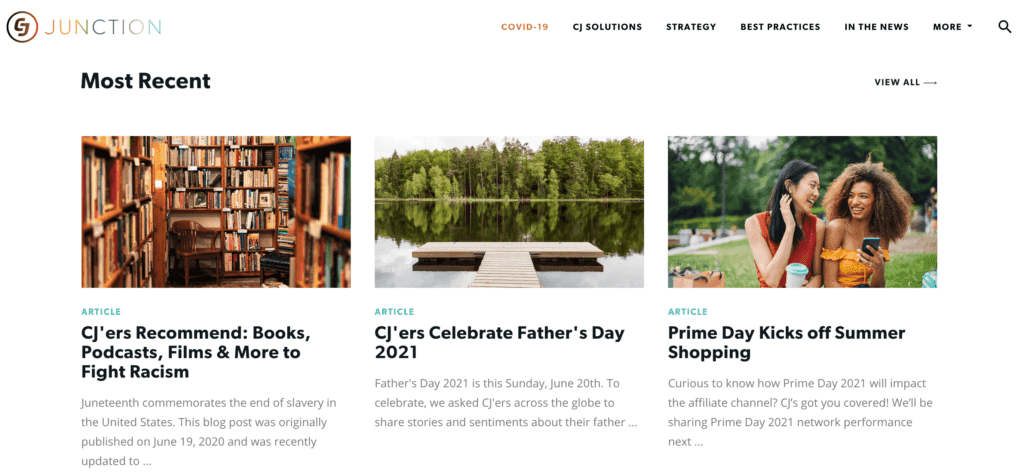 Once you join the CJ Affiliate program, you'll be able to access assistance via its dedicated support center. If you need a faster turnaround, you can also speak to a live representative.
If you want to brush up on your skills, CJ Affiliate offers ongoing training sessions led by industry experts. These sessions promise to keep you informed about current trends, which can help give your program an edge over the competition.
Support for Easy Affiliate
At Easy Affiliate, we run a regularly updated blog where you'll find advice and detailed step-by-step tutorials on how to launch a successful affiliate program. We've also created an extensive knowledge base for all of our users and customers: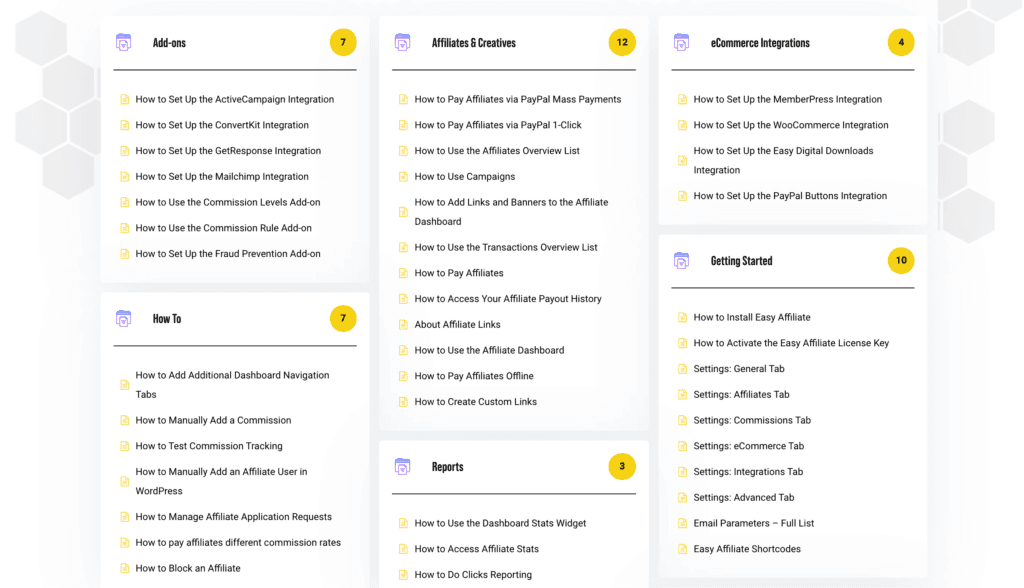 If you have an active Support License, you can submit a support ticket about any issues or areas of confusion you're experiencing with Easy Affiliate. After submitting your ticket, we pledge to get back to you within one to two business days, and will strive to resolve your problem as quickly as possible.
Pricing for ShareASale vs CJ Affiliate vs Easy Affiliate
Affiliate marketing is all about increasing your revenue. However, there may be subscriptions, transaction fees, and other associated costs you need to take into account when crunching the numbers. To ensure that your network turns a profit, let's examine what you can expect to pay for each of the solutions we've looked at.
Pricing for ShareASale
ShareASale charges a one-time network access fee of $550: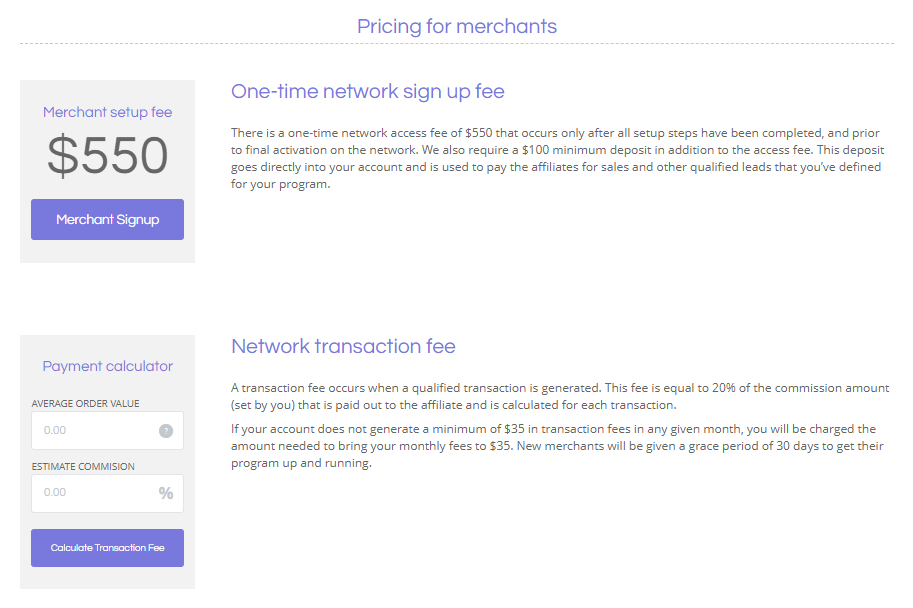 In addition, it requires a $100 deposit, which goes directly into your account. However, you can use this deposit to pay for the affiliate sales and all the other qualified leads you generate due to your ShareASale program.
Every time it generates a qualified sale, ShareASale will charge you a transaction fee. This fee is equal to 20% of the commission amount that you pay to your affiliate partner.
It's also worth noting that there's a minimum $35 transaction fee charge per month. If you don't generate this minimum in any given month, ShareASale will add the amount required to bring your monthly fees up to $35.
Pricing for CJ Affiliate
The CJ Affiliate network hasn't posted its prices or any associated fees publicly. Instead, you can contact it directly via through an online form: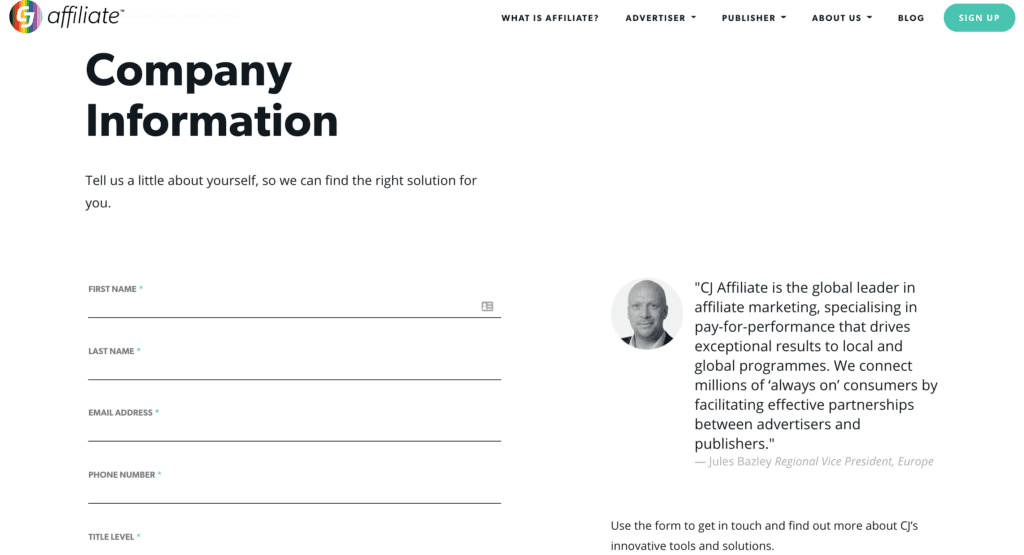 As part of this form, you'll need to provide your company's annual revenue, so make sure you have that information to hand. After completing the form, CJ Affiliate's staff will process your details and recommend the best solution for you.
Pricing for Easy Affiliate
At Easy Affiliate, we offer you a choice of three pricing plans, starting at $99.50 per year for the Basic plan. If you purchase this package, you can use the Easy Affiliate plugin on one website:

The next step up is Plus ($149.50), which adds support for multiple commission levels. This enables you to offer different commission rates based on performance.
For example, you might reward your best-performing affiliates by moving them into a higher tier. The promise of greater profit margins can be a powerful way to motivate your existing affiliate partners to make more sales.
You can also use multiple commission levels to encourage referrals. For example, if one of your partners successfully recruits a new affiliate, you might use a tiered structure to give them a share of that recruit's earnings. Again, this can help grow your network without requiring any manual input from you.
If you want access to everything Easy Affiliate has to offer, the Pro plan is priced at $199.50. This advanced affiliate marketing plugin comes with full support for multiple commission levels, and provides access to our Commission Rules add-on.
Cost Comparison
The table below illustrates the estimated cost difference between the ShareASale and Easy Affiliate platforms based on an affiliate program run for one year, on one website, and with $5000 paid out in 20 separate transactions.
As mentioned, CJ Affiliate does not publish fee information. You'll need to contact them directly for that info.
CJ Affiliate
ShareASale
Easy Affiliate
Set-up Fee
Not Available
Set-up Fee
$550
Annual Subscription
$99.50
Deposit
Not Available
Deposit
$100
Deposit
$0
Per-Transaction (Network)
Not Available
Per-transaction (Network)
20%
Per-transaction (PayPal)
2.9% + $.30
Left in Your Pocket
NA
Left in Your Pocket
$3350
Left in Your Pocket
$4894
Conclusion
When choosing your affiliate tool, it's important that you have everything you need to create a high-converting, world-class program. Fortunately, if you've narrowed your options down to ShareASale vs CJ Affiliate vs Easy Affiliate, then you're on the right track.
To help you make your final decision, let's quickly recap these three popular solutions:
ShareASale. Connect with over 225,000 affiliate partners around the world. Then you can monitor their performance with ShareASale's real-time report.
CJ Affiliate. Track your customers across multiple devices with this omni-channel solution. CJ Affiliate also boasts verticalized benchmarking, which can help you evaluate where you fall within the competitive affiliate marketing landscape.
Easy Affiliate. Create a completely self-hosted affiliate program for your WordPress website. Unlike many competing solutions and networks, our easy-to-use plugin doesn't charge transaction fees, and you maintain total control.
Do you have any questions about how to launch a successful affiliate marketing program? Ask away in the comments section below!
If you liked this article, follow us on Twitter, Facebook, Pinterest, and LinkedIn. And don't forget to subscribe to our newsletter 🐝