Whether you're recruiting new partners for your program or trying to help your current affiliates land sales, it's important to create content that's easily digestible. Sometimes, long articles or even social media posts may not be the easiest for leads to take in.
Infographics can make your data easier to understand. You can use them to promote your affiliate program offers to partners as well as share them to increase conversions and brand awareness.
In this article, we'll cover what infographics are and how they can benefit your affiliate program. We'll also share a few tips for creating and sharing them. Let's get started!
An Introduction to Infographics
An infographic is a combination of graphical or visual content and data. Often, they're used to display statistics or complex information without the need for large blocks of text:
The image above is just one example. In fact, infographics come in many forms, each with their own advantages. However, no matter which type you choose, there are many benefits to using them in your campaigns.
Some estimates suggest that the human brain can process visual information 60,000 times faster than text alone. Likewise, some people are simply hardwired to learn better from images.
Infographics can help leads not only when it comes to processing your data, numbers, and general information, but when retaining it, too. Increasingly, we live in an age of information, and the constant bombardment of facts and figures can be overwhelming.
For that reason, whether you're looking to communicate statistics to potential partners or provide them with content they can use to land sales, infographics can be useful tools. Essentially, they'll enable you to encapsulate data in a way that doesn't create an information overload.
How Infographics Can Benefit Your Affiliate Program (3 Key Ways)
Now that you understand why infographics are a popular method of sharing information, let's look at how they can support your affiliate program specifically. From expanding your brand's awareness to attracting potential partners, there are many ways to utilize this type of content.
1. Infographics Can Communicate What Your Program Offers to Potential Affiliates
If you want to show what your program can offer affiliates in a digestible way, consider using an infographic. As we mentioned, they can help you spread information without overwhelming people.
A well-chosen infographic can concisely break down the benefits of joining your program, as in the example below. In particular, you could mention your commission rates, bonuses, and any other rewards that come with being your partner, as well as earning statistics: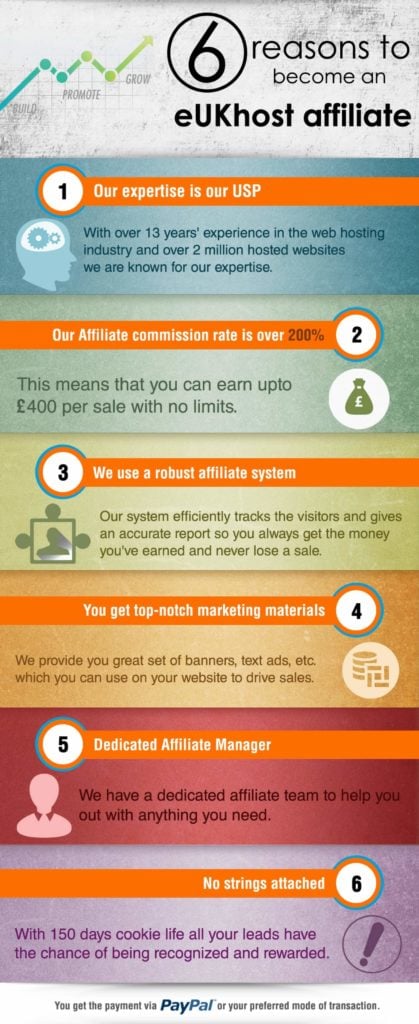 Incorporating this information in an infographic can be advantageous if your program is looking to expand and recruit new affiliates. Additionally, infographics are excellent vehicles for calls to action (CTAs), which may engage someone looking to become a partner.
On their own, CTAs are already efficient tools to get that final click-through or conversion. However, including them in an infographic can make for a much more pleasing format to share. After all, visual content can be bright and cheerful and help you catch leads' eyes.
Plus, infographics can be created to match your program's style and tone, and thus blend your CTA into a visual design that meshes with your brand.
With that in mind, you may consider posting an infographic on your affiliate recruitment landing page. You could also spread it across social media or use it to reach out to potential partners directly.
2. Affiliates Can Share Infographics In Their Promotions to Drive Conversions
When your program's affiliates succeed, so does your brand. By giving your partners tools for promoting your products, you can help them drive more customers your way.
One way to do just that is to supply them with visual content they can post on social media or add to their blogs' sidebars. When they have access to infographics, your affiliates will be able to share them across different platforms and potentially attract more conversions.
Of course, brand consistency is going to be key. That means your infographic should, as we mentioned, tie in with your content visually. Doing so may increase the attention that your affiliates and your products or services receive.
Though there are no certainties, a well-made infographic can drive traffic years after it's made, and even double the number of visitors to your site. One way to share them with your affiliates is by using Easy Affiliate's Creatives feature.
Once you have the plugin installed and activated, simply go to Go to Easy Affiliate > Creatives > Add New.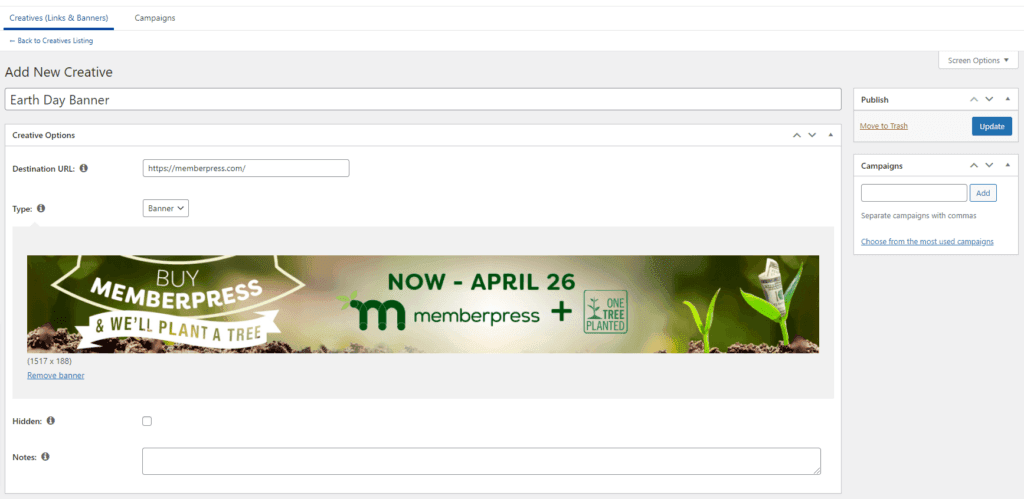 Select Banner in the Type dropdown, then upload your infographic and set your Destination URL. Click Update, and you're all set!
3. Using Infographics On Social Media Could Increase Your Brand Awareness
Your affiliate program will always benefit from boosted click-through and traffic rates. Increased visibility across multiple platforms can help spread the word about your products or services.
That brings us to another beneficial aspect of infographics – they're easy to share on various channels, including social media. Whether it's Facebook, Twitter, Pinterest, or Instagram, visual content can draw users in and interest them in your brand:
Relatable and well-thought-out infographics don't just present content in a visual format. They include an intrinsically shareable quality that you can leverage for your program. When creating one, it may be a good idea to include your logo to build brand awareness as affiliates and their followers spread it across the web.
One of the greatest advantages of sharing promotional content on social media is that it can expand your visibility through no effort on your part as others re-tweet, re-post, or pin it. Ultimately, the wider your audience, the more likely you are to get those coveted click-throughs.
Don't worry if you're not a graphic designer. There are plenty of tools available to create social media-friendly infographics – tools such as Canva, PicMonkey, or Adobe Creative Cloud Express. They all include templates that will help you craft visual content for a variety of platforms.
Just remember to keep the visual content you create in line with your overall aesthetic. This way, you emphasize cohesion in your brand identity.
Conclusion
Infographics can be effective assets for an affiliate marketing program. They're versatile and can make data or information visually appealing and easy to digest.
Let's recap three of the benefits we discussed earlier in this article:
Using infographics can promote your program's commissions and bonuses to potential partners.
With Easy Affiliate, you can share infographics with your affiliates to help them boost your traffic and conversions.
Your program's brand awareness could benefit from highly-shareable infographics for social media.
Do you have any questions about how you could use infographics for your affiliate marketing program? Let us know in the comments section below!
If you liked this post, be sure to follow us on Twitter, Facebook, and LinkedIn! And don't forget to subscribe in the box below.