As the owner of an affiliate program, partnerships are essential to the growth of your business. However, many struggle to ensure that every stage of the partner life cycle is handled properly, which can reduce the value and impact of your affiliates.
Fortunately, there are simple steps you can take to optimize the key elements of partner life cycle management, and make sure that your relationships with affiliates are strong and well-maintained over time. When nourished carefully, these partnerships have the potential to offer a very strong return on investment (ROI).
In this article, we'll introduce you to the five stages of partner life cycle management. We'll explain the importance of each step, and provide advice on how to successfully move through it. Let's get to work!
An Introduction to Partner Life Cycle Management
Partner life cycle management describes the way businesses manage relationships with their partners, from beginning to end. This is especially important for affiliate marketers, as your success lives or dies based on your relationships with affiliates (which take time and effort to prosper).
Each rewarding partnership maneuvers through a progression, starting before the affiliate even joins up. It follows them as they secure knowledge and skills, and evolve into a trustworthy team player.
Understanding how this process works can help you to better run and improve your program, and maintain a roster of high-quality, trustworthy affiliates.
The 5 Stages of Partner Life Cycle Management (And Why They Matter)
So what does partner life cycle management look like in practice? Let's break down the five stages of this process and talk about how to navigate your way through each one.
1. Identification and Discovery
The first stage of partner life cycle management is discovering and identifying the right affiliates. You can evaluate who you would like to partner with based on their standards, business methods, and work habits, in addition to their focus and audience.
Your main objective is to persuade the right people to join your affiliate marketing program. There are many ways to do this, but the best way to start is to make sure you fully understand the target audience for your products. Then you can search for affiliates within those communities, saving yourself a lot of time and hassle.
2. Recruitment
The second stage, recruitment, is all about getting people to sign up for your affiliate program. There are numerous places where you can get the word out about your program, and you can also reach out to likely candidates directly.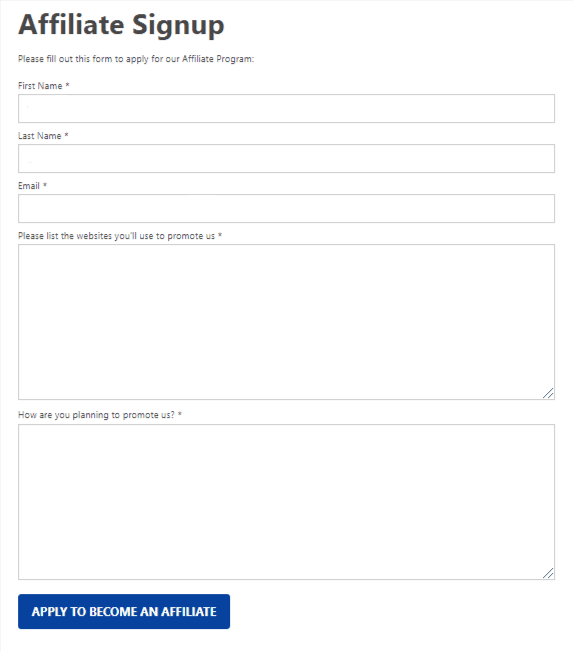 One of the best ways to recruit the right partners is to be selective about how you promote. You'll want to choose your platforms carefully, and make use of analytics to find out where you get the most engagement. Some top methods for attracting affiliates include contacting influencers, getting active on social media, and attending conferences.
3. Onboarding
Once you've recruited an affiliate, you'll need to take them through an onboarding process. This stage enables you to communicate terms and conditions, educate your affiliates about the program, and generally set them up for success.
After all, if a partner isn't given the proper amount of preparation and the right resources, they may not be able to make a strong impact (or might simply leave the program). On the other hand, a structured onboarding procedure can bring partners up to speed quickly.
One of the best ways to prepare your new affiliates is to provide them with a custom affiliate dashboard: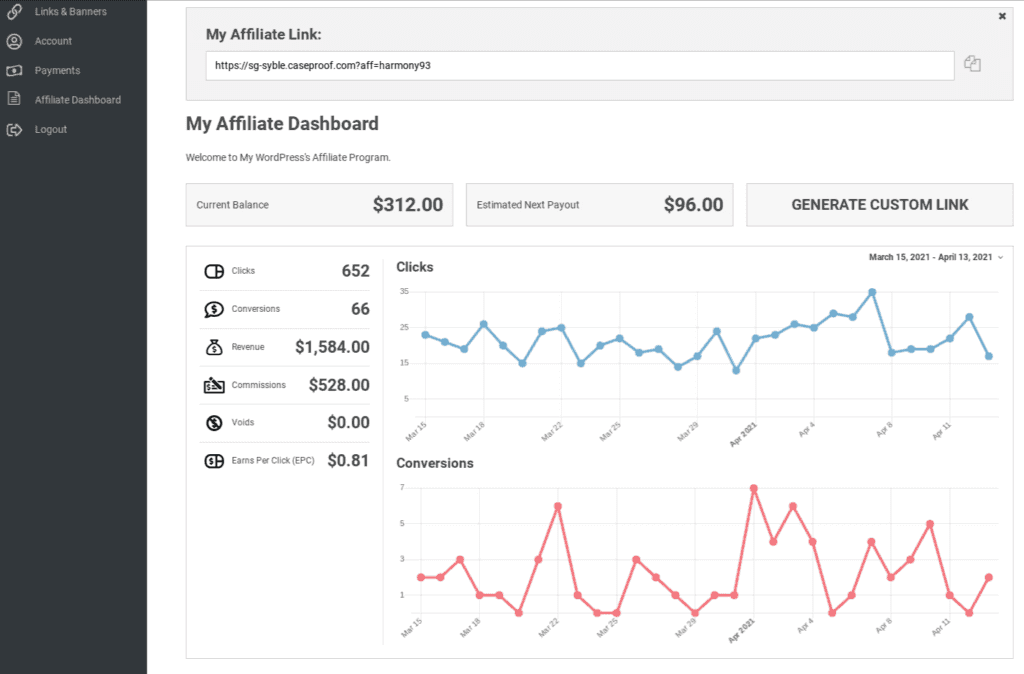 This offers them a centralized place to find the information, resources, and support they need. It also enables you to walk them through the onboarding process step-by-step, rather than leaving them to sink or swim alone.
4. Engagement
It's easy to think that once affiliates are properly onboarded, your job is done. However, a strong affiliate relationship depends on encouraging them to engage, both at the start and long after the novelty of signing up for your program has worn off.
Getting your affiliates to engage fully with your program prompts them to work harder to promote your products or services. However, it can do a lot more than that. For example, engaged and excited affiliates are more likely to recruit others to your program, expanding your reach without much work required on your end.
There are many effective ways to engage your affiliates. You can provide helpful resources, and develop a sense of community between individuals in your program. Other techniques to consider include creating video content, running contests, and offering multiple commission tiers that reward affiliates for improving their results.
5. Cultivation and Innovation
The last stage in the partnership life cycle is cultivating and innovating the partnership over time. As an affiliate program owner, this includes keeping an eye on how well your affiliates are getting through to your potential customers, and improving your program over time to help them succeed more effectively (and keep them highly engaged).
There's no one right way to cultivate a strong long-term affiliate relationship. However, it's important to set clear expectations, provide opportunities for growth, and be honest and transparent with your partners at all times. You can also track affiliates and view their progress using Easy Affiliate, and use what you learn to better support your worst performers and keep your best performers happy.
Conclusion
It's vital to remember that your affiliates are real people, not numbers on a page or simple resources. If they're going to boost your business to the next level, you need to do more than just sign them up. You'll want to establish strong relationships with them from the start, and build their engagement over time.
This means paying close attention to how you begin and implement each of the stages of partner life cycle management:
Identifying and discovering potential affiliates.
Recruiting affiliates to your program.
Onboarding affiliates and giving them the resources they need to succeed.
Encouraging your affiliates to fully engage with your program.
Cultivating and innovating your relationships and program over time.
Do you have any questions about how to establish strong and effective affiliate relationships? Ask away in the comments section below!
If you liked this post, be sure to follow us on Twitter, Facebook, and LinkedIn! And don't forget to subscribe in the box below.