If you want to make healthy profits through your affiliate network, choosing the right affiliate platform is essential. Ideally, the platform should be user-friendly, provide analytical tools, and integrate with your website and ecommerce service.
Fortunately, there are plenty of great affiliate programs out there to choose from. To narrow down your options, it helps to compare each of their key benefits and features. This is why we're going to be comparing ShareASale vs ClickBank vs Easy Affiliate in this post.
From here on out, we'll compare the features, ease of use, support, and price of these three popular platforms, to help you decide which one is best for you. Let's get started!
Features for ShareASale vs ClickBank vs Easy Affiliate
Each of these affiliate platforms has distinct features that set it apart from the competition. Comparing these characteristics is one of the easiest ways to determine which one best suits your business.
Features: ShareASale
ShareASale is an affiliate platform that screens your company and website details before allowing you into its program. It also has a significant sign-up fee, making it a more exclusive option for serious businesses and reputable affiliates:
With ShareASale, you can find affiliates from a pool of more than 225,000 members. The platform enables you to track your affiliate network with sophisticated metrics, such as new customer acquisition and coupon code usage.
Here are some of the standout features of ShareASale:
Customizable reports
Attribution tools
Sophisticated tracking methods and analytics
Conditional commissions
Pre-screening of affiliates
One of the main advantages of ShareASale is its attribution tools. This tool enables you to reward your affiliates who drive particular sales or traffic to your site. You can also set conditional commissions and control incentives for your network.
Features: Clickbank
ClickBank is a simple and user-friendly platform that enables you to connect with an extensive affiliate network. It operates in more than 200 countries, and has a user base of more than 100,000 digital marketers:
Here are some of the key features of ClickBank:
Integrated payments
Customized order forms
Access to digital marketing experts and training tools
Subscription options for affiliates
Straightforward administration tools
A user-friendly dashboard
One of the best features of the ClickBank platform is its simplicity. You can integrate it with payment systems and pay your affiliates with a single click. In addition, ClickBank administrates all of your financial data, including taxes, so you can focus on your products and networking.
Additionally, the program enables custom order forms and subscription options so you can attract more affiliates.
Features: Easy Affiliate
Unlike the other solutions in our list, Easy Affiliate is not an affiliate network. It's a user-friendly plugin that enables you to control your affiliate program from your WordPress dashboard: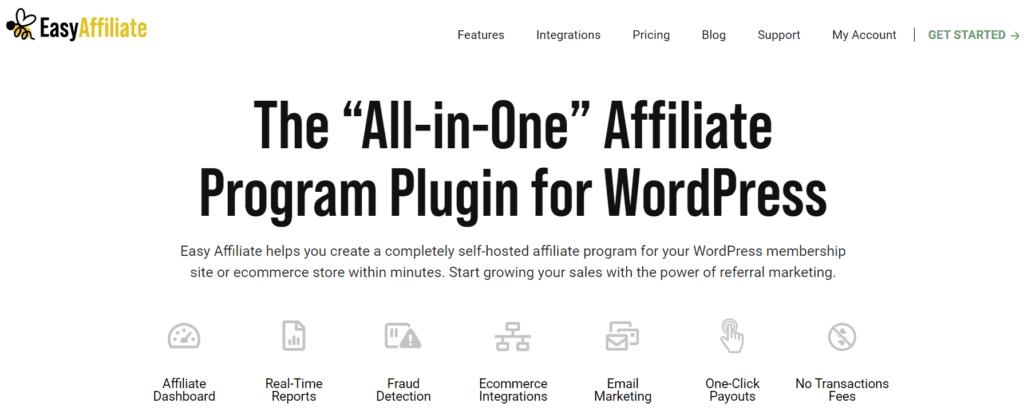 These are some of Easy Affiliate's most prominent features:
No plugin-based per-transaction or set-up fees
A personalized affiliate dashboard
Ecommerce and email integrations
Affiliate applications
Secure transactions and fraud detection
User-friendly affiliate tracking and reports
Complete control of your program
The main benefit of Easy Affiliate is how seamlessly it integrates with other programs. It can be easily added to WordPress, and integrates with a range of ecommerce and email platforms. Additionally, it is compatible with the MemberPress membership plugin and PayPal payments.
Easy Affiliate also has customizable commissions. You can establish different commission levels for your users, and create rules for when these percentages apply.
In addition, you can use affiliate applications with Easy Affiliate. This program enables you to filter your applicants and decide on the affiliates that best suit your business model. By doing so, you can avoid potential scammers.
Ease of Use for ShareASale vs ClickBank vs Easy Affiliate
Choosing a user-friendly affiliate platform is essential if you want to save time and minimize stress. When it comes to user-friendliness, an intuitive dashboard and accessible reports are paramount. In this section, we'll take a look at the usability of each affiliate platform.
Ease of Use: ShareASale
ShareASale has a slightly more complex interface than other affiliate platforms. It is also more challenging to access from the outset because you must pay the sign-up fee and verify your business before you can obtain an account: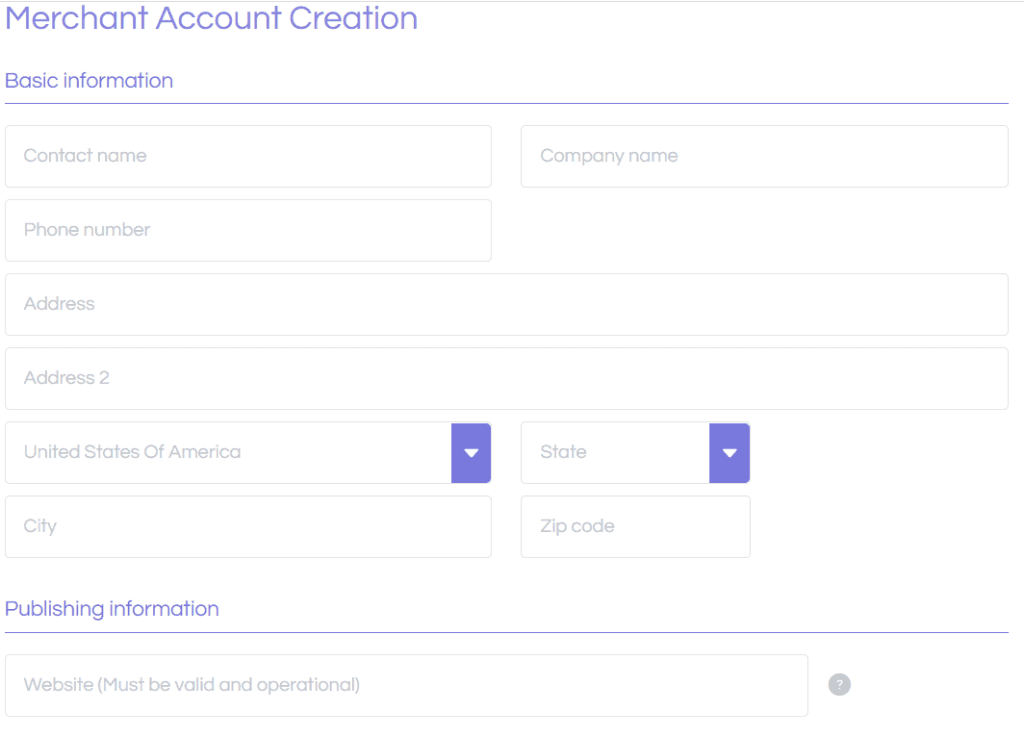 ShareASale reviews applications before it accepts users onto the platform, so this step can take longer than with other programs. Once you have an account, you can access the user dashboard:
From your dashboard, you can access all of your affiliate tools, including detailed reports. For example, you can analyze your affiliates at a product level or according to device type.
Unfortunately, none of the resources are available to non-members. So you must ensure that you are logged in to access troubleshooting documents and learn how to use different parts of the dashboard. Therefore, ShareASale isn't the most user-friendly option for affiliate businesses.
Ease of Use: ClickBank
ClickBank is one of the most user-friendly affiliate platforms due to its clean layout and abundant technical resources and troubleshooting documents. Additionally, it has a simple sign-up form that requests your personal details and takes minimal time to fill out:
Once you sign up for your account, you can access a simple, image-based dashboard. It uses WordPress on the back end and displays your earnings on the landing page:
You can also access various features from the side menu, including transactions, vendor reports, the vendor marketplace, and educational resources. This dashboard is straightforward and suitable for beginners as well as experienced marketers.
One of the most important of these tabs is the Vendor Reporting section. It allows you to see detailed reports on sales, subscriptions, funnels, conversions, and affiliates:
Once your affiliate program is up and running, you can use this part of the dashboard to run reports and monitor your ongoing progress.
Ease of Use: Easy Affiliate
Easy Affiliate has an intuitive dashboard that enables access to your affiliate tools without complicated navigational designs. Additionally, it has a speedy sign-up process that only needs your personal details and card details: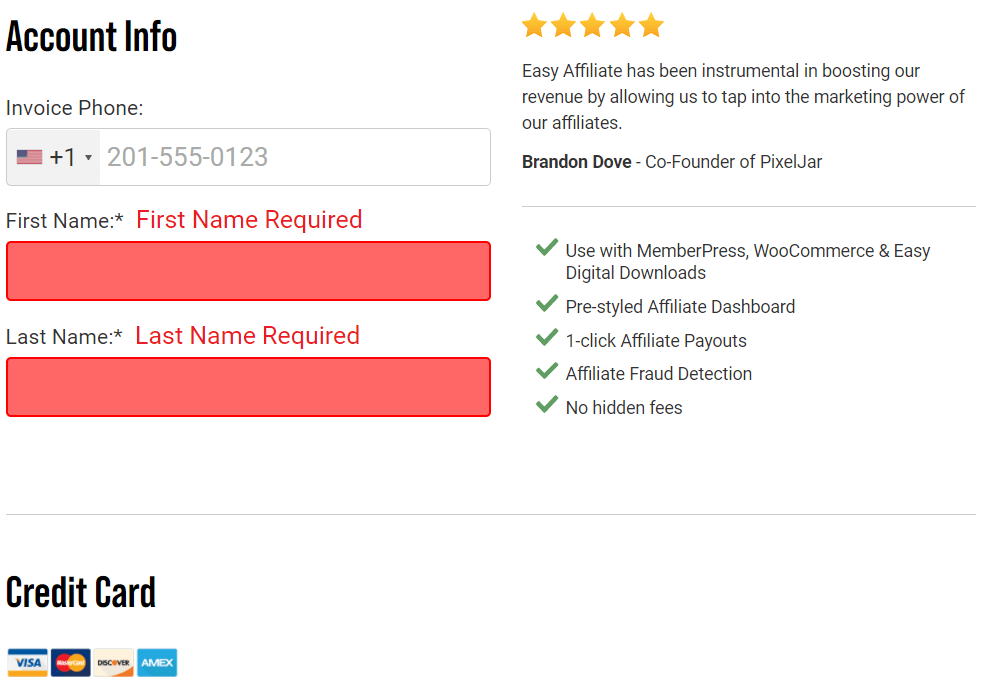 Once you sign up and install the Easy Affiliate plugin, you can access your dashboard directly from WordPress: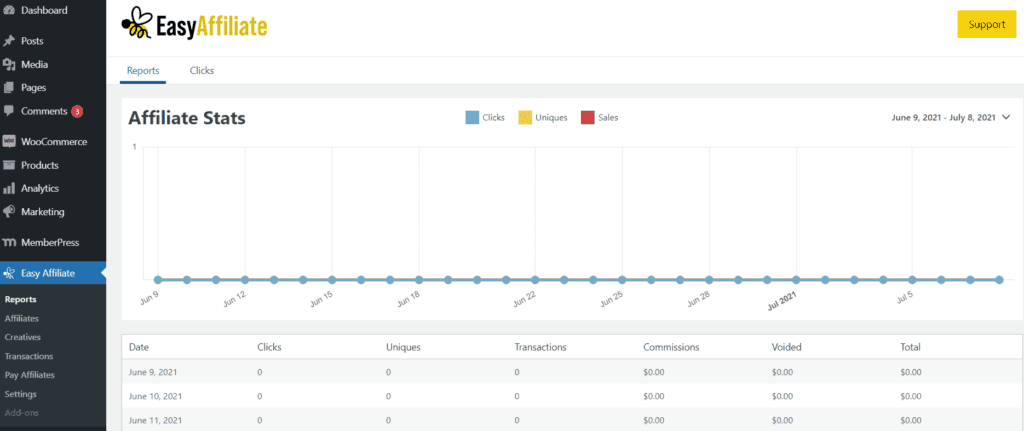 Here, you can easily view your ongoing reports, database of affiliates, and transactions. You can also make payments to your network from this dashboard. Each category is clearly labeled and has a simple layout to prevent any confusion.
In addition to this, you can install Easy Affiliate add-ons from this dashboard, including email and ecommerce program integrations. The add-ons are available if you navigate to Easy Affiliate > Add-ons: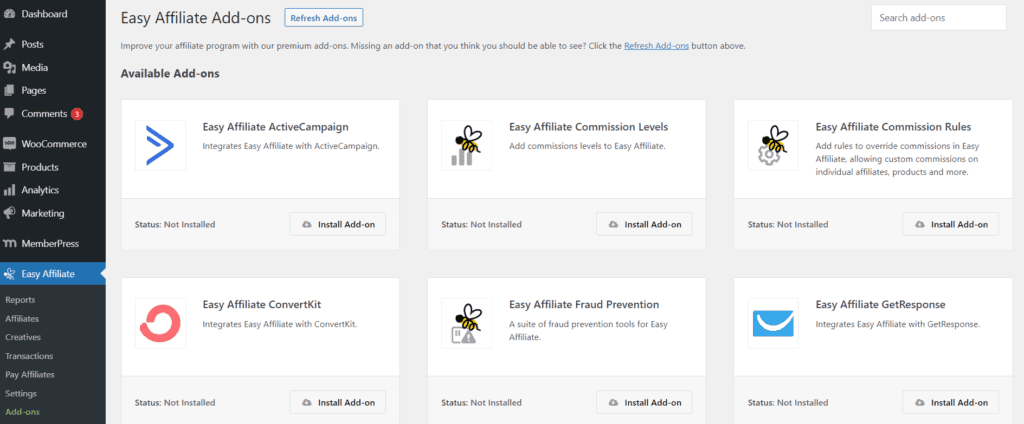 Then, you can install any of the extra programs by clicking on Install Add-on underneath the application's name. Installing add-ons and integrations is extremely easy, and doesn't require any coding knowledge or complicated instructions.
Support for ShareASale vs ClickBank vs Easy Affiliate
A reliable support system is essential if you run into any issues with your affiliate platform. The best affiliate programs provide written resources and personalized assistance with any technical problems. Let's take a look at how the affiliate programs compare when it comes to support.
Support: ShareASale
ShareASale comes with a professional support team that can help you with technical issues:

This support team is available via email and phone so you can access help at your convenience. ShareASale prides itself on its customer service, and tries to respond to any of your written concerns in as little time as possible.
Additionally, ShareASale provides written resources and training webinars for its customers. All of these support materials are included in your membership, and can be used to make the most of the platform's many features and learn new affiliate marketing skills
Support: ClickBank
ClickBank offers customer support to all of its members, including both affiliates and sellers:
You can contact the ClickBank support team via live chat or its call center. The customer service team can assist you with any technical problems, such as using the ClickBank dashboard and managing your account and payments.
As a seller, you can also access written resources that help you with various processes. The Vendor Help landing page includes FAQs and tutorials on selling products, working with affiliates, and using vendor analytics. For instance, you can learn how to create branding and marketing content for your affiliate network.
Support: Easy Affiliate
Easy Affiliate uses a highly responsive support ticket system for its customers. You log into your account, submit your request online, and await a response within the next two business days, usually sooner: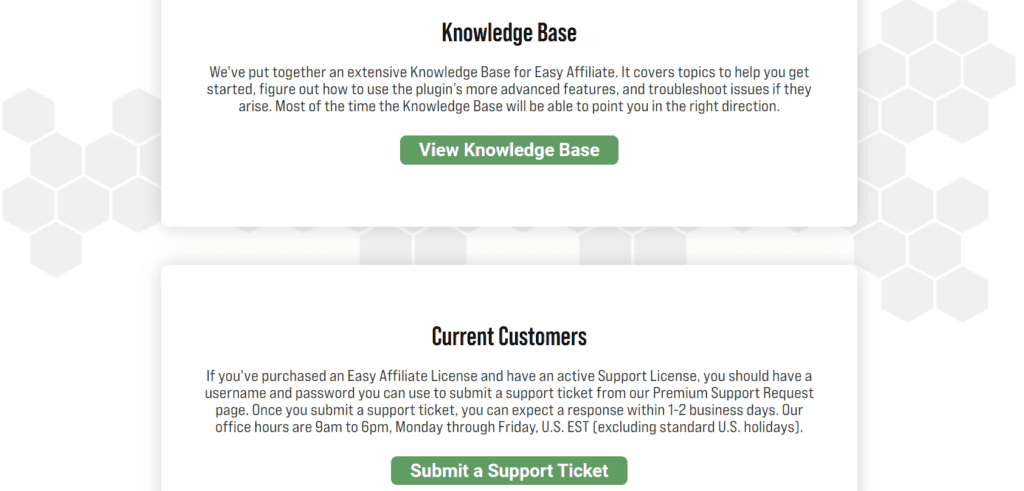 The support ticket system is not always the fastest option, especially because it only functions on business days. However, the written responses ensure that queries are handled efficiently without confusion.
Easy Affiliate also has an extensive Knowledge Base filled with FAQs and detailed tutorials. It includes a diverse range of topics, including ecommerce integrations and technical troubleshooting. For example, you can learn how to integrate WooCommerce with your Easy Affiliate account.
Pricing for ShareASale vs ClickBank vs Easy Affiliate
Most affiliate programs have a sign-up fee, take a commission percentage of transactions, or use both. So it's worth doing the calculations to see which platform is of better value in the long term. Here's some information about how these affiliate platforms compare in terms of pricing.
Pricing: ShareASale
ShareASale is one of the most expensive options at the outset. The platform charges a $550 setup fee, and also requires a $100 deposit toward your affiliate account:
Furthermore, ShareASale takes a 20% commission on every affiliate transaction. This amount is substantially higher than many other affiliate platforms, and it can add up quickly over time. Fortunately, ShareASale provides a payment calculator so you can estimate transaction fees in advance:
You cannot access the ShareASale vendor portal until you pay your fee and gain approval for your website and products. This process comes with company verification, and ensures that all affiliates and vendors are legitimate.
ShareASale does not have different pricing levels, and its signup costs and commissions apply to all affiliates. However, it may be more suitable for medium to large-sized companies because of its higher initial and ongoing costs. Unfortunately, small businesses may not find it profitable in the long run.
Pricing: ClickBank
ClickBank has initial signup costs and sales fees for merchants. It charges a $49.95 fee for product approval, and also takes 7.5% and $1 from every transaction you make:
Your affiliate products will need to pass initial assessments to gain approval on the ClickBank platform. For example, ClickBank will ensure that your goods are high quality, include a viable sales funnel, come with promotional copy, and are fairly priced.
Similar to ShareASale, ClickBank does not have different pricing plans. You pay the same amount regardless of your business' size or portfolio. However, it is significantly more affordable than many affiliate platforms on the market.
Pricing: Easy Affiliate
Unlike the other two affiliate platforms, Easy Affiliate works on a subscription-based model. It has three different pricing plans with varying costs and inclusions: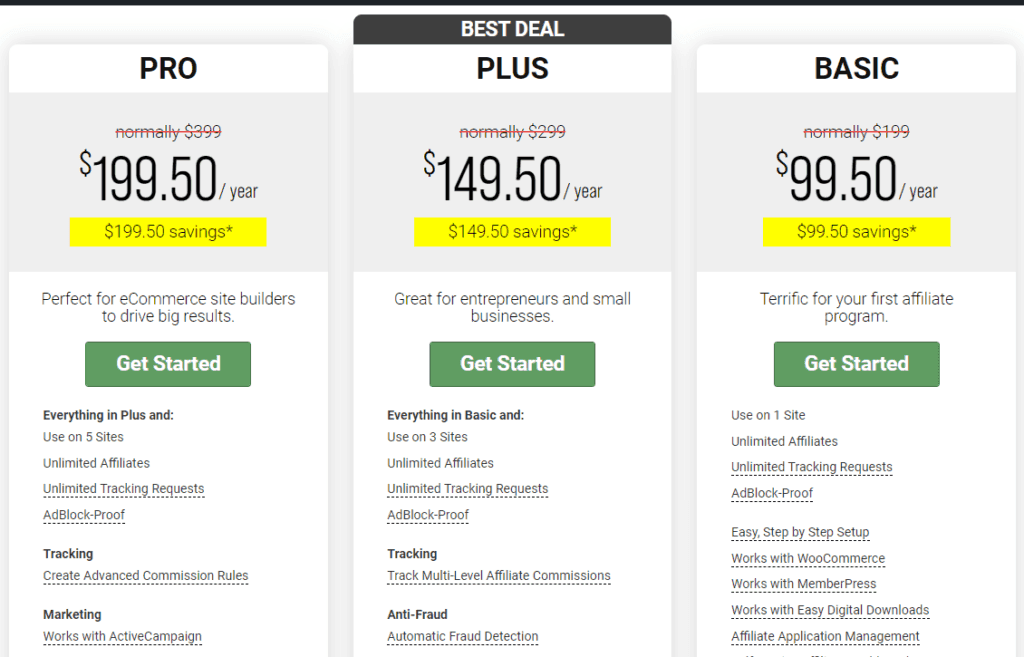 The most affordable package is the Basic plan for $99.50 per year, which is suitable for a single website. It enables you to have an unlimited number of affiliates, and includes all of the user-friendliness and most of the integrations that Easy Affiliate is well known for.
If you opt for the Plus plan for $149.50 per year, you can use the affiliate platform across three different websites. Additionally, it includes integration with Mailchimp, multiple commission levels, and all of the Basic package features.
Finally, the Pro plan for $199.50 per year also integrates with ActiveCampaign, includes custom commission rules, and functions across five different websites.
Regardless of the plan you choose, Easy Affiliate does not charge commission on your transactions. Therefore, you pay an annual subscription and keep all of your affiliate profits.
Cost Comparison
The table below illustrates the estimated cost difference between the three platforms based on an affiliate program run for one year, on one website, and with $5000 paid out in 20 separate transactions.
ShareASale
ClickBank
Easy Affiliate
Set-up Fee
$550
Set-up Fee
$49.95
Annual Subscription
$99.50
Deposit
$100
Deposit
$0
Deposit
$0
Per-Transaction (Network)
20%
Per-transaction (Network)
7.5% + $1
Per-transaction (PayPal)
2.9% + $.30
Left in Your Pocket
$3350
Left in Your Pocket
$4555
Left in Your Pocket
$4894
Conclusion
Affiliate marketing is one of the most effective ways to sell your online products. However, it's important to choose the correct affiliate platform for your business needs carefully. Each platform has different features, costs, levels of support, and user-friendliness.
When we compare ShareASale vs ClickBank vs Easy Affiliate, these are the critical differences:
ShareASale: Provides you with sophisticated analytical tools to manage your affiliate network and increase your expertise.
ClickBank: Offers a decently priced and user-friendly platform that takes the stress out of managing affiliates.
Easy Affiliate: Has a customizable interface, the best integration with ecommerce and marketing programs, and is the most affordable.
Do you have any questions about these affiliate platforms? Let us know in the comments!
If you liked this article, follow us on Twitter, Facebook, and LinkedIn. And don't forget to subscribe in the box below!