In theory, you want to accept as many applicants as possible to your affiliate program. After all, the more members you have, the more referrals you can get. However, not all applications are worth following up on.
Spotting which affiliate applications to reject can be difficult unless you're on the lookout for red flags. Knowing what the key warning signs are will enable you to separate great candidates from applications that aren't worth your time.
In this article, we'll go over some of the most common affiliate red flags and why applicants who wave them can harm your business. We'll also talk about how to set up an affiliate application that enables you to weed out the weakest candidates. Let's get to it!
How to Know When to Reject an Affiliate Application (4 Red Flags)
If you get an affiliate application that meets any of the criteria below, you should carefully consider whether they're a good fit for your program. For applications who trigger multiple red flags, your best bet is to reject them right away.
1. They Don't Have a Website
Unless you're focusing on social media influencers, every applicant for your program should have a website. More importantly, that website should have a decent track record and a library of content.
Often, applicants will look at affiliate programs first, and then try to build websites around the best offers. The problem with this approach is that it often takes new websites months or even years to start getting decent organic traffic and conversions.
The best affiliate marketers understand that building an audience that you can monetize takes time. Often, a content creator will take years to grow their website and its audience to the point where they can apply to affiliate programs or ad networks and start making money.
If you let in applicants without a website, you can expect not to get any returns for a long time. Additionally, you have no way of gauging the quality of their content or the potential customers they'll send your way.
2. Their Audience Isn't Relevant to What You're Offering
The best affiliates you can sign up for your program are those with well-established websites that have audiences that overlap with yours.
For example, it doesn't make sense to sign up an affiliate with a health and fitness website if you're selling home improvement products or services.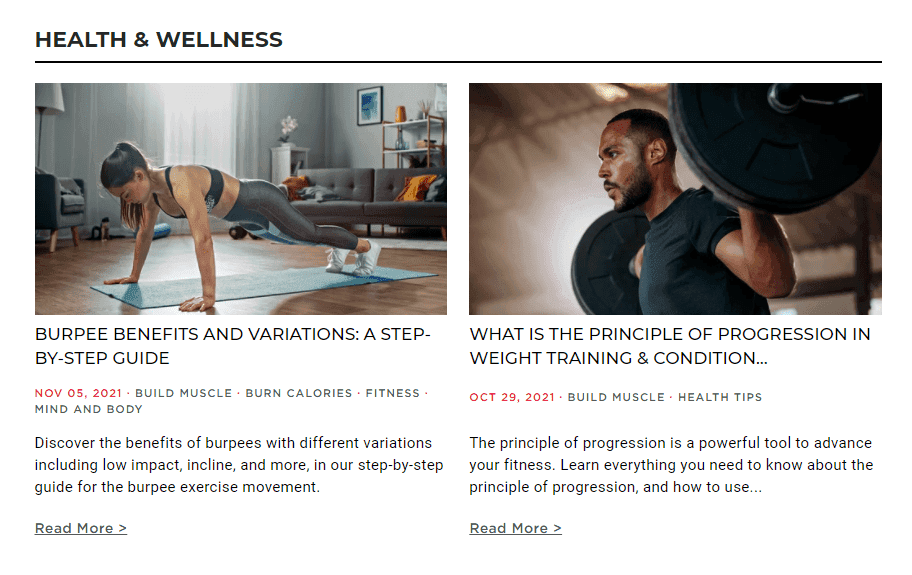 If affiliates refer visitors to products or services that don't interest them, you're not likely to see conversions. That means you're getting fewer sales, and your brand may even suffer due to the association with those potentially spammy marketers.
When it comes to affiliate marketing, you want the leads you get to be as targeted as possible. If affiliates send thousands of clicks your way but none of them are interested in your niche, then you're wasting each other's time.
3. Their Website Doesn't Offer a Great User Experience
It's common to see websites that offer amazing content but drop the ball when it comes to the user experience. The concept of user experience encompasses a lot of factors. However, any of the following elements can make for an overall negative experience when using a website:
Pages that take too long to load
Difficulty finding the content or pages you want
Elements that don't work within the website (such as contact forms, buttons, or links)
Poor overall design
By and large, if a website offers a poor user experience it won't convert as well as it could. Visitors you might convince to click on offers will instead leave and look for what they need elsewhere.
If you encounter this issue with an affiliate applicant, it might be worth your time to discuss the ways they could improve their website. That way, you don't rule out potential affiliate applicants, but you let them know that you have high standards.
4. They Don't Share Enough Information
Signing up for an affiliate program often requires an extensive "background check". As the person in charge, you want to make sure every affiliate meets the criteria you set out for your program.
The only way to make sure that happens is to create a comprehensive application form, which is something you can do with Easy Affiliate (more on this in a moment):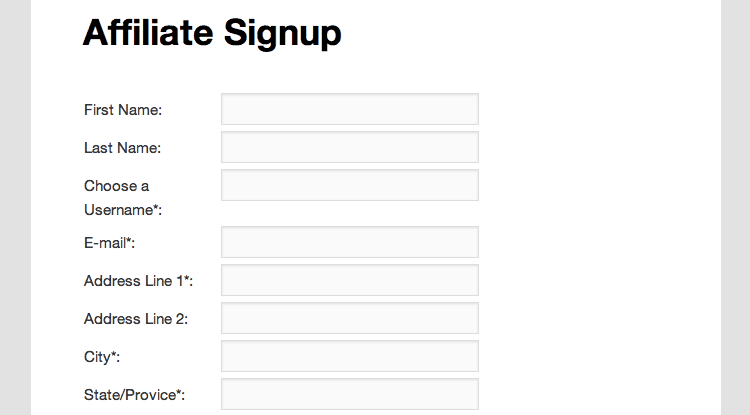 If you make sure to get as many details as possible from affiliate applicants, spotting red flags becomes much simpler.
You can require applicants to fill out fields that you consider critical, and if they don't they won't be able to apply at all (which will save you a lot of time).
How Easy Affiliate Helps You Filter Applications
So what's the best way to avoid the above red flags? You'll be glad to know that Easy Affiliate makes it easy for you to weed out weak affiliate applications.
When you set up the plugin, you get access to an installation wizard that enables you to decide what kind of application process you want to offer.
If you want to inspect affiliate signups, we recommend that you opt for the Application option. That means you get to review every application before it goes through: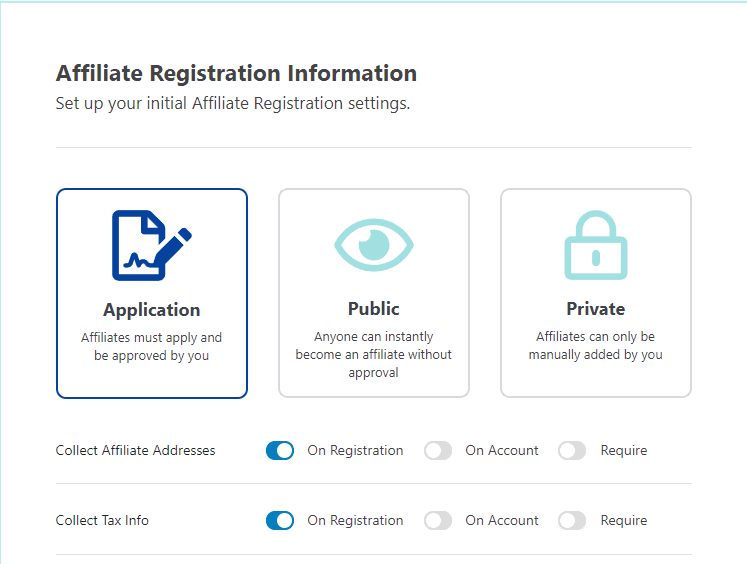 Easy Affiliate enables you to request both full address and tax information from users during the signup process.
You can also opt for the Private affiliate registration mode. With this approach, you can ask applicants to contact you via email, or through a custom form that requests additional information from them.
The Private application process does require you to add affiliates manually. However, Easy Affiliate enables you to do so easily.
Conclusion
A lot of affiliate programs approve any application that comes their way. That can lead to increased sales, but it also means you're letting through a lot of affiliates who might not understand your products or who your ideal customers are.
In the long term, not vetting applicants can hurt the quality of the traffic you get, lead to negative reviews, and damage your brand.
If you want to start vetting affiliate applicants more thoroughly, here are some red flags to be on the lookout for:
They don't have a website
Their audience isn't relevant to what you're offering
The website doesn't offer a great customer experience
They don't share enough information
Do you have any other questions about how to spot poor affiliate program applications? Let's talk about them in the comments section below!
If you liked this article, follow us on Twitter, Facebook, Pinterest, and LinkedIn. And don't forget to subscribe in the box below!