There are many ways to improve your affiliate marketing strategy. However, the same techniques and tools won't work for everyone.
Fortunately, there are tons of affiliate marketing networks and programs to help you take the next step. You just need to find the perfect match. That's why we've done the research to show you the possibilities.
In this post, we'll cover the differences between affiliate networks and affiliate programs. Then we'll review a few popular choices: CJ Affiliate vs AWIN vs Easy Affiliate. Let's get started!
An Introduction to CJ Affiliate, AWIN, and Easy Affiliate
Many different tools can enhance your affiliate marketing strategy. In this article, we'll be exploring affiliate networks as well as affiliate programs.
Since CJ Affiliate, AWIN, and Easy Affiliate all fall into one of these categories, it's essential to understand the difference between the two.
Generally, networks such as CJ Affiliate function like a professional matchmaking service. CJ assists companies in finding affiliates and helps individuals become marketers with the brands they love: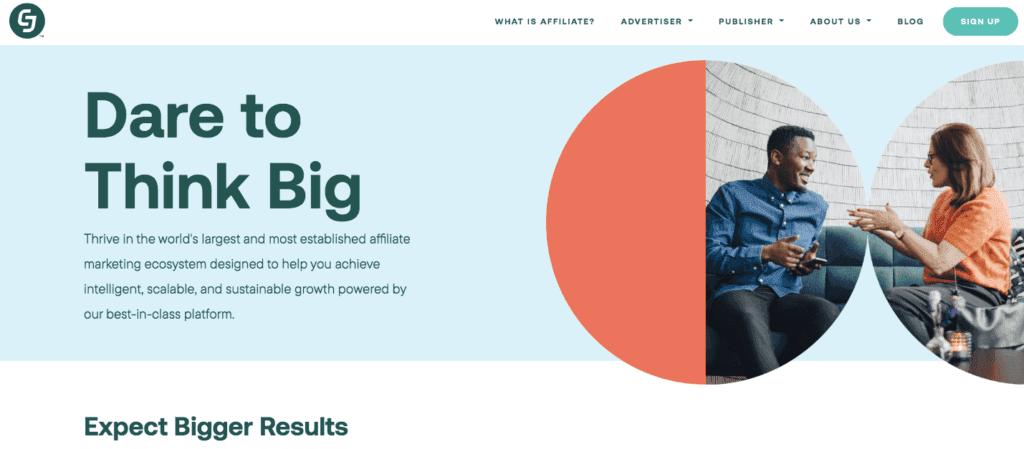 AWIN is another example of an affiliate network: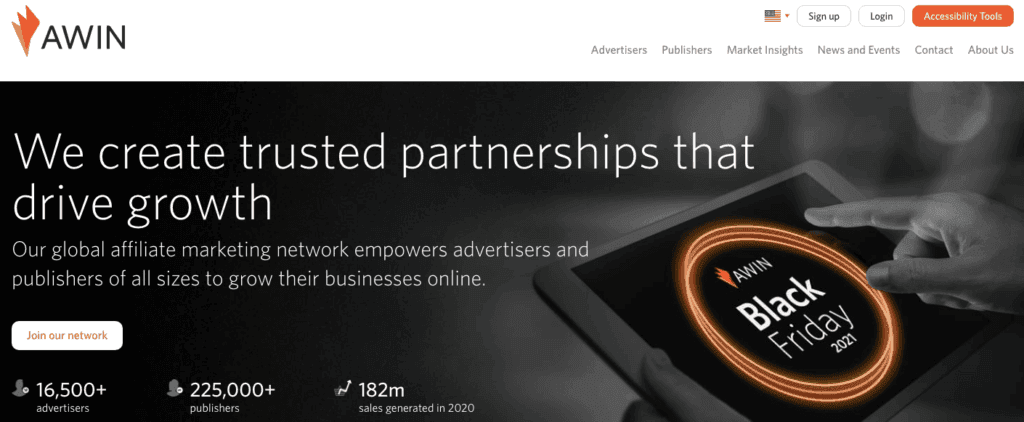 On the other hand, our Easy Affiliate plugin enables you to create an affiliate program. You partner with marketers who advertise your products, and you can manage your strategy from your WordPress dashboard: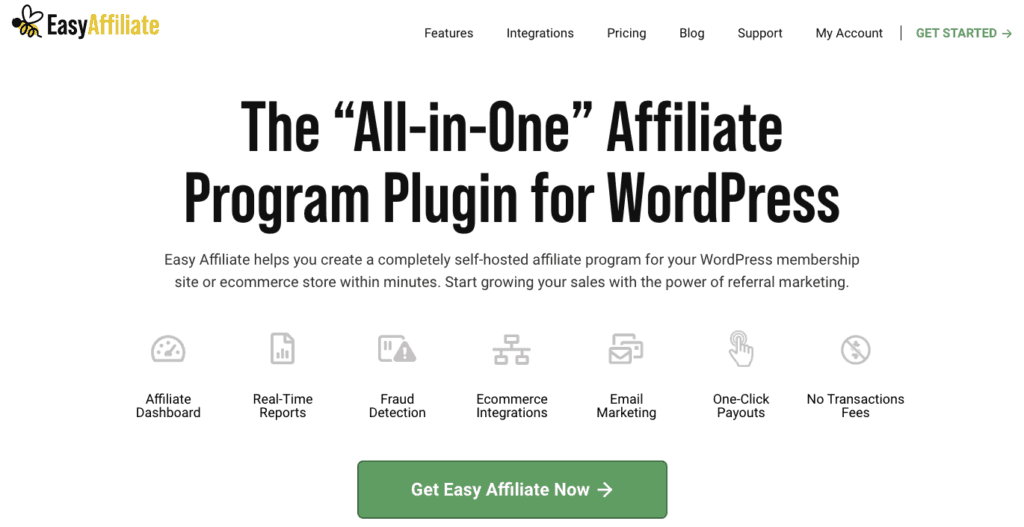 Both affiliate networks and affiliate programs can be beneficial. The correct option for you depends on how you want to structure your affiliate marketing approach.
Features for CJ Affiliate vs AWIN vs Easy Affiliate
All these platforms can improve your affiliate marketing strategy. However, they all come with distinct sets of features. Let's explore their key differences!
Features: CJ Affiliate
CJ Affiliate boasts one of the largest affiliate marketing communities worldwide. Its model connects "advertisers" to "publishers":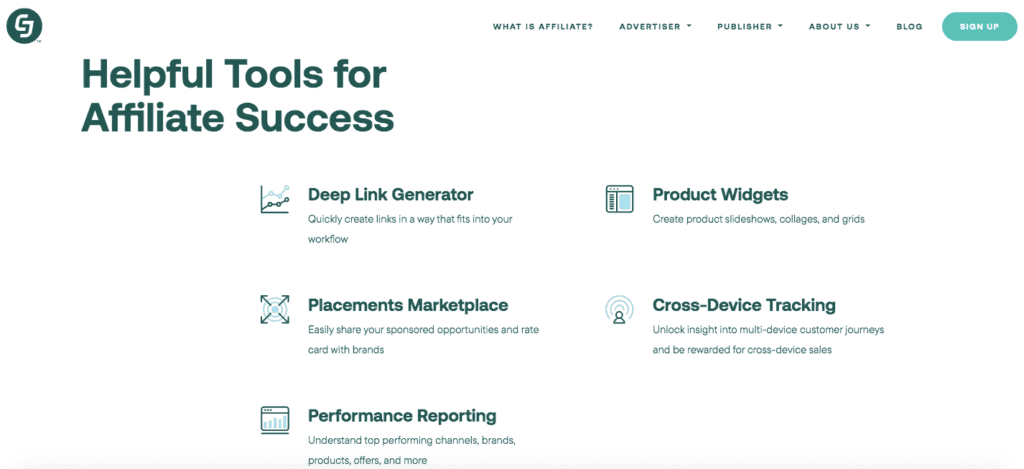 To clarify, influencers and affiliate websites would be considered publishers. In contrast, advertisers are the brands they work with.
Here are some standout features CJ offers:
Partner recruiting
Cross-device tracking
In-depth reporting
VIP Influencer campaigns
On the advertiser side, CJ supports household names such as Barnes & Noble and J.Crew. Furthermore, CNN and BuzzFeed News are on the publisher list.
These big names may seem intimidating. Indeed, there is a high level of competition. However, CJ Affiliate may be a realistic option for qualified influencers and established brands looking to connect with each other.
Features: AWIN
AWIN is another popular global affiliate network that helps advertisers and businesses connect: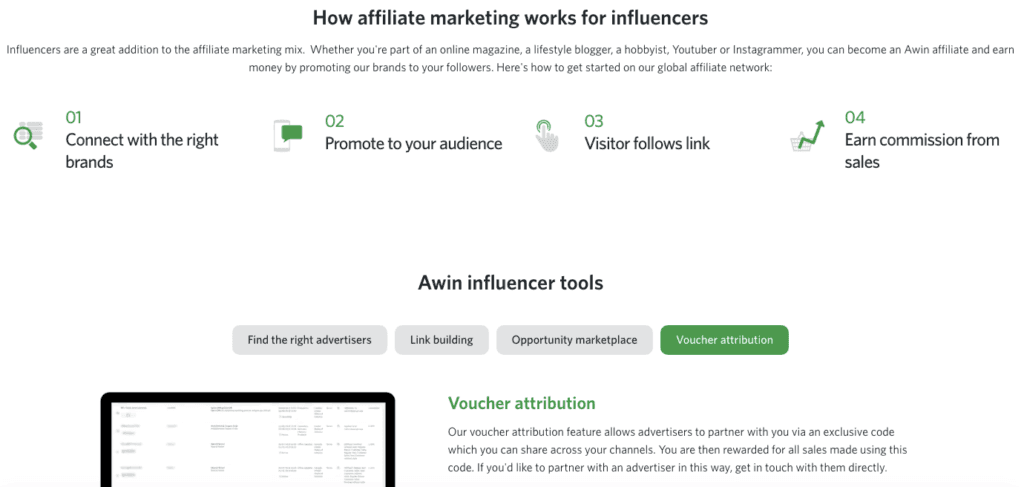 AWIN can be a powerful tool for all types of businesses and entrepreneurs. Here are some key features it provides its members:
Innovative tracking technology
A customizable payment system
Voucher attribution
AWIN has been connecting brands to affiliates for over 20 years. Moreover, there are currently 16,500 member brands in its network. In addition, AWIN may be a good solution if you're looking for a diverse pool of affiliates.
Features: Easy Affiliate
Unlike the other two options, our Easy Affiliate plugin helps you create an affiliate program. It offers an all-in-one, user-friendly solution for all your affiliate marketing needs: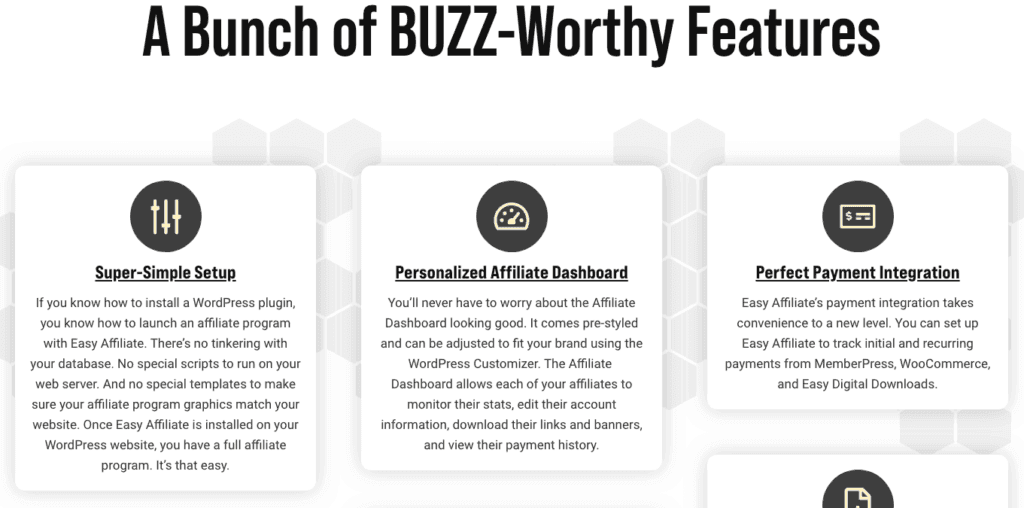 Here are some of the Easy Affiliate plugin's powerful features:
A user-friendly dashboard
1-click affiliate payouts
Advanced security and fraud protection
Comprehensive marketing tools
Ecommerce integrations
Easy Affiliate is an excellent solution for anyone hoping to build a lucrative affiliate website with WordPress. It's especially great for beginners due to its intuitive features.
Easy Affiliate streamlines your affiliate program so that you can constantly grow and expand. It also integrates with many valuable tools such as WooCommerce, PayPal, and Mailchimp so that you can manage everything in one place.
Ease of Use for CJ Affiliate vs AWIN vs Easy Affiliate
You could choose the most sophisticated or powerful affiliate marketing tool available. However, it's not going to help you unless you know how to use it.
Let's learn more about the dashboards and sign-up processes for each of the affiliate marketing platforms!
Ease of Use: CJ Affiliate
First, let's assess CJ Affiliate's sign-up process. We're going to look at this from the perspective of an affiliate marketer: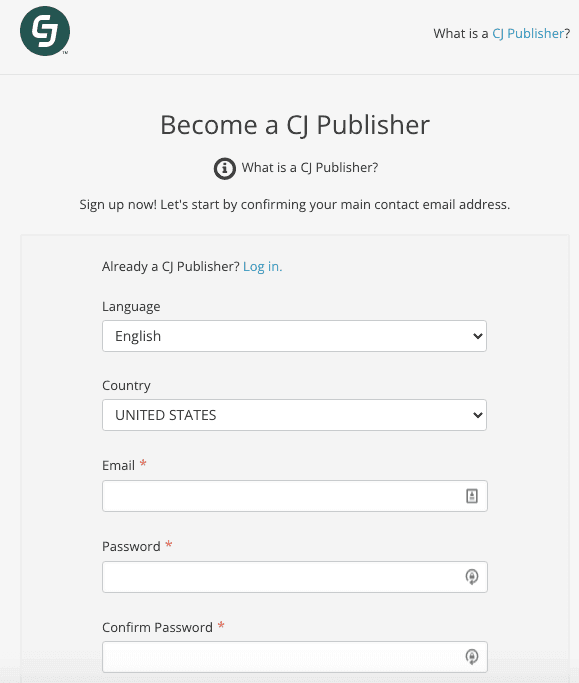 To begin, you'll have to fill out a simple form with your personal details. When you complete it, you'll reach a page that says Email Sent. At this point, you should check your email and click on the button that says Create My CJ Publisher Account.
Next, you'll be directed to an agreements page. Click on the blue links for each separate agreement to trigger a pop-up with the actual text. Then, close the box and hit Accept: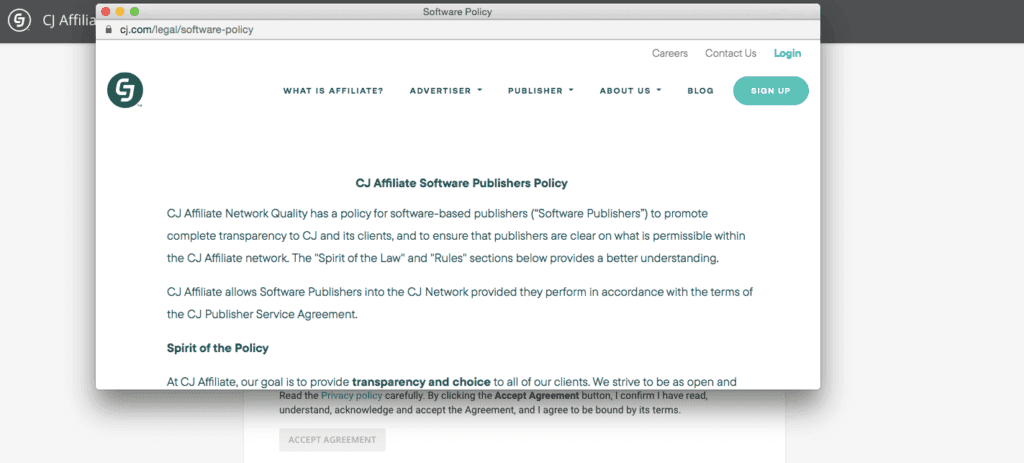 When you finalize the agreements, you'll see a login page that looks like this:
Finally, you'll be able to log in to your new account. You'll then get access to CJ Affiliate's dashboard: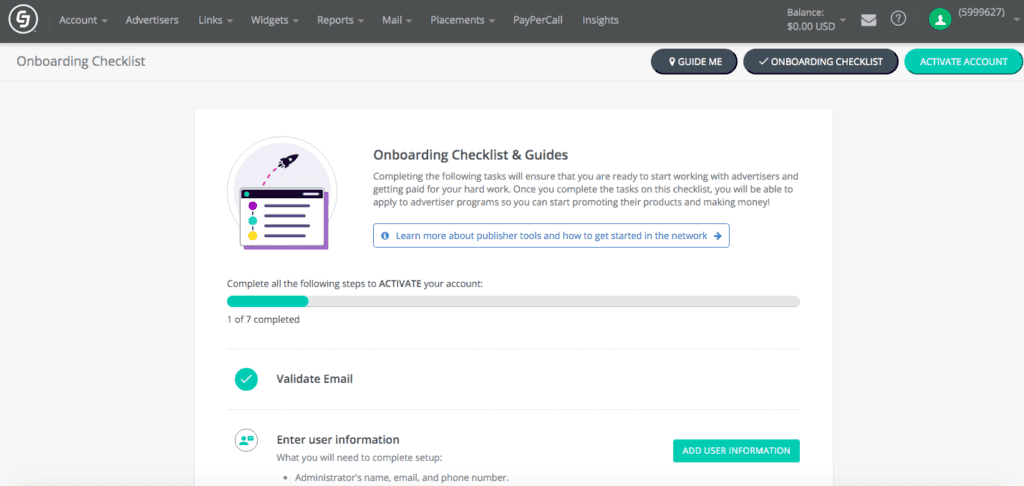 This dashboard is simple, sleek, and intuitive. It has a horizontal navigation bar at the top of the screen, where you can view reports, links, mail, and more. It also has a convenient onboarding checklist for new users.
Ease of Use: AWIN
Now let's check out how things work at AWIN. The initial sign-up form is slightly more elaborate than some others, requiring additional information beyond your name and email: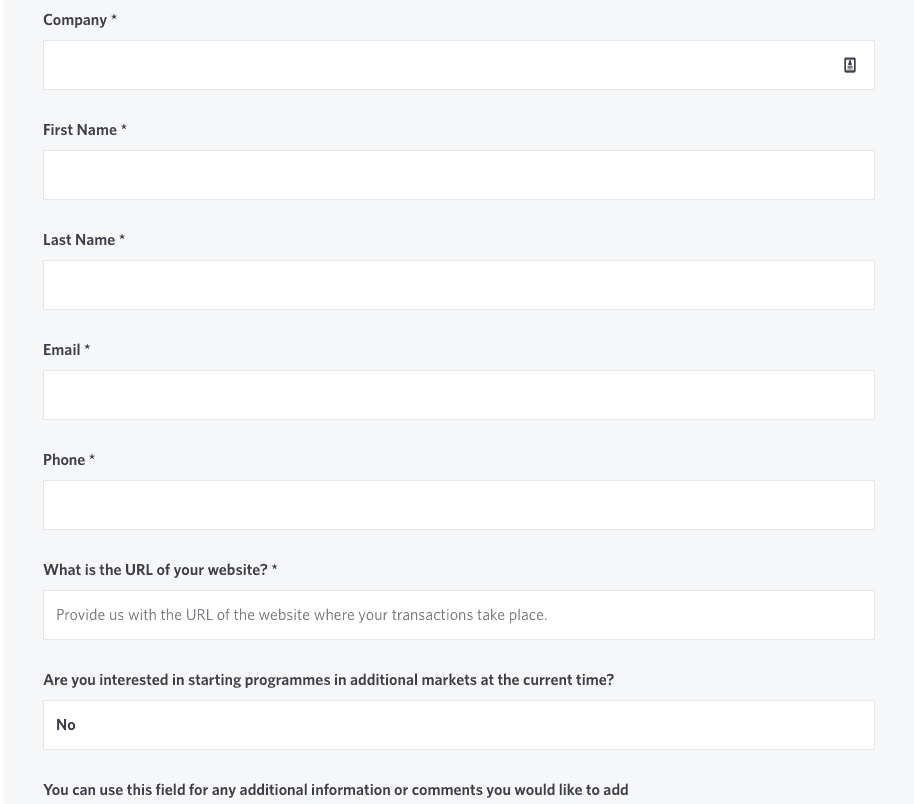 Once you complete the form, you will see a confirmation page like this: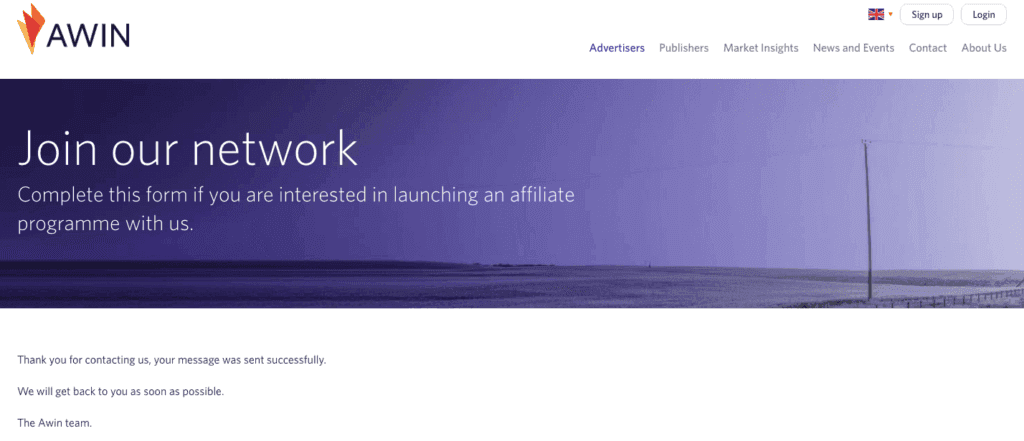 Unfortunately, with AWIN, you'll have to wait to hear back about your application. However, if approved, you will manage your affiliate program using the MyAwin extension: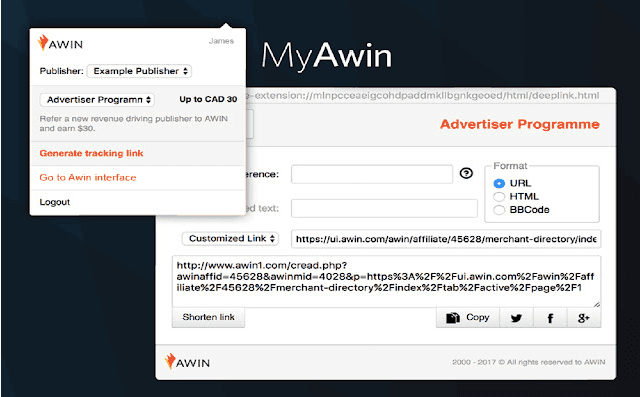 Using MyAwin, you'll be able to manage your affiliate campaigns easily. For example, you can generate links, share them, and even join new affiliate programs.
Admittedly, AWIN doesn't have the swiftest or most centralized system for managing affiliate programs. Therefore, it isn't the most user-friendly option for beginners.
Ease of Use: Easy Affiliate
Since Easy Affiliate is an all-in-one, beginner-friendly affiliate solution, it's easy to use no matter your skill level. To sign up, head to the Easy Affiliate homepage and click on the green Get Easy Affiliate Now button: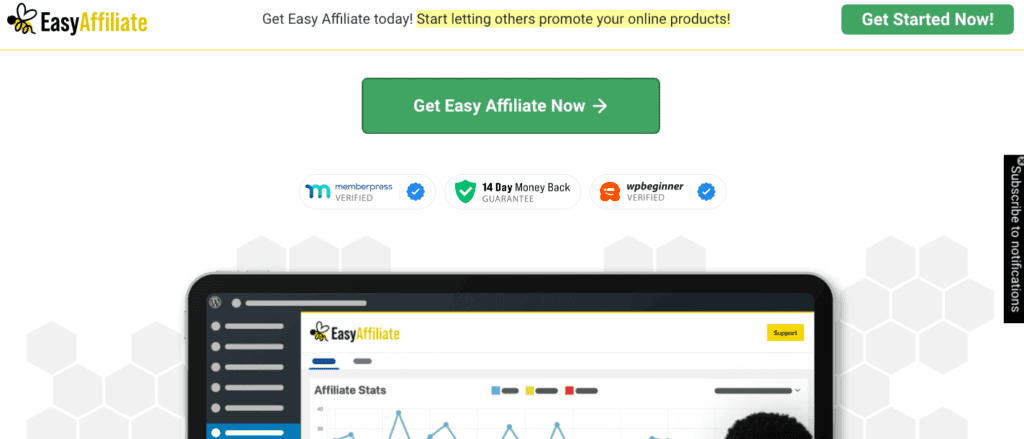 Next, you'll need to select a plan. Once you do, you'll get to the sign-up page: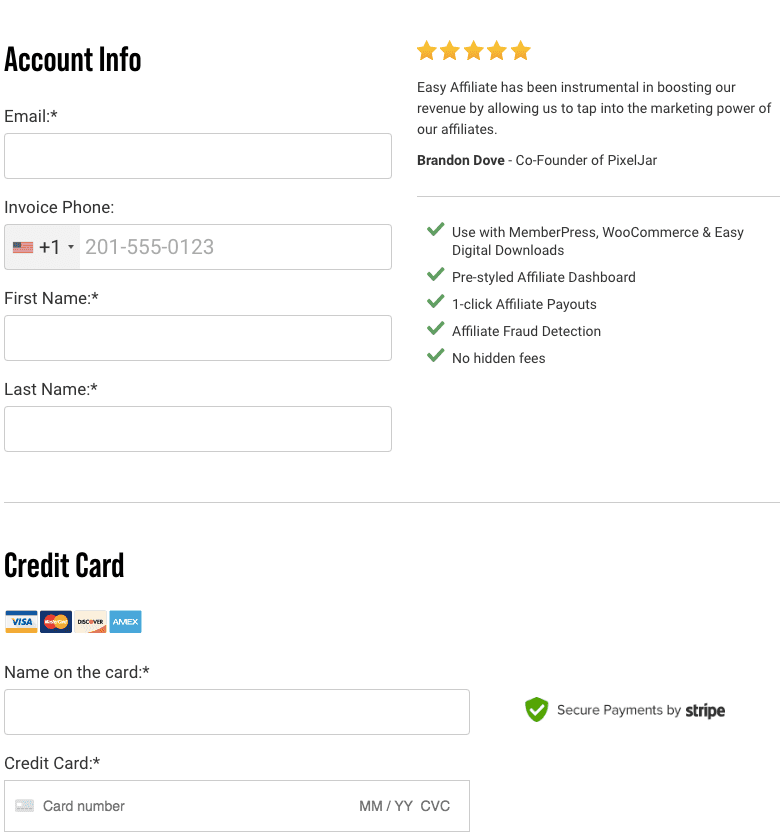 Then you should navigate to your WordPress dashboard. You can activate and install the Easy Affiliate plugin so that you can access your affiliate program dashboard: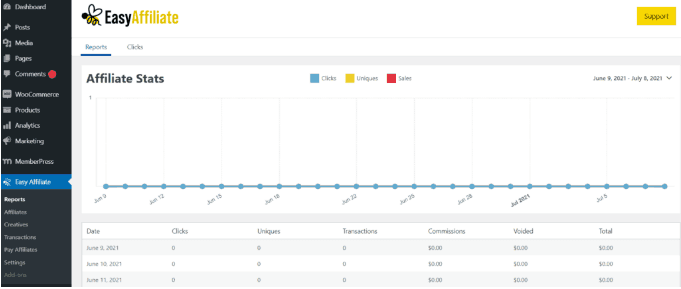 From the dashboard, you can manage every element of your affiliate marketing program. For example, you can access reports, pay affiliates, create links, and more.
With a straightforward design, our plugin is one of the most user-friendly and easiest options available.
Support for CJ Affiliate vs AWIN vs Easy Affiliate
Dependable and efficient customer support is invaluable for almost any business. If you run into any issues with your affiliate marketing strategy, you may need to reach out for assistance.
Let's see how the customer support options differ between the three affiliate platforms.
Support: CJ Affiliate
As an award-winning affiliate platform, it's no surprise that CJ Affiliate offers high-quality customer support: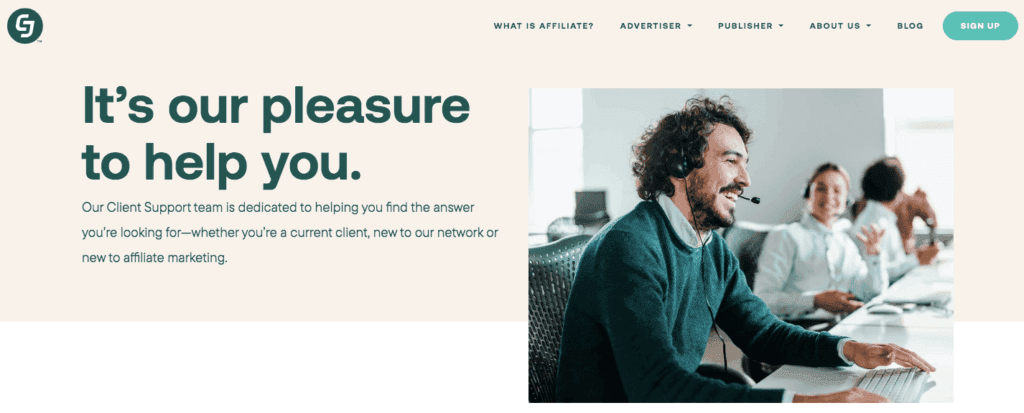 In addition to worldwide phone support, you can also use a support-ticketing system when issues arise. Furthermore, you can gain access to many of these resources, including an extensive knowledge base, via your dashboard: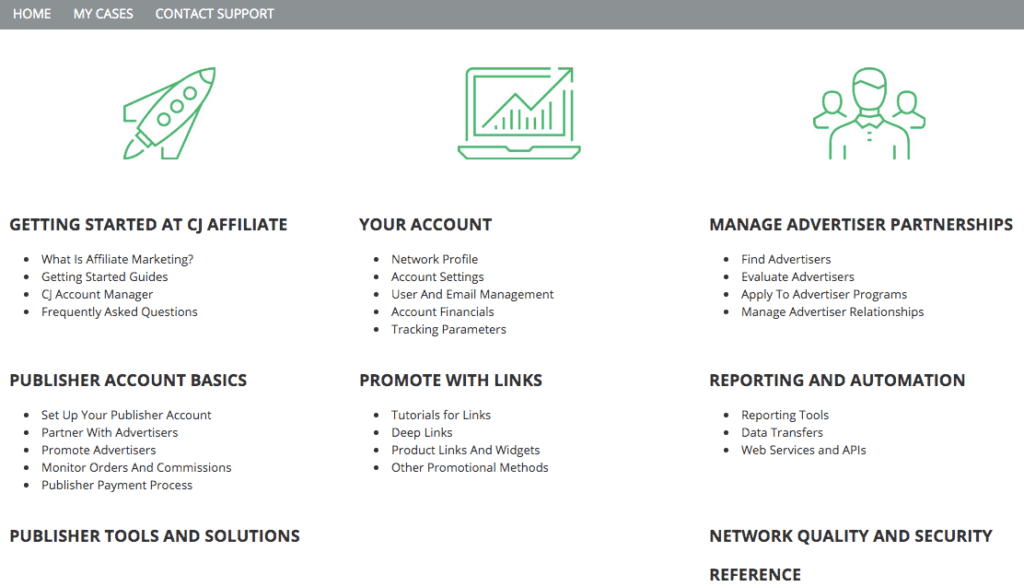 From the knowledge base, you'll get access to different advice about reporting and automation, deep links, commissions, and more. This would be a good place to explore once you've completed your onboarding checklist.
Support: AWIN
AWIN has a Partner Success Center that provides multiple resources for how to navigate its network. Categories in this resource hub include Getting Started, Promotional Methods, Payment, and more: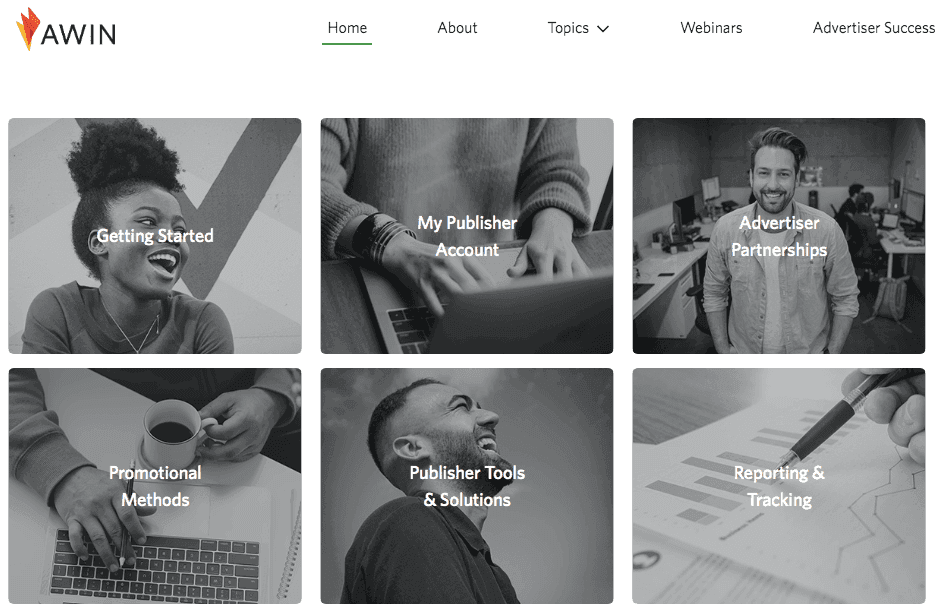 The Partner Success Center is geared toward influencers. There is also an Advertiser Success Center that provides information relevant to brands that work with affiliates.
While additional customer support options may be available for AWIN users, they are not advertised to the general public. Therefore, you might like to inquire about these services before you make your decision.
Support: Easy Affiliate
Easy Affiliate users can access premium support via a ticketing system. You can easily send a message regarding any issues that arise. With this model, you are guaranteed a response within two days, but usually, you get one sooner.
While some may prefer a chat option, the ticketing system reduces confusion and helps resolve problems as quickly as possible. Additionally, you can look for information in our Knowledge Base:
Our Knowledge Base is one of the most comprehensive information hubs. You can find dozens of detailed how-to guides to help you with every step of your affiliate marketing journey.
Pricing for CJ Affiliate vs AWIN vs Easy Affiliate
As we learned before, affiliate networks and affiliate programs are quite different. Thus, their payment plans are too.
Let's check out pricing for CJ Affiliate, AWIN, and Easy Affiliate.
Pricing: CJ Affiliate
As you may recall, CJ Affiliate offers two different types of accounts for advertisers and publishers. There are no sign-up fees for either userbase, and affiliate marketers don't pay ongoing fees.
CJ Affiliate uses a unique model called situational commissioning. It gives businesses more autonomy to choose commission levels. Furthermore, this system determines a payout percentage based on multiple factors such as customer location, promotion type, and customer status.
CJ Affiliate doesn't publicly disclose how much it costs to become an advertiser on its platform. Instead, it encourages interested businesses to contact the company directly.
Pricing: AWIN
Like most affiliate networks, AWIN also lacks a fixed payment system. However, it helps businesses and affiliates negotiate commission rates at the beginning of any new partnership.
As a business, you will pay a 'cost-per-acquisition commission payment' to AWIN. This is essentially a fee per sale.
Unfortunately, since these payments happen case-by-case, it isn't easy to assess how much a company may pay. However, we know that affiliates don't need to pay anything to use the service.
Pricing: Easy Affiliate
Since Easy Affiliate is not a network but an all-in-one solution for affiliates, it has a very different payment model. Our plugin offers an affordable annual subscription and no transaction fees per sale.
Additionally, there are no sign-up fees. To make it easy, there are three simple pricing plans, starting at $99.50 per year: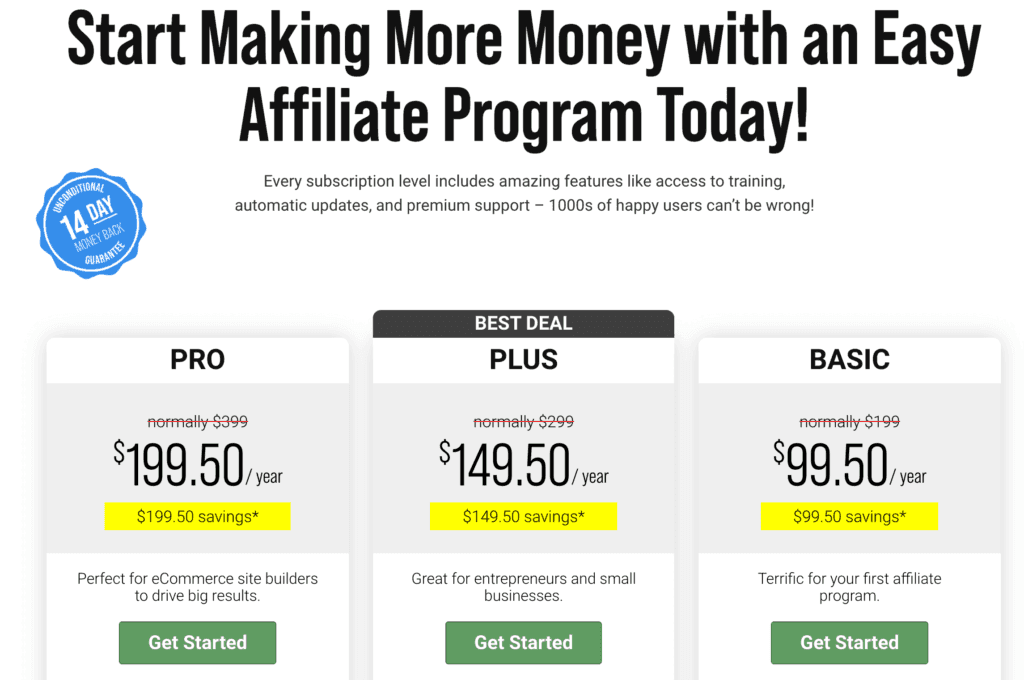 We don't charge transaction fees. However, to process each sale through PayPal, users must pay 2.9% + $0.30. These flat rates may appeal to first-time or beginner marketers who don't have the negotiating experience required for a global affiliate network.
Conclusion
We know investing in the future of your affiliate marketing strategy can feel like a big step. Fortunately, it doesn't have to be overwhelming.
Just keep in mind the following when choosing between these popular programs, and you're sure to make a wise choice:
1. CJ Affiliate: Boasts a sophisticated, exclusive network that may work well for highly-qualified affiliate marketers worldwide.
2. AWIN: Is a global affiliate network for somewhat established affiliates looking to connect with the brands they love.
3. Easy Affiliate: Offers a straightforward all-in-one affiliate marketing solution that is great for beginners hoping to create an affiliate website.
Do you still have questions about these affiliate programs? Let us know in the comments section below!
If you liked this article, follow us on Twitter, Facebook, and LinkedIn. And don't forget to subscribe in the box below!