Starting an affiliate program is an excellent way to increase your brand reach and conversions. However, many programs are unsuccessful due to unmotivated or low-performing affiliates. As such, you may feel like your products are not efficiently reaching their target audience.
By taking the time to research your niche, provide incentives, and screen for the most effective marketers, you'll be able to develop a high performing affiliate program. Additionally, you can use monitoring tools to ensure its long-term success.
In this article, we'll look at the benefits of a high performing affiliate program and how you can create your own using our Easy Affiliate plugin. Let's get started!
Why You Might Want to Make an Affiliate Program
An affiliate marketing program can be an integral part of your overall advertising strategy. In this setup, influencers will promote your products through personalized links.
Whenever customers make purchases through those URLs, the affiliates get commissions on the sales.
Affiliate marketing strategies are beneficial for both businesses and influencers. You can reach larger audiences than you might be able to with paid advertisements.
Additionally, affiliates can earn considerable amounts of money if they can convince consumers to purchase your products.
You might have multiple influencers that sign up to promote your business. However, unless they actually make sales, you won't see any profits.
That's why focusing on creating a high performing affiliate program is essential. In the next section, we'll look at how to make a successful program that delivers results.
How to Create a High Performing Affiliate Program (In 4 Steps)
In this tutorial, we'll be exploring different strategies using our Easy Affiliate plugin. This tool enables you to create and manage every aspect of your program from your WordPress dashboard. It's also super easy to set up and use!
Step 1: Do Your Research
Before creating your affiliate program, it can be helpful to first qualify your brand. If you don't have a clear idea of what your business and its products stand for, your marketers are unlikely to understand it either.
For example, you might want to start by thinking about the core values of your brand. Additionally, what unique benefits do your products offer consumers?
You might like to put all your ideas together in a single document. That way, you can share the resource with your influencers after you onboard them.
For instance, you might use a brand identity template:
Moreover, it can be helpful to research your competition. For example, you can look for companies that sell products similar to yours.
Looking at your competitors' marketing strategies is one of the best (and simplest) ways to develop your own.
Step 2: Design Your Incentives
If you want your affiliates to perform well, you'll need to make it worth their while. Offering competitive payouts and other rewards can push your marketers to land more sales.
For example, you might like to create tiered commissions. In this structure, affiliates who make more sales will be eligible for higher payouts. The promise of higher payouts can be very motivating.
You can easily create different commission levels with the Easy Affiliate plugin. Go to your WordPress dashboard and head to Easy Affiliate > Settings > Commissions > Tracking: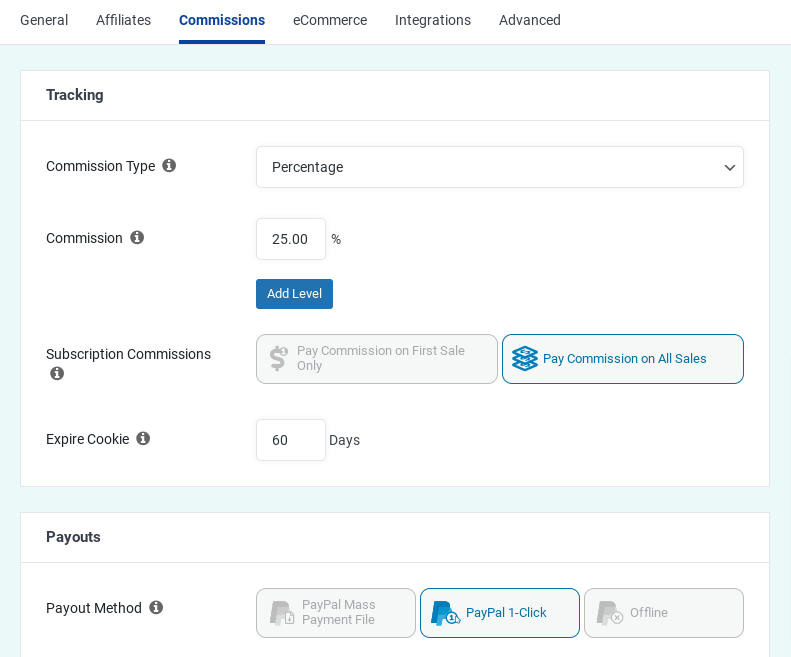 Then set up multiple levels to motivate your highest-performing affiliates. You might also offer bonuses to influencers who meet particular targets. For example, you might pay more during a sales event.
Step 3: Recruit Top-Tier Affiliates
Now that your program is in place, it's time to look for affiliates who will deliver the best results. There are various ways that you can do this.
For example, you can reach out to prominent influencers. These are marketers with established followings on social media platforms such as Instagram or TikTok.
Although these affiliates might expect bigger payouts, they also usually have highly engaged audiences.
Furthermore, you could try connecting with content creators at affiliate conferences. Affiliate Summit draws thousands of people worldwide to its events, giving you a great place to connect with new influencers: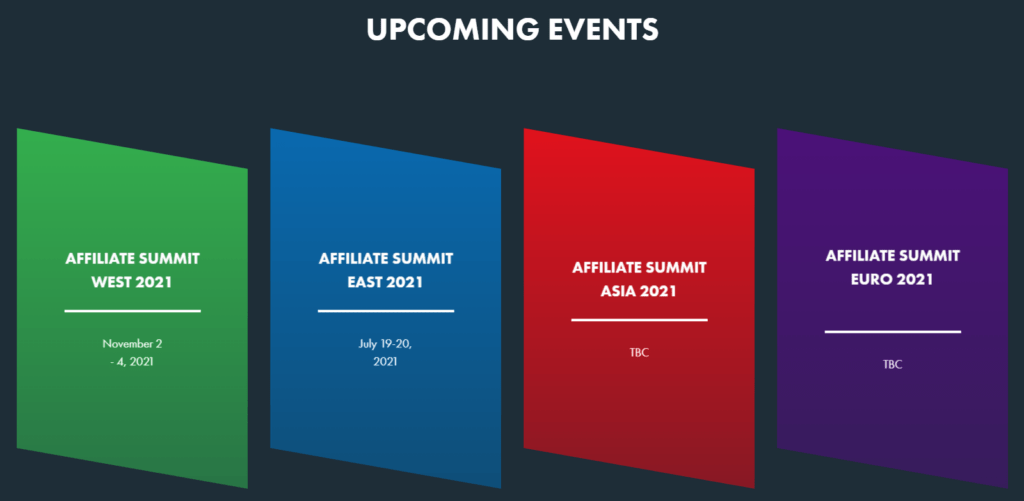 Finally, you can look for popular affiliate bloggers. These savvy influencers often make their living from promoting products such as yours. Therefore, they're usually well-versed on how to market affiliate links.
However, your relationship with your affiliates doesn't end once you onboard them. Maintaining consistent communication is key to your program's success.
We recommend using personalized communication with your affiliates. Although you can post messages for all of your influencers, they can feel impersonal at times.
Instead, consider reaching out to your marketers via email to check their progress and answer any questions.
Step 4: Monitor Your Progress
Finally, you'll want to monitor your affiliate program as it grows. Analyzing its progress can help you identify which marketers are contributing and which aren't. The data can also show you which of your marketing strategies are most effective.
There are various metrics you can monitor, such as:
Affiliate link click-throughs
Visitor conversions
Impressions
To access these analytics, you'll need to head to Easy Affiliate > Reports. Here, you can view detailed statistics related to clicks, transactions, and commissions: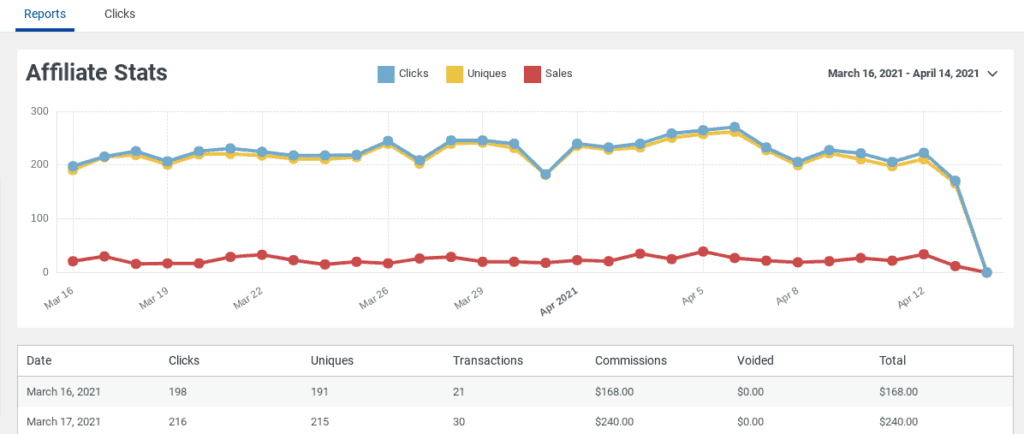 If a particular influencer is performing well, you might consider rewarding them with a bonus, as we discussed earlier. On the other hand, you may need to review affiliates with poor performance and decide if they need further motivation.
You can also integrate your program with Google Analytics. This will enable you to view detailed data such as impressions and conversion events.
The popular MonsterInsights plugin allows you view and work with Google Analytics right from your WordPress dashboard. The plugin also has what it calls the MonsterInsights Google Ads Conversion Tracking Feature + Easy Affiliate Integration.
This awesome integration automatically assigns orders to your affiliates in Google Analytics, giving you a great picture of how and where your affiliate conversions are happening.
Conclusion
Starting an affiliate program is relatively easy, especially when using our Easy Affiliate plugin.
However, you can't sit back and wait for results. If you want your program to succeed, you'll need to design it with results in mind.
To recap, you can follow these steps to create a high performing affiliate program:
Do your research.
Design your incentives.
Recruit top-tier affiliates.
Monitor your progress.
Do you have any questions about helping your affiliate program succeed? Let us know in the comments section below!
If you liked this article, follow us on Twitter, Facebook, and LinkedIn. And don't forget to subscribe in the box below!