As the commercial world becomes more competitive, businesses are always looking for new ways to market their services and attract customers. The market demands these methods be more diverse and targeted than traditional marketing approaches.
Despite these increasing demands, one's marketing resources can't always grow alongside these trends. For this reason, efficiency in digital marketing is everything. Business owners need to know how to get their product advertisements in front of consumers with their existing resources and budget.
Affiliate marketing is a popular strategy that can tick these boxes when done correctly. This makes it a brilliant project for entrepreneurs looking to level up their marketing efforts.
What is Affiliate Marketing?
Affiliate marketing is a type of marketing that allows affiliate partners to earn a commission on sales generated by their content.
A typical affiliate marketing arrangement is when an individual affiliate marketer includes links in their web content provided by a company's official affiliate program. These links track when your audience purchases through them, at which point the affiliates receive a commission.
On certain platforms, affiliate marketing lines up with influencer marketing. For example, micro-influencers may post on their social media profiles with an affiliate link. Their audience will see this product or service and may make a purchase based on the affiliate's content.
An example of this sort of affiliate marketing is promoting affiliate products through TikTok because of this platform's popularity among the technologically active, who are more likely to make an online purchase than the ordinary consumer.
What is Automation and How Can It Help Your Affiliate Marketing?
Automation is the process of using technology to complete specific processes without manual assistance. This can range from hugely complex systems to small processes, but the goal of any automation strategy is usually to:
Save time by reducing the number of repetitive manual processes
Free up time to work on new projects
Reduce staff and administrative costs spent on unnecessary labor
In affiliate marketing, automation aims to take the pressure of a growing system off the affiliate program owner and their affiliates.
Tips for Using Automation in Affiliate Marketing
Using automation for marketing can seem like a complex process, but this advice can be applied to businesses of any size looking to better manage their affiliate marketing program.
1. Choose the Right Affiliate Marketing Software
This term covers a range of technologies that can be used to manage every part of your affiliate marketing campaign. Tasks this might cover include:
Assigning Tasks i.e. assigning specific jobs to affiliates in the program
Payments
Tracking sales
Fraud detection
Affiliate performance (as a whole and for each individual)
Developing strategies for future affiliate programs and development
An effective affiliate marketing software, such as Easy Affiliate, will help you to keep track of everything in your program together and create a streamlined and efficient workflow.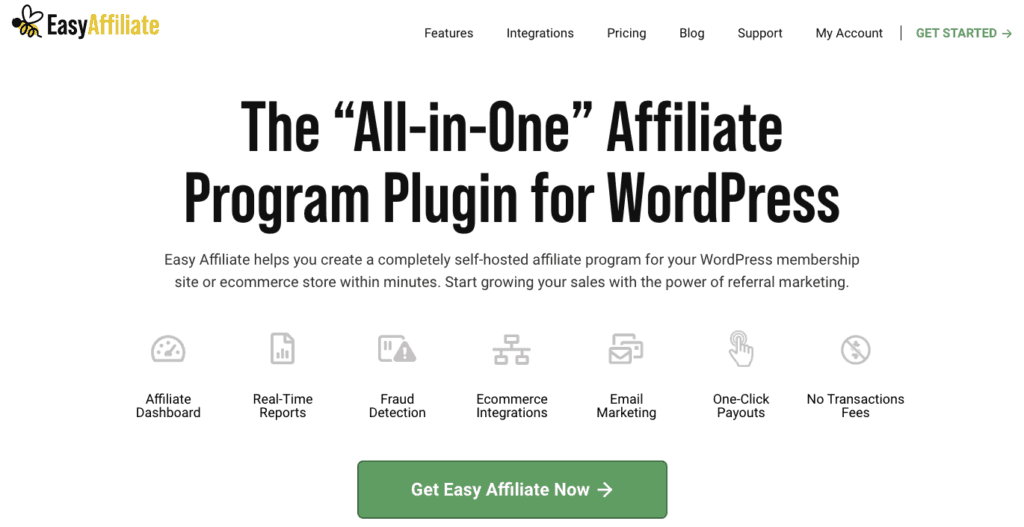 2. Optimize Your Ads
By optimizing your ads, you maximize their reach and effectiveness. Once you understand your audience and their needs, you can develop an automatic system that analyzes past affiliate ad campaigns for their successes and replicates this in other ads. This can be applied to future affiliate marketing campaigns.
For example, you can use eCommerce analytics tools to measure the success of your sales-oriented ad campaigns. You can utilize this data to determine which ad formats, including layout, copy, and images, successfully speak to your customers.
This can then feed into an automated process for creating affiliate ads and posts. It can help to guide what affiliates post on their channels to maintain a consistent voice and image across your brand advertisements.
Optimized ads can increase revenue from digital advertising sales. They can also save your marketing team valuable time on developing new visuals and additional campaigns without having to repeat creating basic advertising materials.
3. Automate Your Logistics Management
When managing multiple affiliates, keeping track of logistics is crucial. Having a good handle on your operations is the best way to keep your affiliate program's reputation clean and attract additional affiliates down the line.
This is particularly true for affiliate-facing processes. Payments are a good example. Making payments on time is a great way to maintain and reinforce affiliate relationships, but also to keep your books balanced and ensure your marketing budget can cope with its demands.
You can also use automation to manage the logistics of communicating with affiliates. For example, if you need to send out a communication on how to use wifi calling as part of a new communication initiative, you can automate sending out this message. 
You can also automate answering queries as a time-saving method, using tools such as chatbots that can point affiliate partners to your FAQs or other relevant information.
4. Automate Responding to Inquiries
Popular affiliate marketing programs receive more applicants than they have space to take on. This is where automated chatbots can come in handy.
When potential affiliates message your business, you can build an automated response system that will filter through those that fit the values and goals of the business. These can then be manually assessed by staff.
These chatbots can be programmed to find out crucial information, such as:
The niche and interests of the applicant
Their interest in your business
Their audience base and rates
This will remove some of your repetitive workload, saving you from having to sort through all affiliate inquiries, many of which won't even be useful to your business.
5. Use Automation to Protect Against Fraud
Unfortunately, affiliate marketing can occasionally invite fraud. One of the more common types is click fraud. This is where a bot or human spammer enters a site masquerading as a legitimate visitor.
They then click on an affiliate link as if they were a real user. This registers as a real link interaction and costs the business money, as any legitimate link click does.
Sources of click fraud may include:
Rivals clicking on your links to put a dent in your marketing budget
Unscrupulous affiliates
Agents paid by third parties
Automation can help to prevent this by training software to detect, recognize, and prevent click fraud. Smart fraud detection bots can spot unusual activity that may signify fraudulent link interactions and stop it in its tracks.
Stop Affiliate Fraud with Easy Affiliate's Fraud Prevention Add-On
This helps to prevent money from being lost on links that don't lead to sales. This means your business will have more of its budget to dedicate to genuine affiliates that yield real results.
Conclusion
Automation can be a great tool for managing and scaling your affiliate marketing program. Because of the potential for rapid growth, being able to track this automatically has huge potential for saving on time and cost.
Automation can seem daunting, but it has applications in every area of business. When tested and developed properly, it can help you to scale up your marketing program whatever your level of resources.
Take a look at all the automation tools Easy Affiliate has to offer!
If you liked this article, follow us on Twitter, Facebook, Pinterest, and LinkedIn. And don't forget to subscribe in the box below!