The ins-and-outs of affiliate marketing can be overwhelming, especially for "newbies". It can be easy to get lost with aspects such as deciding on a profitable niche or choosing a suitable affiliate program, and at the beginning, you're guaranteed to put a foot wrong somewhere.
However, some of these mistakes can prove to be more detrimental than others. The ones that can impact you the most are the ones to avoid from the get-go – although you may have already found yourself falling victim to some of the more common ones.
Today, we'll reveal the six most common mistakes new affiliate marketers need to avoid if they want to grow a successful business. You'll learn why each mistake can be harmful, and how you can be sure to avoid and overcome each one. By the end, you'll have a stronger framework on which to build your affiliate marketing business.
Let's get started!
1. Signing Up for Too Many Affiliate Programs
There's nothing necessarily wrong with multiple streams of income, but signing up for too many affiliate programs can be counterproductive to success.
In a nutshell, potential customers will be able to tell how well you know your product from reading your content. It stands to reason that the more products you promote, the less you know about each one. If customers begin to doubt your authority, this could potentially impact click-throughs and sales.
Fortunately, this mistake is easy to avoid. In the beginning, choose one product to promote. Spend all of your time learning about the product, testing it out yourself, and creating awesome content that promotes its use. Once you've begun to see the benefits of this, only then should you add an additional program or two to your plate.
2. Failing to Test and Compare Products and Tools
Following on from our last point, promoting a product you've never tested yourself can also impact your credibility and sales, despite your best intentions.
Promoting a product you've personally tested and compared enables you to create more authoritative content, and causes you to come off as more knowledgeable to your customers. As a product user yourself, you'll be able to answer all questions truthfully and present all the facts. This is essential to building trust with your customers.
That being said, there are times when you'll need to act quickly in order to beat your competition to the punch. Only experience can help you in these situations. However, for the beginner affiliate marketer, purchasing and testing your chosen product out will be more beneficial in the long run.
3. Working Within an Uninteresting Niche (To You)
In the beginning, picking a profitable niche may seem the most appealing option – and it often is. However, espousing the qualities of a niche you find bland or boring will make the work seem a slog.
It almost goes without saying that choosing a niche you're interested in will benefit both you and your customers. Your passion will shine through your content and communications, and overall, you'll be happy to spend more time working on your business.
Unfortunately, guides for choosing a profitable niche are more prevalent than how to choose an interesting niche. For example:
However, this means you'll need to rely on your own taste to choose an interesting niche to you. Of course, profitability should always be a consideration, but ultimately you'll benefit more from a niche that's fun to work with, than simply plumping for a high-earning one.
4. Not Collecting Customer Emails From the Start
A strong email marketing strategy is a must for affiliate marketers. It enables you to build a genuine relationship with your readers, and it also provides you with a ready-made list of potential leads. Putting this aspect off until you're already up and running is a definite mistake.
While collecting customer emails can seem difficult at first, leading many to simply sidestep that aspect and focus on other areas, it doesn't have to be!
A tried and trusted technique is to implement email opt-ins on your site, along with the promise of something valuable – such as a weekly newsletter, a free e-book, or report to the reader:
Of course, opt-ins aren't the only way to collect email addresses, and in regard to this at least, the only roadblock is your creativity!
5. Choosing Quantity of Content Over Quality
Many new marketers begin to churn out content from the start, with their only concern being the quantity of posts in their archive. However, the focus should really be on quality. One or two in-depth and valuable posts per month that provide readers with all of the information they need to make a purchasing decision will ultimately trump a short article every day that doesn't do the product you're covering justice.
Fortunately, there is much you can do to ensure quality content. For example, always begin brainstorming post ideas by focusing on value with questions such as, What value will this post provide to my readers?
In terms of article creation, begin with an outline to give yourself focus. It will help you to find and eradicate the weak points in your work. Finally, make sure you're also comparing yourself to your competitors – ensuring your content is bigger and better than theirs practically guarantees high-quality content.
6. Not Tracking and Managing Links
Link tracking is essential for building a successful affiliate business, and failing to do so can lead to less revenue. It can also make it difficult to know whether your marketing strategies are working or not.
While Pretty Links can help you with link redirection and shortening, Easy Affiliate is an affiliate management plugin that can help you to take control of your affiliate marketing program: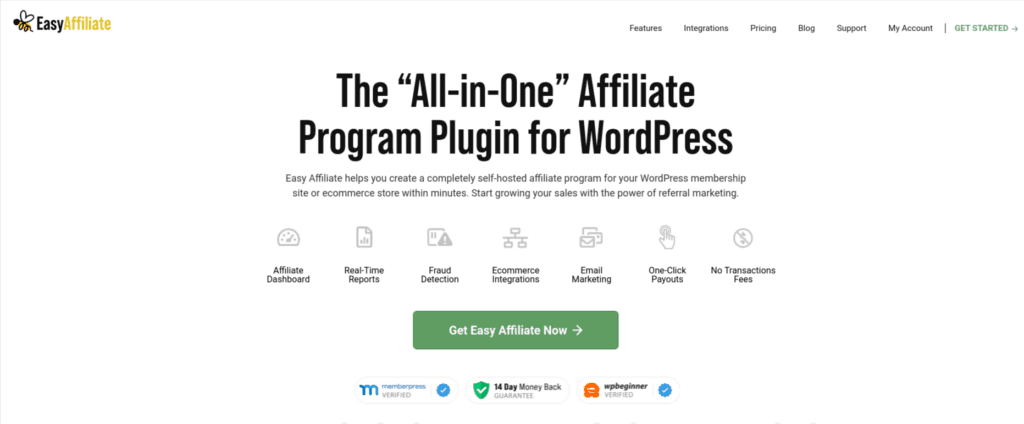 The user-friendly dashboard enables you to see how many clicks your affiliates are driving, the sales they're making, and how much to pay them at the end of each month.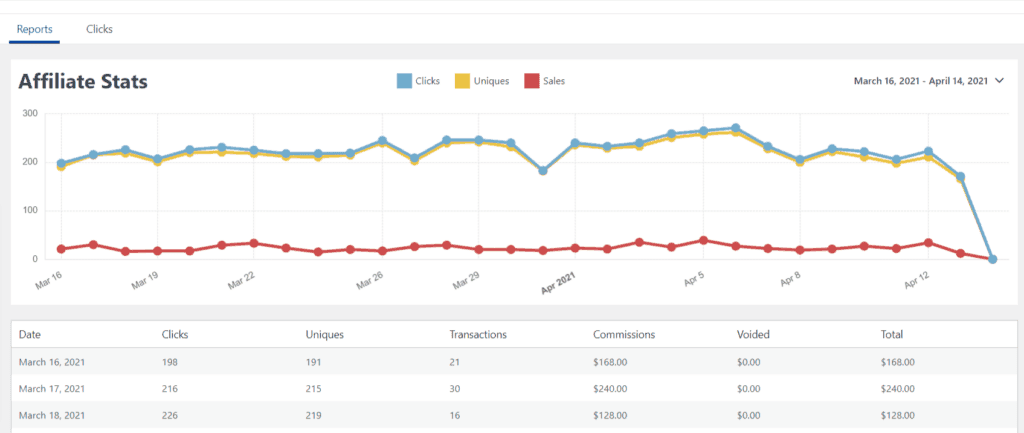 Combined with the functionality of Pretty Link Pro, you'll have everything you need at your fingertips to ensure you can keep on top of your affiliate marketing.
Conclusion
The development of an affiliate marketing business will take considerable work, patience, and perseverance. From time to time, you may also find yourself questioning your strategies and choices.
However, with the knowledge we've provided, you can now avoid the most detrimental mistakes and build a strong, successful business. To recap, the six most common mistakes made by new affiliate marketers are:
Signing up for too many affiliate programs.

Failing to test and compare products and tools.

Working within an uninteresting niche.

Not collecting customer emails from the start.

Choosing quantity of content over quality.

Not tracking and managing links.
Do you have any mistakes new affiliate marketers need to avoid? Let us know in the comments below!
If you liked this post, be sure to follow us on Twitter, Facebook, and LinkedIn! And don't forget to subscribe in the box below.