Large and small businesses alike face a common and recurring challenge: acquiring new customers. This issue has only become more difficult with the internet and social media. Now that potential customers receive advertising messages from all directions, you'll need to work harder to stand out.
Fortunately, referral marketing can help you gain new customers without spending a fortune on advertising. In fact, referred customers are worth 25% more to your business than other consumers.
This article will explain what referral marketing is and discuss its various pros and cons. We'll talk about who can benefit from this strategy and wrap up with advice on getting started. Let's jump in!
An Introduction to Referral Marketing
To put it simply, referral marketing is word-of-mouth advertising. In this setup, your customers will promote your products or services to other consumers, such as their friends, families, or acquaintances.
Essentially, it's a type of affiliate marketing where your partners will advocate for your brand. In exchange, you can reward them with commission payouts or other incentives for their referrals.
Satisfied customers make natural brand ambassadors. They're also more likely to be persuasive since they'll market to their existing audiences instead of strangers.
Now, let's take a closer look at some of the advantages of referral marketing.
Pros of Referral Marketing
There are various advantages to using referral marketing. For starters, it's a cost-effective strategy. You can incentivize your partners with commission payouts or other rewards, meaning you won't have any up-front costs.
Furthermore, referred customers are 30% more likely to convert. Therefore, you can get higher conversions with less effort.
Here are some more pros of referral marketing:
It's high-targeting. Referral marketing focuses on potential customers who are already interested in what you have to offer. They're more likely to convert than people who have never heard of your business before.
It increases brand awareness. Word-of-mouth travels fast, especially when customers refer others to your business. As more people become familiar with your products or services, they're more likely to purchase from you.
The strategy is based on trust. When a customer refers you to a friend or their audience, they're vouching for your business. They believe in what you have to offer and trust that you'll provide a great experience.
Positive customer testimonials and reviews can help you identify potential partners for your referral marketing strategy: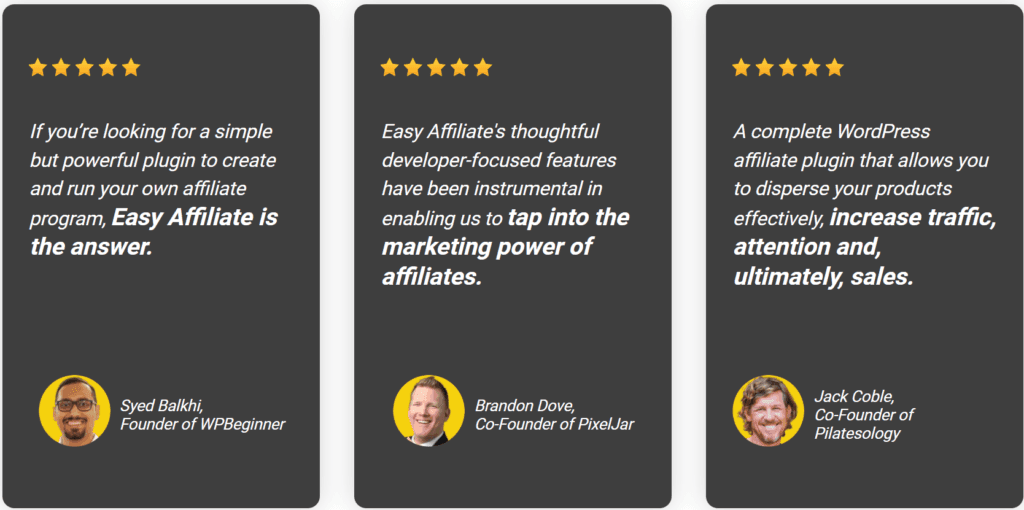 Customers who rave about your business are easy picks for referral marketing. You can reach out to them and offer compensation or incentives in exchange for promoting your company.
Cons of Referral Marketing
However, there are also some cons of referral marketing. You'll want to consider these disadvantages before deciding on this strategy:
Referral marketing takes time. You'll rely on your customers to promote to other people. You need to provide an incentive and follow up with your partners to make sure they're spreading the word.
It can bring limited and, sometimes, unsteady profits. Referred customers won't always convert, and you may only see a small profit from those who do. However, if you have a steady flow of referrals coming in, the profits can add up over time.
Return on investment (ROI) from referral marketing can be difficult to measure. Because referral marketing relies heavily on customer word-of-mouth, it can be difficult to track how many people come from each source. Therefore, we recommend using affiliate software to keep track of referrals.
Referral marketing may be less effective if you have a small customer base. If you don't have a lot of customers yet, it can be more difficult to encourage them to refer others. Likewise, if you're a new business, people may not be familiar with your brand yet.
Overall, referral marketing isn't perfect for everyone. Small businesses without large customer bases may find it more difficult to succeed with this marketing strategy.
However, if you have satisfied customers who are likely to refer their friends and audiences, referral marketing can be a great way to increase brand awareness and trust.
Companies that Use Referral Marketing Successfully
Many businesses use referral marketing effectively. Let's take a look at some success stories to inspire your strategy.
Dropbox offers customers extra space in their accounts for every referral they make, potentially doubling their storage capacity: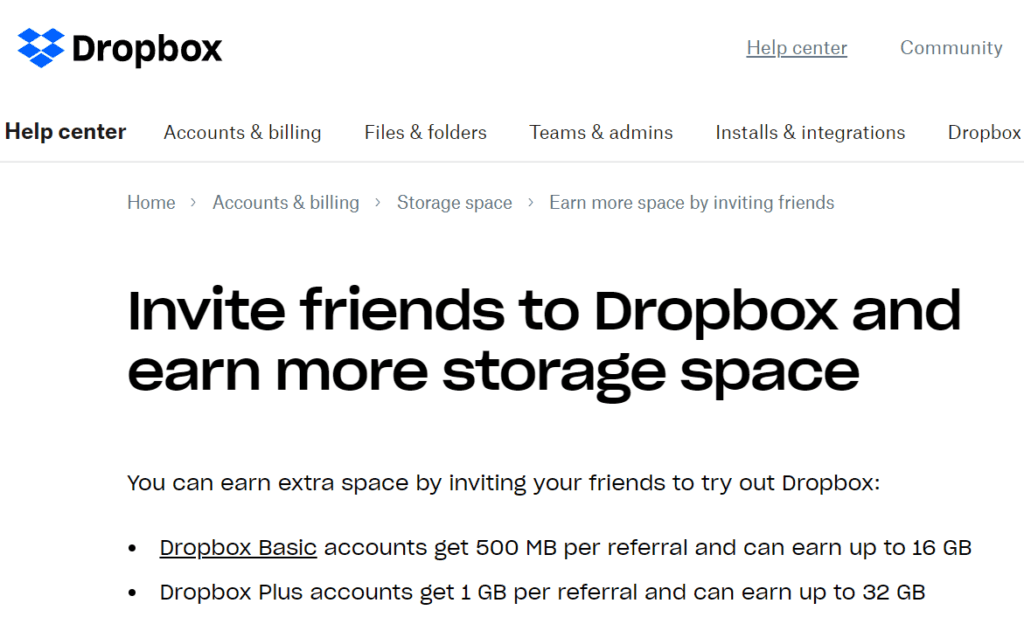 Dropbox provides an excellent incentive for referrals since users gain increased benefits from a service they already use. The storage space amounts can also rise with additional referrals, encouraging customers to recruit more people.
Western Union is another excellent example:
Western Union provides Amazon e-gift codes to both customers and their referrals. If a referred friend sends at least $100 with Western Union, they receive $20. This setup gives customers an added incentive to refer more friends and rewards those referrals for joining.
How to Get Started with Referral Marketing (Quick Tips)
If you're interested in using referral marketing, there are a few things you can do to get started:
Make sure you have a great product or service that customers will love. When consumers are happy with your product or service, they're more likely to refer others.
Use social media to encourage referrals. Platforms such as Facebook and Twitter let you reach out to customers and encourage them to refer their friends.
Make it easy for customers to refer their friends. Include referral links or codes on your website, in your emails, and on your social media pages.
Thank customers for referrals. Show appreciation to customers who refer their friends by sending them a thank you note or gift.
Finally, we recommend using software to keep track of your conversions and referrals. Our Easy Affiliate plugin enables you to monitor all your partners and their links from a centralized dashboard: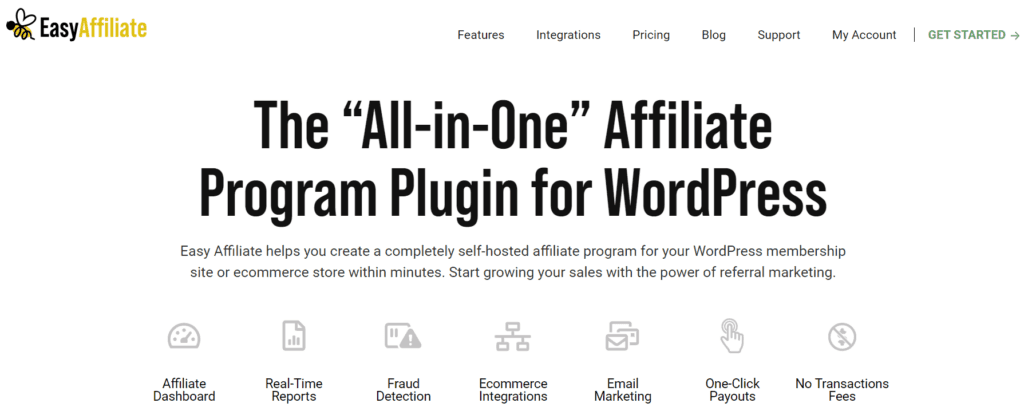 Using our reports, you can see which customers drive new referrals to your site. You can also manage their commission payouts and other incentives with just a few clicks.
Conclusion
Referral marketing is an affordable and effective way to entice new customers to your business. This strategy can also expand your brand reach and increase loyalty with your existing consumers.
Overall, referral marketing has both pros and cons. It may not be the most effective approach if you have a very small or new business. Still, with an existing customer base and the help of our Easy Affiliate plugin, you can quickly attract new consumers.
Do you have any questions about referral marketing? Let us know in the comments section below!
If you liked this article, follow us on Twitter, Facebook, Pinterest, and LinkedIn. And don't forget to subscribe to our newsletter 🐝