It's widely accepted that affiliate programs are an effective way to grow your business. However, there's one type of network that is often overlooked: Business-to-Business (B2B).
That's why we've created this complete guide to starting a B2B affiliate marketing program. By partnering with other businesses, you can tap into an entirely new audience and send your average customer lifetime value (CLV) skyrocketing.
In this post, we'll look at what B2B programs are, and what separates them from other affiliate networks. We'll then show you how to launch your own B2B affiliate marketing program in three easy steps. Let's get started!
An Introduction to B2B Affiliate Marketing Programs
B2B is any transaction or activity that's conducted between one business and another. The classic example is a wholesaler and a retailer.
Although we tend to think of affiliate marketing programs as Business-to-Customer (B2C), it is possible to create a B2B network. As part of a B2B affiliate marketing program, other businesses will promote your products or services to their customers, or even other businesses.
You'll then reward these businesses for every sale that originates from their unique affiliate link.
Typically, with B2B affiliate programs, there are fewer potential customers. It's also well-known that B2B sales cycles are much longer than B2C. In fact, HubSpot categorizes a B2B prospect as someone who may be searching for a solution sometime in the next 12-24 months.
However, with B2B the customer lifecycle value (CLV) is usually much higher, with experts stating that it's one of the most important metrics in B2B sales. Once established, a successful B2B affiliate program can deliver high-value customers who will provide your business with a long-term income.
How B2B Affiliate Marketing Can Benefit Your Business
As part of a B2B program, your partners will feature your products on their websites. This can help build brand awareness among an entirely new audience, which can increase your sales. In fact, affiliate programs generate between 15-30% of all sales for advertisers.
As these customers become more familiar with your brand, they may start visiting your site directly. In fact, 38% of marketers identify affiliate networks as one of the top ways of acquiring new customers.
At this point, you'll no longer have to pay your partners a cut of your profits. Since the true value of B2B affiliate marketing lies in the CLV, if you can successfully convert affiliate traffic into loyal repeat customers then this can significantly boost your profits.
How to Start a B2B Affiliate Marketing Program (In 3 Steps)
A B2B network can build brand awareness, generate sales, and boost your average CLV. These are all compelling reasons to create your own B2B affiliate marketing program, so let's get started!
Step 1: Attract the Best B2B Affiliate Partners
The success of any affiliate network relies on the quality of your partners. There's evidence to suggest that fewer than 10% of affiliates drive 90% of total conversions and sales. However, finding the right partners is even more important for B2B networks.
Thanks to the high CLV, the long-term rewards of B2B marketing are often far greater than B2C networks. However, your partners may need to invest more time and effort into securing each conversion.
If you can partner with a business that understands the lengthier B2B lifecycle, then this relationship could prove highly profitable over the long term. However, if your partners are looking to make lots of quick sales, they may quickly lose interest in your network.
There are ways to make your B2B network more attractive to high-quality partners. For example, our Easy Affiliate plugin boasts quick one-click payouts and support for multi-tier commission levels: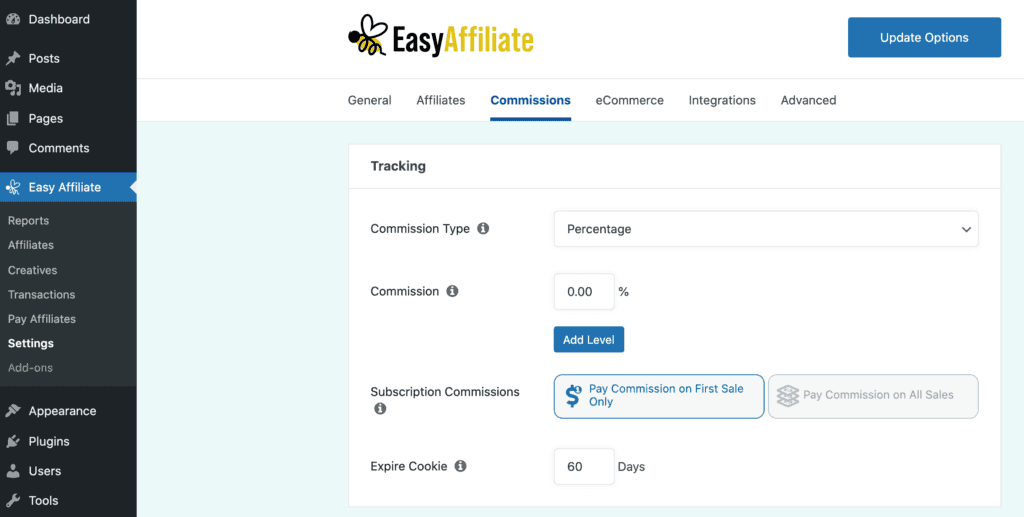 We also recommend providing your partners with all of the resources they need to drive conversions. This might include engaging blog posts, ready-made email campaigns, and promotional videos. If you do create any of these resources, you can easily distribute them among your B2B partners, using the Easy Affiliate dashboard: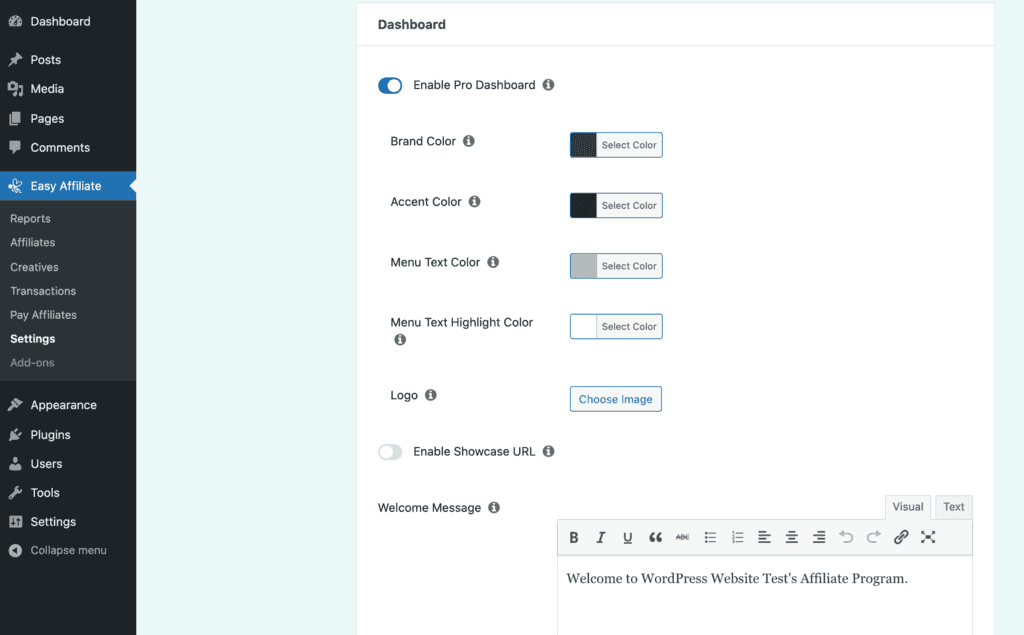 Our dashboard is a convenient hub where your B2B partners can access these resources at any time. In this way, they can create powerful and engaging campaigns with minimal effort.
Step 2: Promote Your Affiliate Marketing Program
When it comes to B2B marketing, sometimes you may need to be proactive and approach your dream business partners. However, this doesn't mean you can't spark interest by promoting your program. Even if you plan to reach out to the majority of your partners, it's still smart to have publicly-available resources where these people can learn more about your B2B network.
We recommend treating this as a landing page that's designed to encourage visitors to convert. This means including persuasive headlines, eye-catching imagery, and a clear call to action (CTA):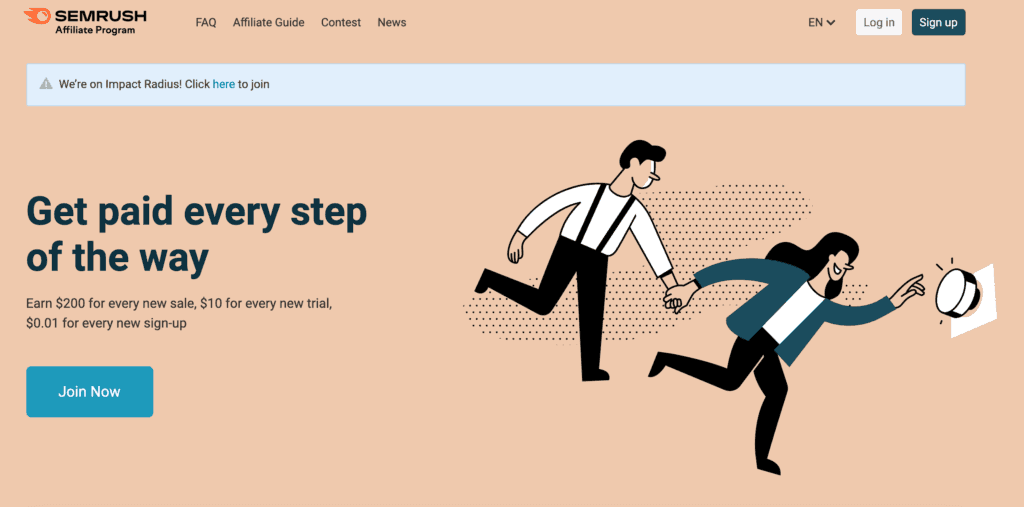 Depending on the nature of your B2B program, you may give businesses the option to enroll directly from this page. Alternatively, you might encourage them to submit an application, or request more information.
Once the page is live, you can include it in all of your communications with potential new affiliates. A busy CEO is unlikely to arrange a callback based on an unsolicited email, but they may be intrigued enough to check out the affiliate program page that you've linked in your email.
Step 3: Motivate Your B2B Affiliates
B2B is more of a marathon than a sprint. Once you've secured quality affiliates, you cannot risk them becoming demotivated – no matter how long they have to wait for those initial conversions.
Your typical B2B affiliate will work harder for your program if they can get something in return. To help keep motivation sky-high, you may want to consider creating multiple tiers with increasing commission rates. You can then promote your partners to higher tiers, based on their performance.
A B2B program can be an effective way for businesses to generate additional income. However, your typical company has a long to-do list. With so many tasks vying for their attention, you need to ensure that you don't slip to the bottom of the pile.
This is where an affiliate newsletter can be your secret weapon. An informative and engaging newsletter can keep you at the forefront of your partner's mind. You can use a powerful email marketing platform like ConvertKit to stay in touch with your members:
You can use this newsletter as an opportunity to highlight any bonuses or higher commission tiers that are available. It also doesn't hurt to remind your partners that they can contact you at any time with questions or support requests.
Conclusion
B2C affiliate networks can be a great way to generate a large number of sales, fast. However, if you focus exclusively on this strategy, you may be missing an opportunity to boost your average CLV.
With this in mind, let's quickly recap how to start a successful B2B affiliate marketing program:
Attract the best B2B affiliate partners.
Promote your affiliate marketing program.
Motivate your B2B affiliates, using a plugin such as Easy Affiliate.
Do you have any questions about launching a B2B affiliate marketing program? Let us know in the comments section below!
If you liked this article, follow us on Twitter, Facebook, Pinterest, and LinkedIn. And don't forget to subscribe to our newsletter!