With evidence to suggest that an affiliate program could boost your sales by 30%, there's never been a better time to break into affiliate marketing. However, the thought of creating your own network can be daunting. 
Fortunately, there are platforms that can help you launch your own affiliate network. With the right tools, you can even automate much of your day-to-day work associated with running a successful program. 
In this post, we'll explore three popular affiliate solutions: AWIN vs Impact Radius vs Easy Affiliate. We'll compare their stand-out features, the available support, plus that all-important pricing. Let's get started!
Features for AWIN vs Impact Radius vs Easy Affiliate
Every affiliate platform has something different to offer its customers, and every business has its own unique needs.
Comparing these characteristics is one of the easiest ways to determine whether a particular platform is right for you. With that in mind, let's start by comparing what AWIN, Impact Radius, and Easy Affiliate have to offer.
Features: AWIN
The AWIN affiliate network boasts over 225,00 affiliate partners. In 2020, these partners generated an impressive $182 million in sales:
If you choose AWIN as your affiliate network, you'll get access to powerful cross-browser tools. These tools enable you to analyze each affiliate sale, including the product type, total basket value, and the click-to-sale lag time.
By scrutinizing each conversion, you can identify your most lucrative affiliates. You can then prioritize these partners, or even offer them additional incentives for driving traffic to your website.
Let's take a look at some of AWIN's most prominent features:
Cross-device tracking
Coupon attribution, so you can track customers even when no affiliate cookie is present
An Awin Access program designed specifically for freelancers, startups, and smaller businesses
A dedicated Agency Resource Center for any organizations pursuing affiliate opportunities on behalf of a client
AWIN also has specialist tools for tracking online influencers. This enables you to identify the partners who are driving purchasing decisions, even when they're not the last touchpoint in the customer journey.
With influencer marketing projected to grow to $13.8 billion in 2021, you'll want to do everything in your power to convince these people to continue working with your business.
If you don't properly compensate your influencer partners for all of their hard work, they may defect to your biggest competitors. In this way, AWIN's influencer tracking tools can help you maintain these lucrative relationships.
Features: Impact Partnership Cloud
Impact Partnership Cloud supports a range of different partnerships, including affiliate ones. This platform places a focus on boosting your efficiency by applying automation to the affiliate lifecycle: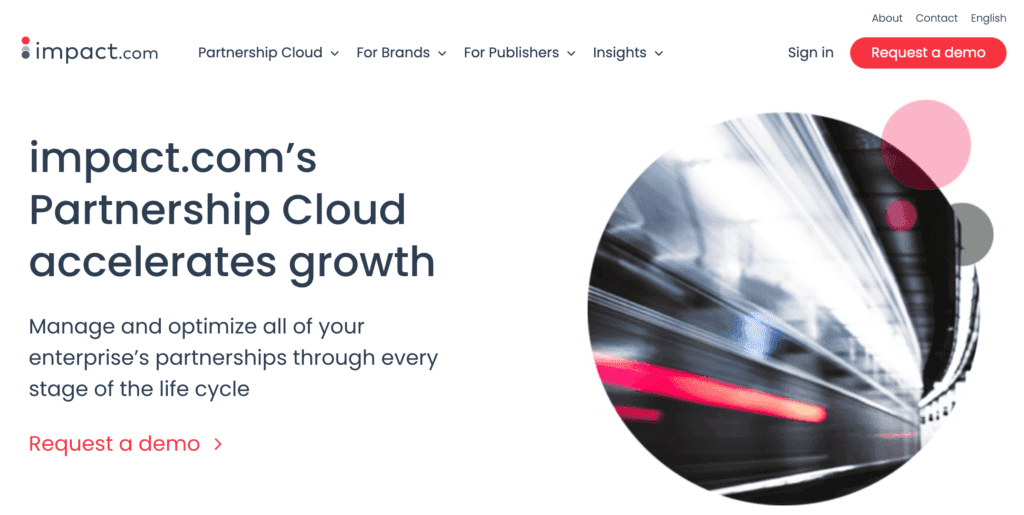 For newcomers, Impact's powerful automation features can help you discover and recruit new partners. You can use these tools to filter potential partners based on factors such as size and engagement rates.
Impact can also help you identify partners whose content includes specific keywords and topics. This can be a great way to grow your affiliate network, fast.
Once you've secured a partnership, you can nurture your new signup by adding them to a drip campaign. When it's time to reward your affiliate, Impact Partnership Cloud has everything you need to automate these payments.
This includes performing currency conversions and ensuring local tax compliance. All of these automation features enable you to scale your marketing activities with minimal effort.
Impact Partnership Cloud isn't restricted to affiliates. You can use this program to discover ambassadors, sponsorship opportunities, and charities who are looking for a third-party partner.
Here are some of the platform's key features:
Generate affiliate links with built-in social sharing buttons
Handle contract negotiations via the Partnership Cloud dashboard, where all parties can view the complete contract history
Layered detection to identify and flag suspicious affiliate activity
Automatically monitor the social media handles for all of your affiliate partners
Fraud can eat into your profits and undermine the effectiveness of your affiliate activities. To help combat it, Impact Partnership Cloud provides real-time insight into suspicious traffic sources. It also makes it easy to block illegitimate lead and conversion events.
Features: Easy Affiliate
Easy Affiliate is a plugin that enables you to design, build, and launch a successful affiliate program directly from your WordPress dashboard. When you activate this plugin, it immediately offers to generate all of the pages required to deliver your program:
This includes an Affiliate Dashboard, which will become the central hub for your program. Here, you can share creative assets with your partners, and even communicate with them directly.
This dashboard also provides your affiliates with easy access to their statistics and payment history. In this way, your partners can monitor their performance and continuously refine their affiliate activities in order to deliver better results. This can often mean more conversions and bigger profits.
Launching a well-designed affiliate program is only the first step. To achieve success, you'll need to recruit lots of enthusiastic and motivated partners. Email marketing can be an effective way to spread awareness about your new program.
If you're planning to run mailing campaigns, Easy Affiliate integrates seamlessly with many popular email platforms including ActiveCampaign and ConvertKit.
Here are some of the standout features of Easy Affiliate:
Out of the box, Easy Affiliate supports PayPal Mass Payment files, offline payments, and one-click payments via PayPal.
To help you avoid losing your hard-earned money, Easy Affiliate automatically flags or rejects suspicious affiliate behavior before you pay out.
Support for AWIN vs Impact Radius vs Easy Affiliate
If you choose a user-friendly and intuitive affiliate platform, then you're off to a great start. However, from time to time you may still encounter problems, or have questions that you need answering.
This is where good customer support can be a life-saver. Help can take many forms, ranging from online tutorials and informative videos, right through to one-on-one coaching from a live support representative.
With this in mind, let's see what assistance you can expect from each affiliate program.
Support: AWIN
If you want to contact a live support representative, AWIN provides several telephone numbers and email addresses. This includes dedicated contact details for advertisers:
If you prefer self-help resources, AWIN has created an entire advertiser portal. Here, you'll find a variety of articles on how to utilize the AWIN platform and grow your affiliate network:
To help you find the information you need, these resources are divided into topics. For example, you can explore all of the articles related to reporting, legal and privacy, and advertiser tools. These resources are presented in an accessible FAQ format: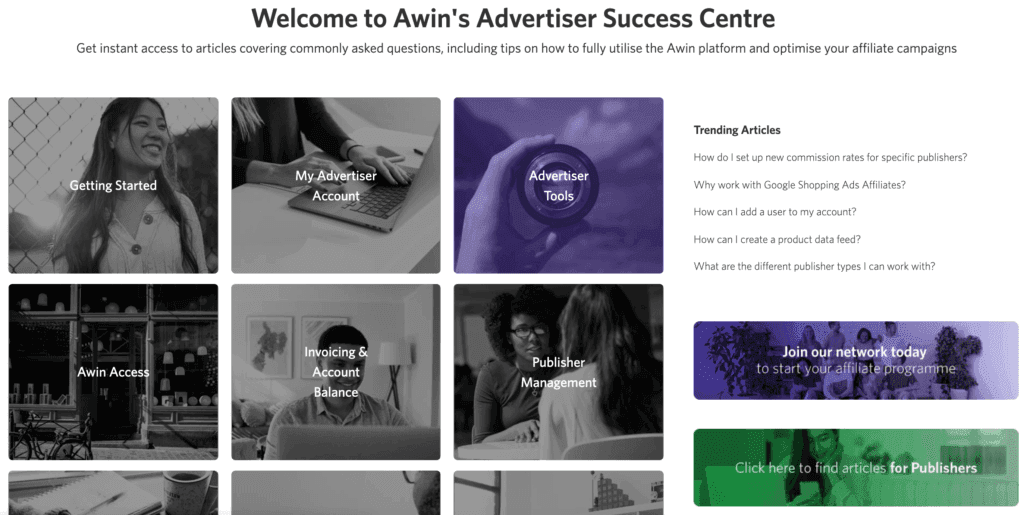 AWIN also offers tailored training, including video tutorials. If you still have questions, you can reach out to a member of staff via a generic contact form.
Support: Impact Radius Cloud
Impact Radius Cloud runs a helpful blog. Here, you'll find platform-specific advice, plus general tips and best practices for running a successful affiliate program:
The company has also published a collection of downloadable ebooks, videos and recorded webinars, research reports, and more. You'll find all of these resources over at the Insights Portal: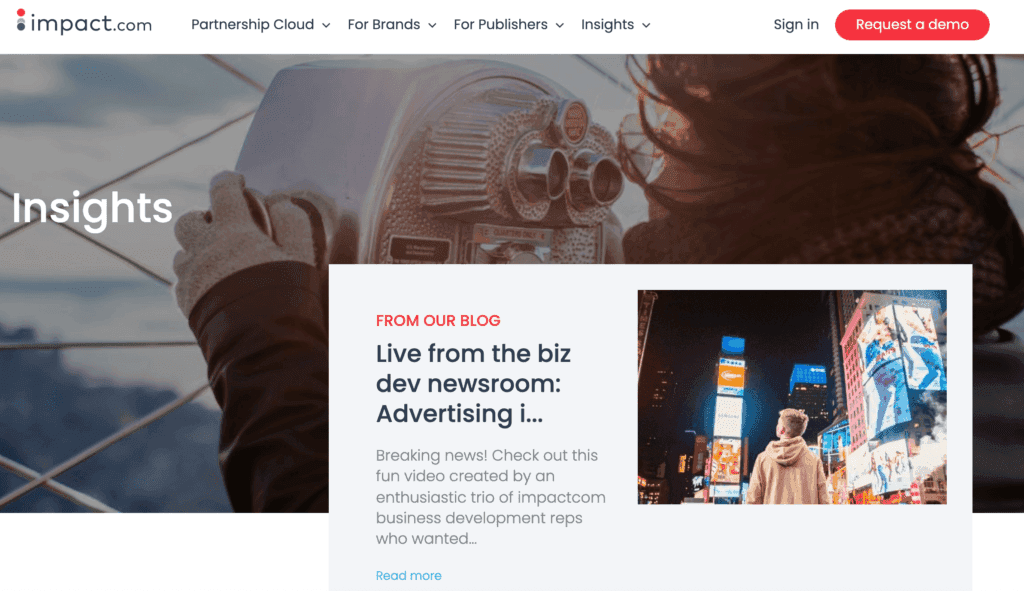 Impact Radius Cloud also runs virtual events where you can hear from industry leaders. If you can't attend these events in real-time, the sessions are also available on-demand.
If you prefer a more structured approach to your support, you may want to take a look at the Partnerships Experience Academy.
Here, you'll find a range of materials, including a course that shows you how to get started with affiliate marketing and partnerships. This can be invaluable for anyone who is exploring the world of affiliates for the first time.
Finally, if you want to contact a live support representative, Impact has offices and customer service staff around the globe. Alternatively, you can contact the company through their contact form.
Support: Easy Affiliate
If you like to research your technical problems or questions independently, Easy Affiliate has an extensive Knowledge Base filled with FAQs and detailed tutorials. These resources cover a wide range of topics, including ecommerce integrations, technical troubleshooting, and affiliate reports.
For example, you can learn how to integrate Easy Digital Downloads with your Easy Affiliate account:
You'll also find in-depth tutorials over at the official Easy Affiliate blog. Even if you aren't struggling with a specific problem, this blog contains plenty of tips, tricks, and best practices. This can help you refine your affiliate activities and ensure that you're getting the very best out of your partners.
If you prefer to contact support directly, Easy Affiliate has a responsive support ticket system. Simply log into your account, submit your ticket, and a customer care specialist will be in touch within the next two business days.
Pricing for AWIN vs Impact Radius vs Easy Affiliate
Affiliate networks commonly use various pricing models. This may include signup fees, upfront deposits, or even an annual subscription. Some affiliates also take a commission for each successful conversion.
With so many different pricing models, it's important to read the small print and understand exactly how much you'll be paying. You can then consider whether this network offers your business good value for money in the long term.
Pricing: AWIN
The AWIN network charges a $550 set-up fee, with a three month minimum term. They also require a $150 payment on account before launching your program, in the event of a debit processing failure. This upfront fee is refundable upon closure, subject to any required deductions:

With AWIN, you won't pay a fee for the first month, although they do charge $35 per month afterwards. There is also a 20% network fee, which they apply to all validated commissions.
Pricing: Impact Radius Cloud
Impact Radius hasn't publicly published information about their pricing. Instead, they advise you to contact their team in order to request a demo.
Pricing: Easy Affiliate
Unlike AWIN and Impact Radius Cloud, Easy Affiliate works on a subscription-based model. It has three different pricing plans with varying costs and inclusions, and zero transaction fees: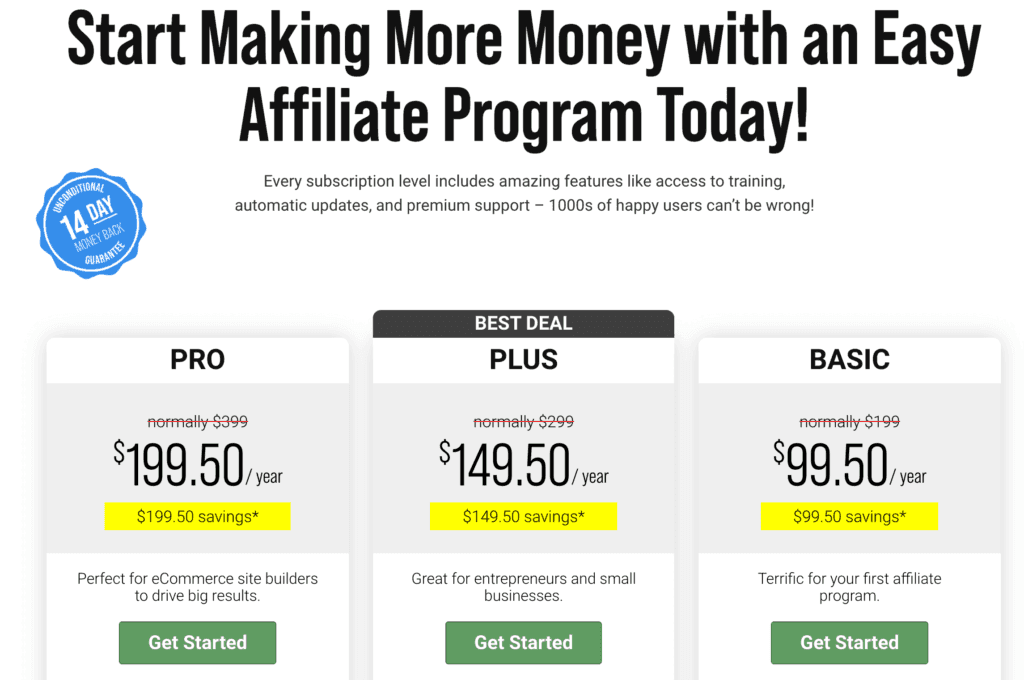 The most affordable package is the Basic plan, which is priced at $99.50 per year. With this plan, you can partner with an unlimited number of affiliates on a single site.
All of the Easy Affiliate plans include full support for the WooCommerce platform, MemberPress sites, and Easy Digital Downloads.
If you upgrade to the Plus (​​$149.50) or Pro ($199.50) plan, you'll get priority support, a Tax Reports add-on, and automatic fraud detection.
Both the Plus and Pro plans integrate with popular marketing tools, including the Mailchimp platform and the ConvertKit email marketing tool.
Regardless of which plan you opt for, Easy Affiliates offers a 14-day money back guarantee. This means you can try before you buy.
Conclusion
With affiliate spending forecast to reach $8.2 billion by 2022, this marketing strategy represents a huge opportunity for your business. If you're not already running your own affiliate program, then you're almost certainly leaving money on the table.
Let's quickly recap three popular affiliate solutions:
AWIN. This global affiliate program generated 182 million sales in 2020.
Impact Partnership Cloud. With support for various forms of referral partnerships and a focus on automation, Impact is a powerful and modern platform.
Easy Affiliate. This plugin integrates seamlessly with your existing WordPress website, and can automatically generate all of the pages required to deliver a complete affiliate program.
Do you have any questions about the affiliate marketing programs featured in this post? Let us know in the comments section below!
If you liked this article, follow us on Twitter, Facebook, Pinterest, and LinkedIn. And don't forget to subscribe to our newsletter!