Affiliate spending is forecasted to reach $8.2 billion by 2022. Those may be impressive figures, but building a world-class affiliate network isn't something that happens overnight.
Fortunately, there are plenty of established programs that can help you create a successful network, fast. With the right tools at your disposal, you can claim your share of that $8.2 million.
In this post, we'll explore three popular affiliate solutions: JVZoo vs WarriorPlus vs Easy Affiliate. We'll compare their stand-out features, pricing, and how much support you can expect. Let's get started!
Features for JVZoo vs WarriorPlus vs Easy Affiliate
When looking for an affiliate platform, it makes sense to start with its features. Analyzing these characteristics is one of the easiest ways to determine whether a particular platform is right for you. With that in mind, let's take a look at what JVZoom, WarriorPlus, and Easy Affiliate have to offer.
Features: JVZoo
JVZoo is a marketing platform that boasts over 800,000 active affiliates. This network has generated over $1.2 billion in sales.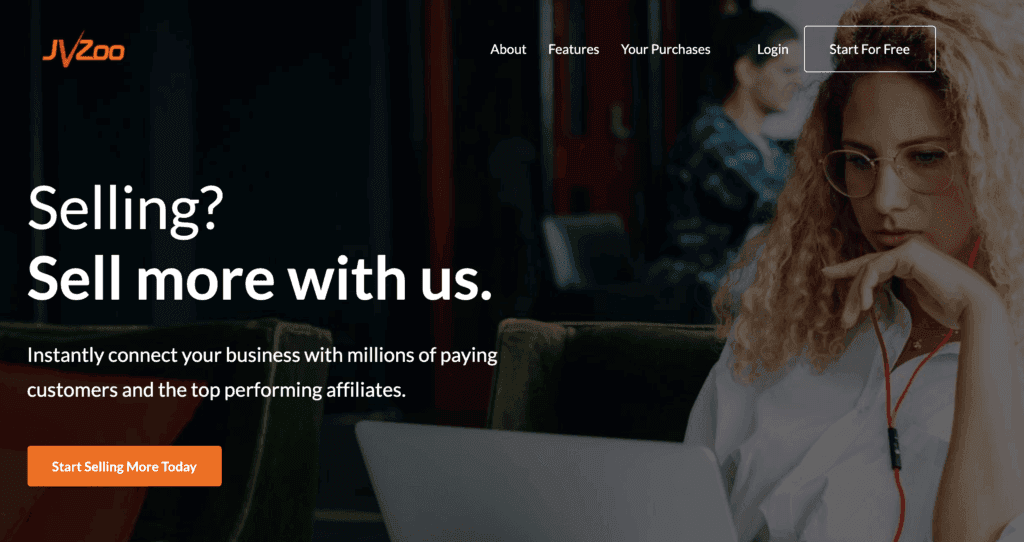 For business owners, JVZoo is a place to list, promote, and sell your products. Meanwhile, affiliate marketers can use JVZoo to find products to promote.
When it's time to reward your affiliates, this platform integrates with PayPal, Stripe, and BlueSnap. You can also connect a merchant account to JVZoo using Authorize.net.
JVZoo can even automate the payment process for you. Whenever an affiliate makes a sale, the commission is deposited into their JVZooPay account. From here, the affiliate can easily withdraw these funds into their own bank account or Payoneer.
Let's take a look at some of JVZoo's standout features:
As soon as you sign up for JVZoo, you can start adding products to your account. If you make these items public, then anyone on the JVZoo network can discover your product. This can be an effective way to grow your network and boost your sales.
However, sometimes you may want greater control over who promotes your products. In this scenario, you can run a private or invitation-only affiliate program.
JVZoo also enables you to approve or deny individual affiliates. This can ensure that you only partner with high-quality affiliates who match your exact criteria.
Features: WarriorPlus
WarriorPlus is a marketplace where business owners can connect with online marketers. Launched in 2006, this platform now boasts a network consisting of thousands of affiliates.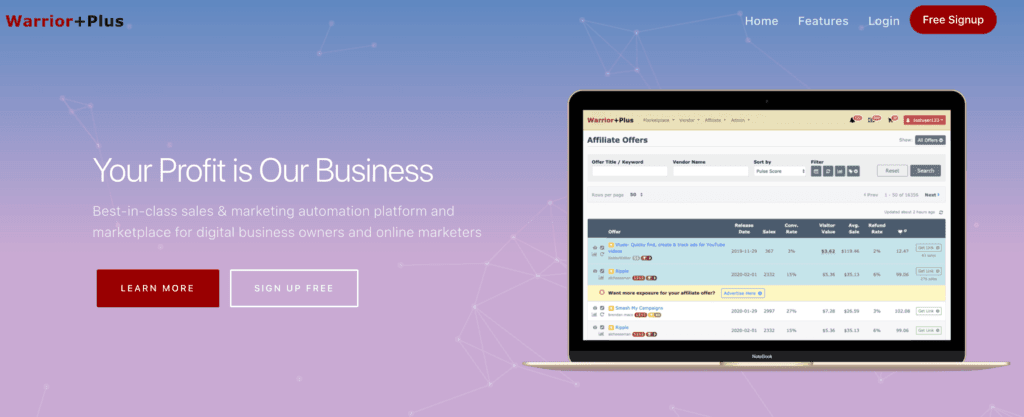 WarriorPlus has an extensive tracking system that's accessible to both vendors and affiliates. This enables you to track unique leads across the entire purchasing process. Armed with this insight, you can optimize the customer's experience in order to drive conversions.
WarriorPlus has several features that can help retarget leads based on their activity. This includes the ability to add Google and Facebook pixels to your promotions, or even create completely custom pixels.
WarriorPlus supports time-limited and multi-tiered commission structures. This can be a powerful way to retain your best affiliates, while also motivating your underperforming partners.
Here are some of our favorite WarriorPlus features:
Unlimited upsells and downsells
Pre-launch settings for attracting "early bird" traffic to your site
The ability to add IDs to your links to better understand your traffic sources
When it comes to rewarding your hard-working affiliate partners, WarriorPlus supports both Stripe and the PayPal gateway. You can even designate specific affiliates who will receive their commission payments immediately via PayPal. This instant payment can help you attract and retain some of the best affiliate talent.
Features: Easy Affiliate
If you have a WordPress website, then you may be interested in Easy Affiliate. Our plugin has everything you need to design and launch an affiliate program.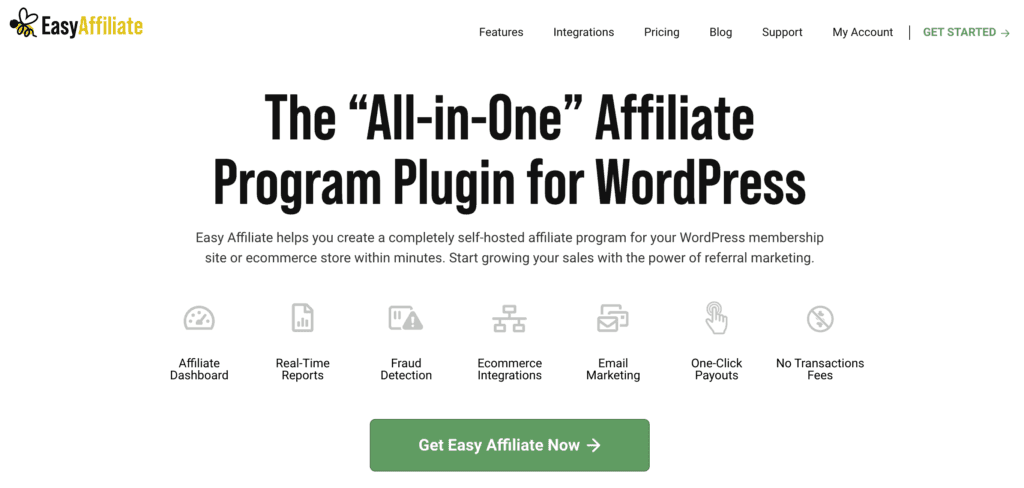 You can run and manage all of your affiliate activities directly from the familiar WordPress dashboard. As soon as you activate Easy Affiliate, it offers to auto-generate all the pages you need to start your affiliate program, including an Affiliate Dashboard: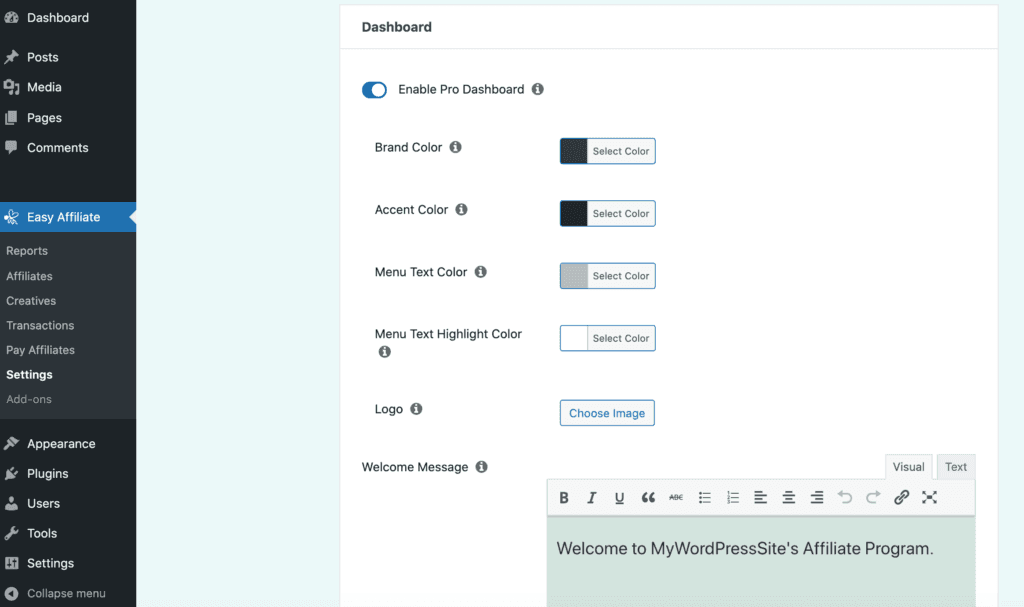 This dashboard is a central hub where you can share creative assets with your partners. Your affiliates can also access their statistics from this dashboard, including total clicks, conversions, and earnings per click. Armed with this information, your affiliates can continuously refine their activities in order to deliver more conversions and greater profits.
Many vendors set up a flat commission rate for all of their affiliate partners. However, sometimes you may need to offer multiple commission levels. This can be a great way to retain your most valuable affiliate partners. The good news is that Easy Affiliate gives you complete control over your commission levels.
Here are some of Easy Affiliate's most noteworthy features:
When it's time to reward your partners, Easy Affiliate supports one-click payouts. You can also track initial and recurring payments from MemberPress and WooCommerce.
Support for JVZoo vs WarriorPlus vs Easy Affiliate
If you can find a platform that ticks every item on your features wishlist, then you're off to a great start. However, if you want to get the best out of those features, you may need some support.
A good affiliate platform should offer assistance via multiple channels, including self-help resources such as blogs and online documentation. With so much to consider, let's look at how these three solutions measure up in the support department.
Support: JVZoo
If you need help at any point, you can submit a support ticket over at the JVZoo website. According to JVZoo, their staff is on-hand to answer your queries 365 days a year.
If you prefer self-help resources, JVZoo has an extensive library of support articles. You can search these posts based on whether they target affiliates, sellers, or customers. This can help you find the information you need more quickly.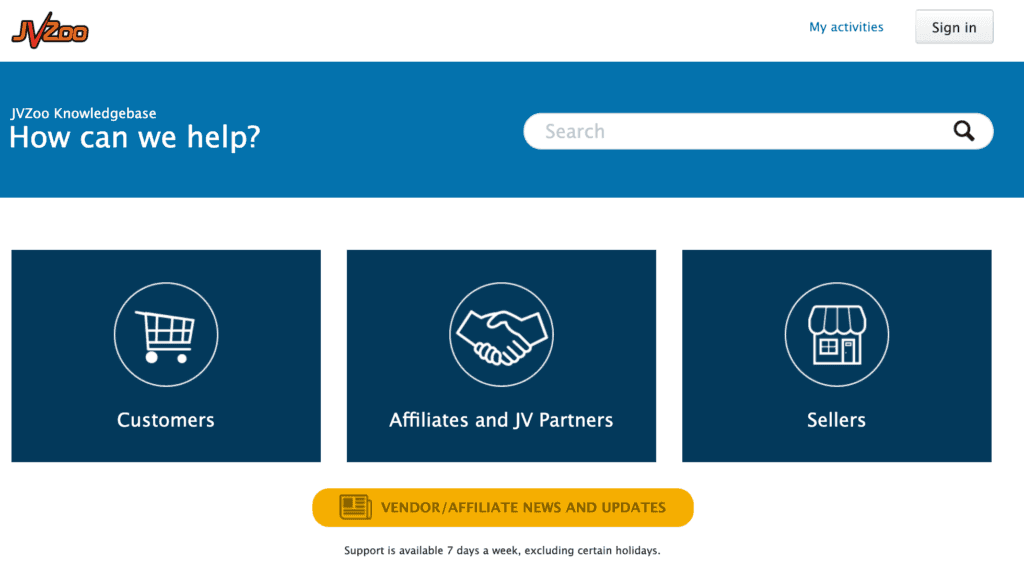 JVZoo also has an impressive knowledge base. Once again, this resource is conveniently categorized according to its target audience.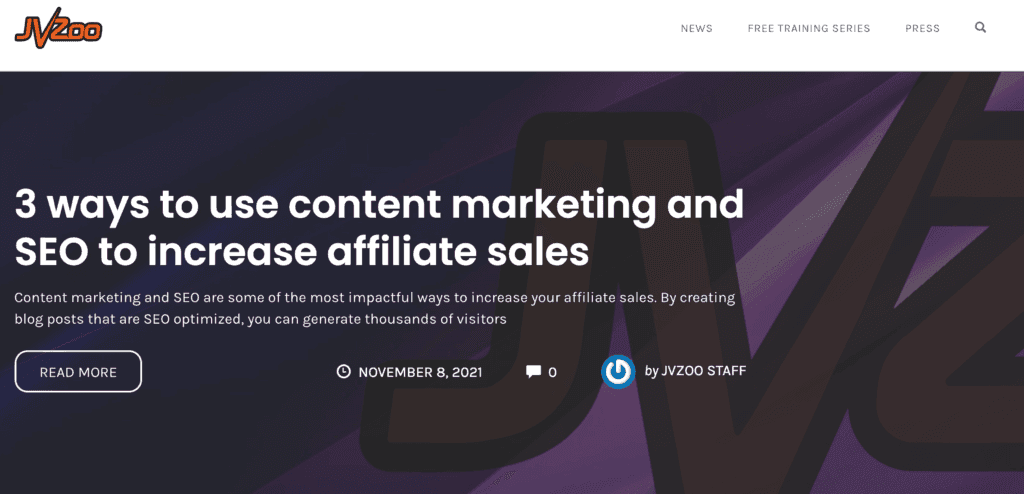 If you want more general tips, advice, and affiliate best practices, you may want to check out the JVZoom blog. JVZoom also runs an active Facebook group where you can connect with almost 50,000 members of the JVZoo community.
Support: WarriorPlus
WarriorPlus has a support portal where you can browse various informative articles. To help you find the information you need, this content is divided into categories.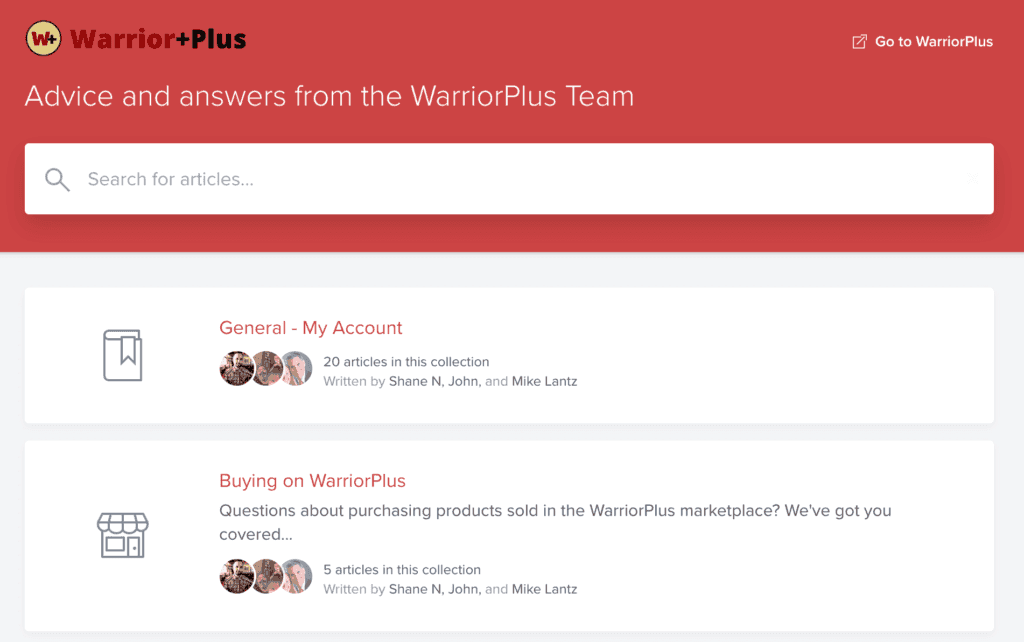 As a product vendor, you'll likely want to take a look at their Selling on WarriorPlus section. Here, you'll find detailed tutorials showing you how to perform specific tasks on the WarriorPlus platform, such as how to create a time-limited commission.
The support portal also contains general advice on how to run a successful affiliate program. For example, WarriorPlus has published a guide to creating a more effective vendor profile page.
If you want to connect with the community, WarriorPlus also runs a popular Facebook page. At the time of writing, this group has over 60,000 members.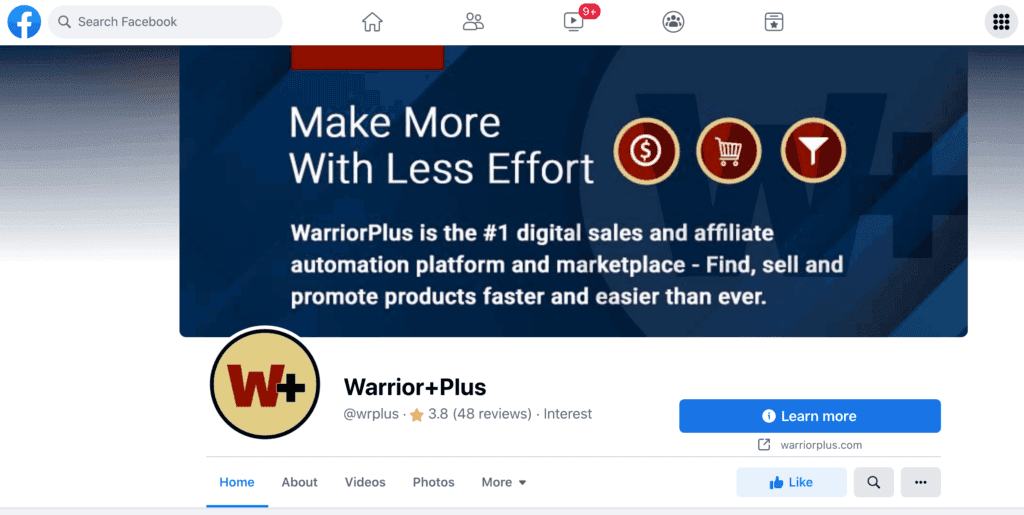 The WarriorPlus team actively replies to questions and comments posted on their Facebook page. This includes sharing links to useful articles that address the community's most pressing questions.
Support: Easy Affiliate
Easy Affiliate has a responsive support ticket system. Simply log into your account, submit your ticket, and a customer service expert will respond within one to two business days.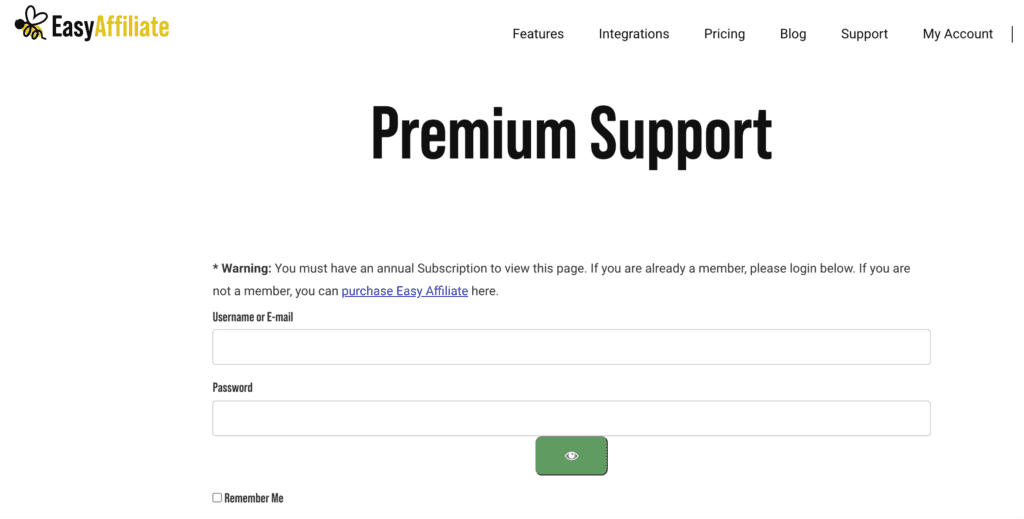 If you prefer researching technical problems or questions independently, Easy Affiliate has extensive online documentation. Here, you'll find information about a wide range of topics, including technical troubleshooting and ecommerce integrations.
For example, you can learn how to integrate MemberPress with your Easy Affiliate account.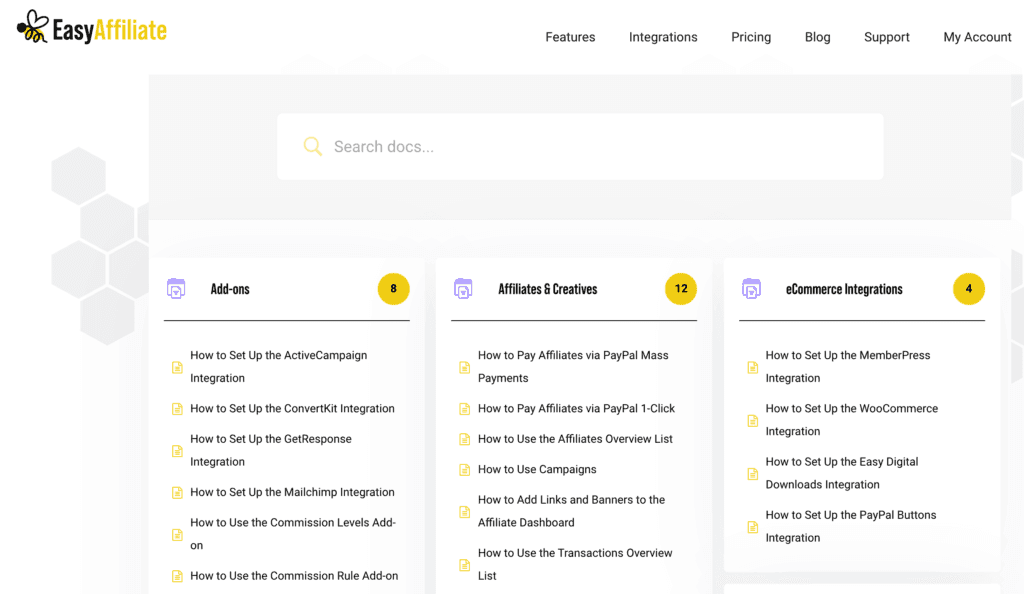 You'll also find lots of helpful articles over at the official Easy Affiliate blog. This includes plenty of advice on how to run a profitable affiliate network.
Even if you haven't purchased an Easy Affiliate license, you can still contact our customer service department. If you're currently wondering whether Easy Affiliate is right for your business, you can discuss your needs with us before making a purchase.
Pricing for JVZoo vs WarriorPlus vs Easy Affiliate
Affiliate pricing isn't always straightforward. Some networks may require an upfront deposit, charge a signup fee, or take a cut of every successful sale.
With so many different pricing models, it's important to know exactly how much you're expected to pay. This will help you identify the solution that offers the best value for money in the long term.
Pricing: JVZoo
Both vendors and affiliate marketers can join JVZoo for free. Even better, there's no monthly fee. However, you will be charged 5% of the gross selling price on each product or service that you sell via the JVZoo affiliate program.
Pricing: WarriorPlus
While you can join the WarriorPlus network for free, they do charge a 4.9% plus .10 cent fee per transaction. This is deducted before any other commissions or payouts are calculated.
You may be eligible for lower rates based on your total sales revenue within the previous 30-day period. If you really excel, then you may be able to reduce this fee to 2%.
Pricing: Easy Affiliate
Unlike JVZoom and WarriorPlus, Easy Affiliate doesn't charge transaction fees. Instead, this plugin offers three different pricing plans: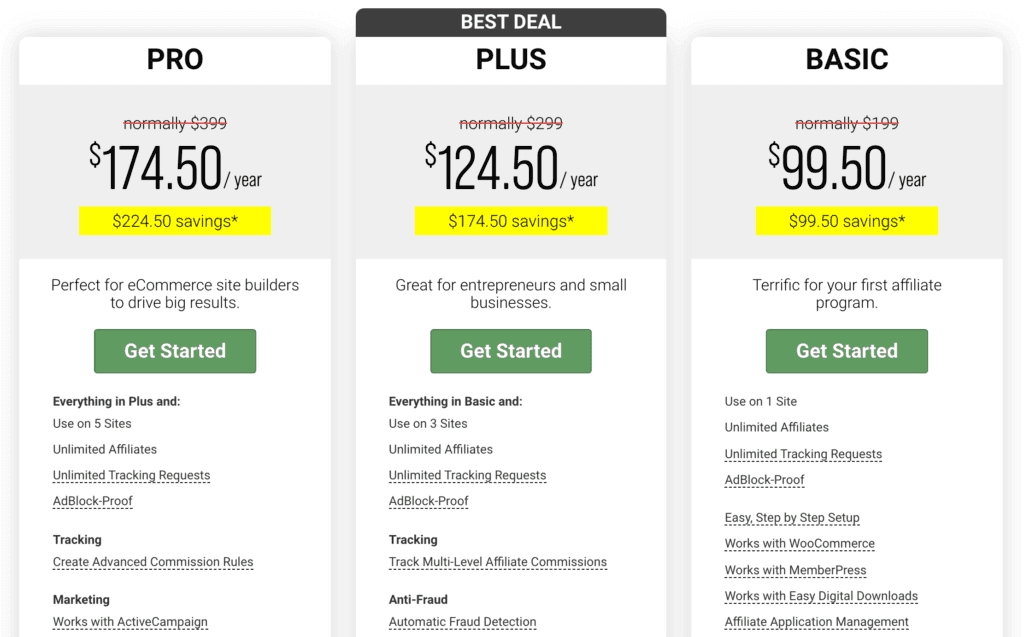 For $99.50 per year, you can sign up for our Easy Affiliate Basic plan. After purchasing this subscription, you can partner with an unlimited number of affiliates.
The next step up is Plus ($149.50), which adds automatic fraud detection and multiple commission levels. This enables you to reward your most valuable affiliates by moving them to a higher tier. If you encounter any issues or have any questions, Plus includes priority support.
If you want everything that Easy Affiliate has to offer, then Pro is priced at $199.50. This subscription comes with full support for advanced commission rules and ActiveCampaign integration.
Both Plus and Pro plans integrate with many popular marketing tools, including the Mailchimp platform and the ConvertKit email marketing tool. All of the Easy Affiliate plans include full support for MemberPress sites, Easy Digital Downloads, and the WooCommerce platform.
Regardless of which plan you opt for, Easy Affiliates offers a 14-day money-back guarantee, so you can try before you buy.
Conclusion
Evidence suggests that an affiliate program could boost your sales by 30%. If you're not already running your own program, then you're almost certainly leaving money on the table.
With this in mind, let's quickly recap three popular affiliate solutions:
JVZoo: This network boasts over 800,000 affiliate marketers, with zero signup fees.
WarriorPlus: A marketplace where digital business owners can connect with affiliate marketers.
Easy Affiliate: This plugin integrates seamlessly with your existing WordPress website, and can automatically generate all of the pages required to deliver a complete affiliate program.
Do you have any questions about the affiliate marketing solutions featured in this post? Let us know in the comments section below!
If you liked this post, be sure to follow us on Twitter, Facebook, and LinkedIn! And don't forget to subscribe to our newsletter.